I slept so well last night, and I woke up to a delicious breakfast!  A perfect start to Saturday, don't you think?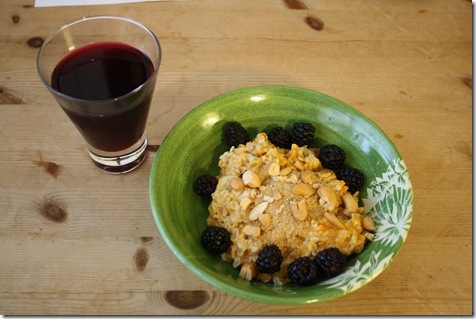 I'm going to try to step up my calories today (well, I technically started last night with dinner) in an effort to increase my glycogen stores in my muscles.  This will better prepare my body for 26.2 miles!  I tend to get really hungry while running long distances.
I made a wonderful bowl of oatmeal!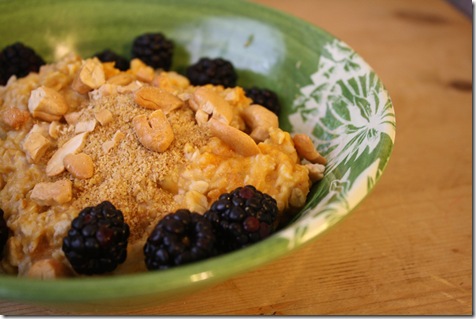 My oatmeal contained:
1/2 cup oatmeal
1/2 cup 2% milk
1/2 cup water
1 banana
1/4 cup pumpkin
Toppings:  cashews, flax, and blackberries
I also had a serving of POM Wonderful juice on the side.  POM's research shows that the magical fruit helps reduce inflammation in the body.  I'm not sure how fast the effect is, but I figure it can't hurt to take some of nature's ibuprofen.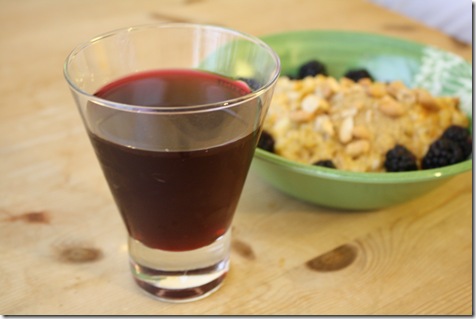 Plus a coffee.  🙂
Doctor, Doctor!
This morning, my mom and I were reminiscing about the first terrible doctor's appointment I had regarding my knees in October 2008.
If you recall, the doctor told that there was "nothing" I could do for my knee pain except stop running. He told me that I should "beg" my Husband to "tie me to the bed to stop me from running," which not only implies that I'm incapable of making my own medical decisions, but that my Husband also tells me what to do. 
Because I knew I didn't need to stop running forever and the doctor gave me no other treatment options, I kept running.  After a few more months of running with pain (I didn't know my true condition and how to treat it), I decided to take two months off of running this summer to give my knees a break.  Then I saw another doctor who correctly identified my knee condition (a very simple and common problem called Patellofemoral Pain Syndrome) and how to effectively treat it.
My mom and I were discussing this because another blogger recently sent me an e-mail about a doctor who, among other insane things, told her that she should be eating 800 calories a day and that "hunger pains" were a GOOD thing!  My mom (who is a nurse) was aghast.
I think it's so important that we are our own advocate with health care.  The vast majority of doctors are caring, intelligent, and know their stuff, but they are human and make mistakes.  That's why I'm a huge fan of the second option when it comes to medical decisions.  Knowledge is power!
The second orthopedic doctor helped me so much, and I cannot wait to write him a letter to say that his treatment plan helped me run again (and hopefully complete a marathon)!  I have only had symptoms of my PFPS twice during marathon training, and it was very, very minor.  I am so grateful! He is a wonderful doctor.
I'm curious… what positive and negative experiences have you had with doctors?