Catching up on weekend posts?
This week is the home stretch.  I have two final exams on Tuesday in Anatomy; but most importantly, the draft book is due on December 15, and I'd like to have it finished by Friday.
Two and a half months ago, I was driving to Anatomy night class when my phone rang.  I looked at the caller ID and saw that it was my agent.  Right then, I knew that everything in my life was going to change.  It's been a wild, crazy ride, and I feel really blessed that I was even given the opportunity to get on the rollercoaster!
Friends and family keep asking me what my plans are post-book.  Honestly, this experience has taught me one thing: Make plans, and God laughs in your face.  I'm not stressed out about the fact that I have NO plans for the Spring – no job, no school.  There's no use in me stressing out over it because what happens, will happen.  I hope to come back from England on January 4, wrap up the final revisions to the book, and get another part-time job to hold me over until we move to Charlotte in the summer. 
I am also excited to do some road tripping!  I'm going to the Fit Bloggin' Conference in March. I also want to visit my mom in Tennessee and some friends in Charlotte, Boston, Pennsylvania, Virginia, and DC.  Wanna come with me via the blog?  :)  I might time my trips to coincide with some Half Marys, too.
Whew!  On that note… breakfast!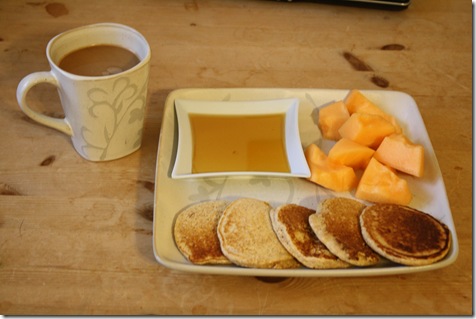 Whole wheat pancakes (Hodgson's Mills mix):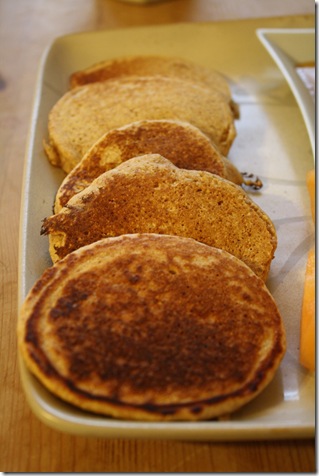 Melon + real maple syrup: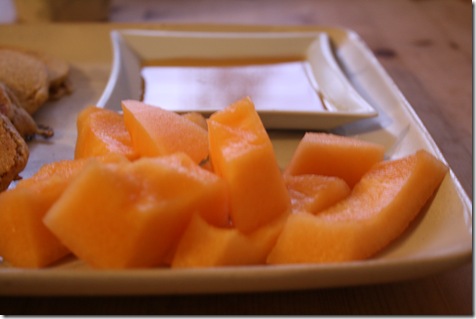 And COFFEE, of course!
Off to work I go!   I shall leave you with my new favorite quote…
Writing is easy:  All you do is sit staring at a blank sheet of paper until drops of blood form on your forehead.  ~Gene Fowler
Do you find yourself stressing out about the future, about things you cannot control?  I used to be really, really bad at this – it would keep me up for HOURS at night while I stressed.  If you don't, how do you keep yourself in the present?