I forget how amazing quesadillas can taste!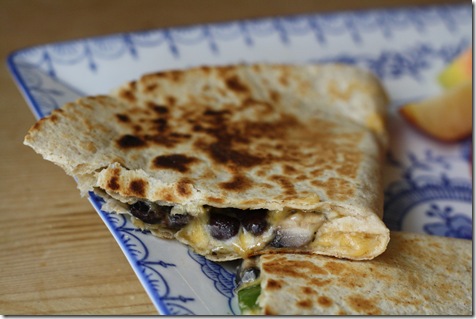 My uncle and aunt had my mom over for dinner the other night, and they made quesadillas.  My uncle and aunt have been vegetarian for 20 + years, and my mom recently went veggie, too.  She could not stop RAVING about the amazing quesadillas they cooked, and I finally made my own: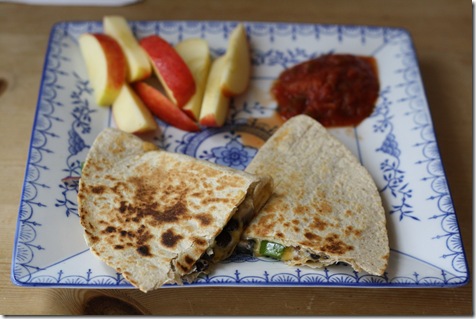 I used this brand of tortillas, which I really like because they are trans-fat free and only 100 calories.  I don't normally pay too much attention to calories, but tortillas can easily have 300 calories in them, and I'd much rather eat my calories in cheese form.  🙂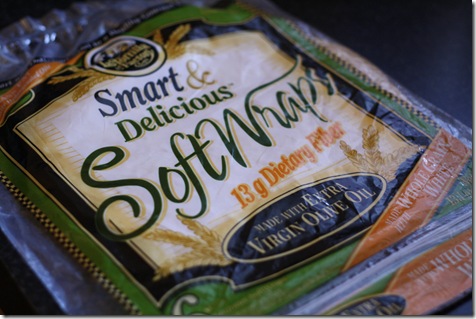 And they taste good!
My quesadillas contained:
Mexican blend of cheese
Mushrooms
Green Pepper
Onions
Black Beans
Plus, salsa on the side: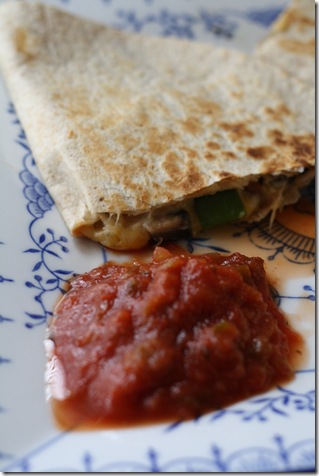 And a 1/2 apple (I split it with the Husband):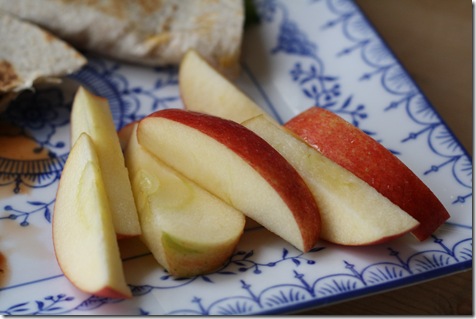 Walk This Way!
I was suppose to run 5.0 miles this morning, but I do not feel 100% recovered from my 22.0 mile long run on Wednesday.  I have nagging muscle soreness in my groin and quads… nothing too major, but enough to keep me from running.
You guys know how I roll – I will NEVER run if I feel an injury (or a potential injury) coming on.  It's just reckless, and I learned my lesson when I ran my knees into the ground and was forced to take a 2 month running hiatus!
Instead, the Husband and I went for a long walk together.  We walked 2.25 miles in 40 minutes. 'Twas a decent, low impact workout!  🙂
My Happy Moment
Although my morning was a little rough (with the death of my fishie), I found out something REALLY EXCITING mid-morning.  I landed a freelance writing job with The Wall Street Journal Classroom Edition, who is partnering with a site called Unigo.  I wrote for the WSJ CE for about 5.5 years, and I'm really excited to be working with them again! 
This is kind of just one more stepping stone to my ultimate goal of being my own boss forever.  I'm not saying there is anything wrong with a 9 to 5 job (there are SO many benefits – like paycheck security, which I don't have, and health insurance, which I pay through the nose for!), but I lived the lower to middle management job lifestyle for 3.5 years and would be happier not going back.  (I have no idea what I'm going to do about Physical Therapy grad school, just an FYI.)
So… wahoo!
…And A Happy Success Story!
I love to share reader success stories!  Recently, a girl named Alex e-mailed me a few times for advice about running her first 10K.  She was super concerned about icky weather conditions… but she DID it! :)  Here's her recap:
Alex said, "I am excited to say I successfully completed my first 10k and longest run to date. I had 2 goals going into the race. The first goal was not to walk unless absolutely necessary and also to make it under 1 hour. Well I completed 1 of 2. I did not walk ONCE! It shocked me because I typically have to walk every run if only for a couple seconds. I was close to accomplishing the 2nd goal. I finished the race in 1:03:06. So close!!! I like to think that given better running conditions I could have made up those 3 minutes. 🙂 The weather was 34 degrees and raining! I was completely soaked and shivering at the end.  I am extremely proud of myself and cannot wait for my next race. I have signed up for a St. Patrick's Day 8k. For a variety of reasons, I prefer the shorter length races, no more than a 10k. But now I can focus on speed knowing that I can do the distance."
So… what's YOUR Happy News of the day?  There must be something nice for you to share… something big or something small – go ahead and brag!