It's a well-documented fact that I am really bad at "typical woman maintenance."  In Project Glow, Angela weaned me off using a bar of soap to wash my face (thank goodness!).    But I cannot remember to regularly use facial moisturizer.  And I spend a LOT of time outdoors in the sun, rain, and wind.
Recently, I discovered that if I keep my beauty products next to my bed, I am so much more likely to USE them then if they are buried in my cabinets.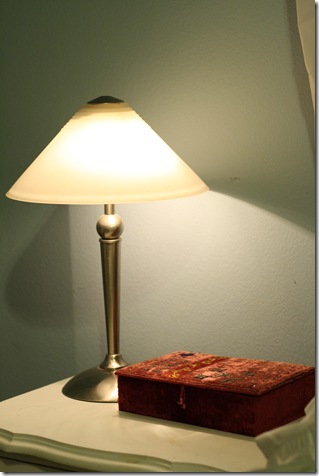 Yes, I floss in my bed.  So sue me.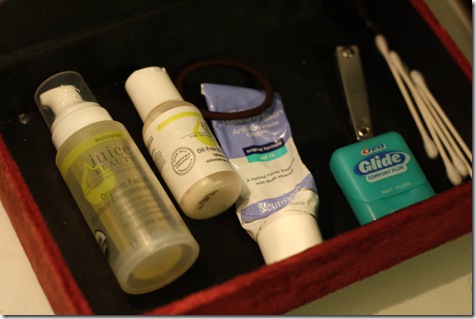 My face is now as smooth as a baby's bottom!
So, yes – I have a really minimal beauty routine.  I scrub my face twice a day using St. Ives Apricot Scrub (I know some people don't like this; but I do!), brush my teeth twice a day, and floss once a day.  I pluck eyebrows every other day, and I'm trying to get into the habit of painting my nails (makes me feel feminine!).  I shave my legs once every three days (so bad!).  And I put on make-up when I leave the house for anything besides a run or the grocery store.  I was thinking the other day about how I hardly ever wear jewelry anymore.
I think my minimal routine started about 2.5 years ago, when I started to work from home.   In addition to using facial cream regularly, my new goals are to stop 1) waiting to shower until 4 PM and 2) wearing sweatpants all day.  I'm starting to become a smelly, hairy, beautiful hermit! 🙂
Anyway – keeping your beauty products in REACH is a good thing.  Now I will actually use the expensive, effective, and organic face creams I bought.
Breakfast: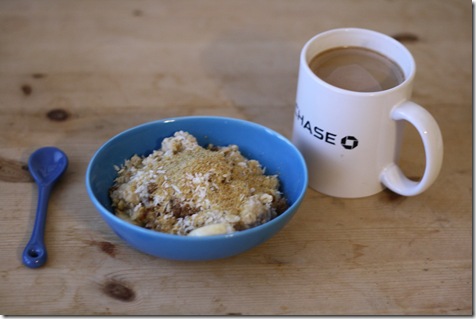 Just banana oatmeal with:
1/2 cup oatmeal
1/2 cup rice milk (Zesty has an interesting quiz about milk up today!)
1/2 cup water
1 banana
Toppings:  brown sugar, flax, and unsweet coconut
Last night, I got into the holiday spirit and made Gingerbread Man cookies.  I ate two un-iced cookies after dinner (we didn't have any powdered sugar!):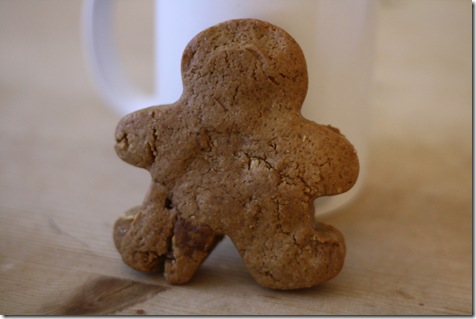 Oh, the winner of the Amy's Kitchen Soup Prize Pack was ERIN.  Erin's answers for the Would You Rather game were:  tropical beach, politician, wine, and speed.  Most of you wanted to go to the beach, be a movie star, drink wine, and have endurance.  🙂
Are you a beauty minimalist like me or do you have a really thorough routine?   Tell me about it!  I love to hear new beauty tricks – I love how Angela uses natural coconut oil instead of chemical-ly lotion!