Tomorrow is a special day!  Ashley is hosting a vegan bake sale for Team In Training (TNT), a charitable organization that raises money for blood cancers such as leukemia.  I am running the Disney Marathon through TNT, and it's a great organization to support!    
The Bake Sale is auction-style fundraising.  I offered to make vegan cookies for Ashley's bake sale.  So, I broke out my only vegan cook book: Eat, Drink, and Be Vegan by Dreena Burton.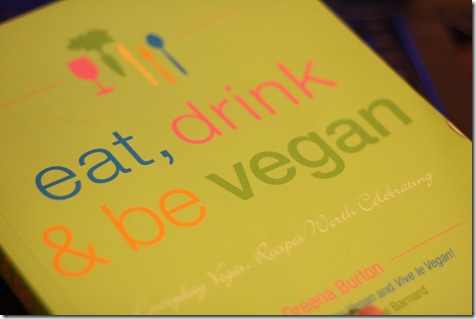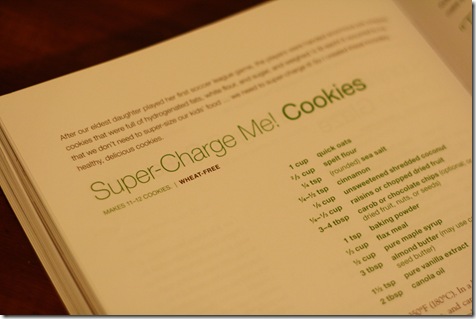 I'm cooking up a batch of Super-charge Me! Cookies, which are delicious and healthy, too!  I hope someone buys them; they are great power snacks! 🙂
You can check out my cookies and loads of other yummy treats, which will be posted TOMORROW on Ashley's blog.
Here are the other detailsdetails:
Go to Ashley's blog tomorrow to see all the items up for sale!
All funds will go directly to Team in Training/LLS using Ashley's TNT fundraising page.
Bidding for the bake sale will be held Wednesday (12/2) from 2:30 p.m. to 12:00 a.m. EST 
Anyone with a U.S. shipping address (blogger or not) can bid by emailing healthyashley@gmail.com.  Don't email me directly; e-mail Ashley on Wednesday!
Bids can be emailed to healthyashley@gmail.com early for those who can't make it to a computer during that time frame.
Highest bids will be updated frequently on main bake sale page on Ashley's blog.
The funds from winning bids must be posted to Ashley's TNT fundraising page within 24 hours of winning confirmation email or next bidder automatically wins. 
Winning bidders can expect to have their product shipped out within three (3) days of the bake sale as long as shipping address is received promptly.
In other news… I posted this awesome Operation Beautiful note today: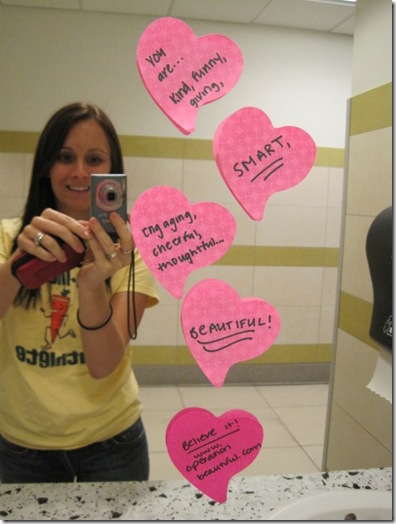 I'm rocking a No Meat Athlete t-shirt.  Now, that's a cute holiday gift for the athletic vegetarian in your life.  🙂
And here are my eats! 
For dinner, I had Tortilla soup from Wolfgang Puck, a slice of bread with real buttah, and a carrot.  (Plus, unpictured crackers).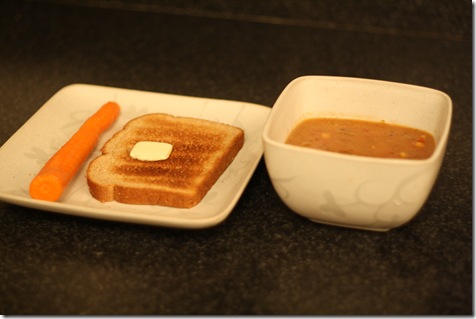 Snacks from this afternoon included cheese and crackers:
Apple: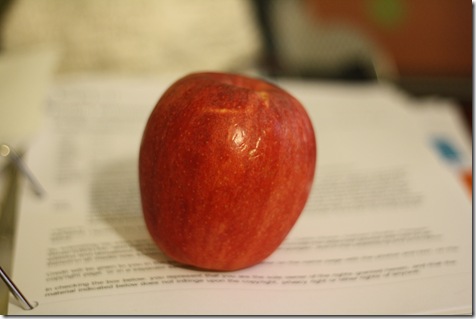 Cereal (with rice milk):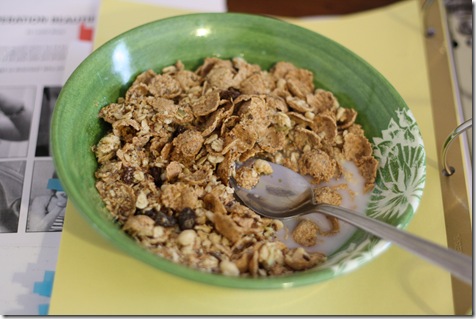 Photographs are proof that I did in fact engage in work today.  🙂
Off to bed I go! 
Don't forget – Bake Sale is tomorrow!  🙂