Hi friends!  I am going to take the night off from food blogging (all my eats were pretty unexciting, except I had 1 million cups of tea to stay awake).  I need to disconnect.
But, I wanted to leave you with an interesting passage from a book that I am slowly reading called "Don't Sweat the Small Stuff in Love" by Richard Carlson and Kristine Carlson.  The book describes itself as "simple ways to nurture and strengthen your relationships while avoiding the habits that break down your loving connection."
I like to read relationship advice books, but not because the Husband and I are having any problems.  :)  We're awesome together!  But, I find these books helpful because we got married so young (24 is young!), and I know that we both have a lot of growing to do.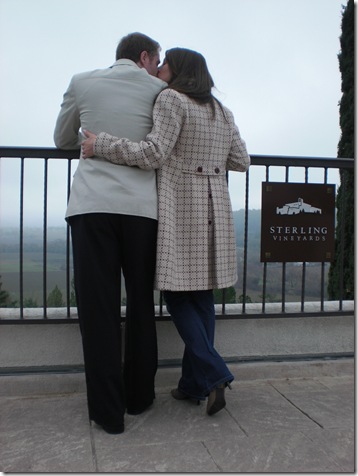 This passage really stuck out to me, and I think it can be applied to all relationships, not just romantic ones.  I'd love to hear your thoughts on this.
#49:  Take Responsibility for Your Own Happiness (page 134 – 136)
Unfortunately, one of the biggest relationship mistakes also happens to be one of the most tempting things to do if you are in a relationship: Make your partner responsible for your happiness, and blame him or her when you are not.
It's a little scary to listen to many of the popular songs on the radio.  So often the message is, "You make me happy; I'd be lost without you; you are my world," or other, similar types of messages that take away all the power and responsibility to make yourself happy and put it on someone else.  Wow! If you think about it, that's an enormous amount of pressure to put on another person.  It's like saying, "I can't always be happy myself –  but if you're going to be with me, you'd better make me happy."….
What we've found is that if you believe that the answer to your unhappiness lies in someone else's hands (no matter how much you love them), you're in for a load of trouble.  Even if they manage to accommodate you with occasional changes, you'll come to rely on those changes for your continued happiness.  There will be only one possible result.  Eventually, you will be let down and you will feel discouraged.  You'll be left with that helpless and dependent "It's her fault" feeling. '
Don't get us wrong.  We're not saying your partner shouldn't play a role in your happiness…. What we are saying is that, ultimately, you and you alone are responsible for making yourself happy.  When your life isn't working, you need to make changes or see things differently.  You may have to make difficult choices, have painful or uncomfortable discussions, or compromise in some way – but you have to take responsibility for your own level of happiness.  There isn't a relationship good enough to do it for you.
This is a very empowering insight for you and your partner.  In effect, you are making a statement to yourself that, while your relationship is absolutely a top priority and your love of your partner is immense, you have the power and the ability to make yourself happy. 
You are also taking a great deal of pressure off your partner.  You are saying … "You don't have to worry that I'll freak out every time you disappoint me.  You even have my permission to be less than perfect.  I am okay even when you are not okay, and I love you as unconditionally as I know how."
You'll be amazed at how much happier you'll be when you put the responsibility for your own happiness where it belongs – with you.