Traveling stresses me out – a lot.   Traveling is an even bigger headache during the holiday season, so why not try to make it a little more bearable for yourself and fellow travelers?
Whether you're going to your Thanksgiving celebration by car, bus, plane, or foot, post a few Operation Beautiful notes in your wake!  It's a fun way to spread the holiday cheer.  🙂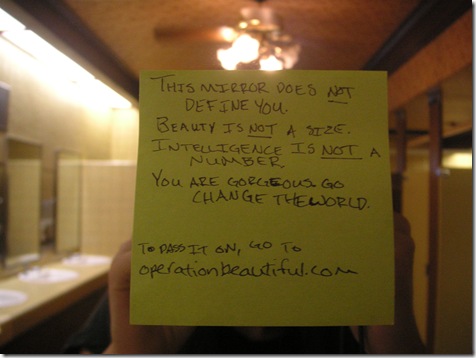 (This note is from a girl named Jenn – Thanks, Jenn!)
As always, if you take a picture of your note and e-mail it to me (seebriderun@gmail.com), I post it on the site for others to read and enjoy.  🙂
How are you traveling this holiday season?  We're driving to our Thanksgiving dinner, but we'll be flying on Christmas Eve… Maybe we'll see Santa in the sky!