Nom, nom, nom!  I dreamed up this Sweet Breakfast Burrito recipe last night – literally!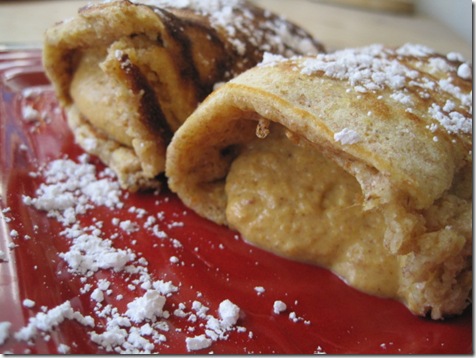 A new twist on an old favorite, this features a pancake "burrito" stuffed with Greek yogurt, pumpkin, and tons of spices.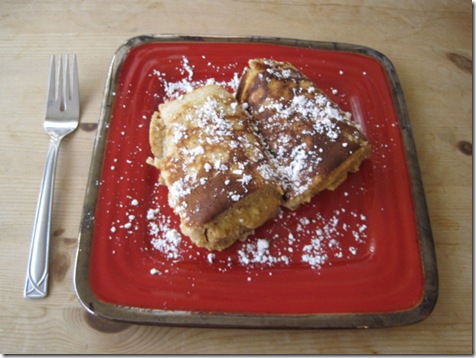 Ingredients:
1/2 cup prepared whole wheat pancake mix
1/4 cup pumpkin puree (cold)
1/4 cup Oikos Greek Yogurt (plain)
Spices to taste: cinnamon, nutmeg, and ground cloves
1 tablespoon maple syrup
Powdered sugar for decoration 🙂
Directions:
Grease a heated wok and pour pancake mix into the center, creating a large circular pancake.
Wait until pancake is cooked thoroughly on one side and flip carefully, cooking the other side.
Meanwhile, mix all the remaining ingredients (except the powdered sugar) in a small bowl.
Plate pancake, smear pumpkin mix on the inside, and carefully roll up.
Dust with powdered sugar.
Enjoy!
It was AMAZING.  I wish more good recipes would come to me in my dreams!
Slower Marathoners
Thanks for the interesting and engaging debate on The New York Times article about slower marathoners.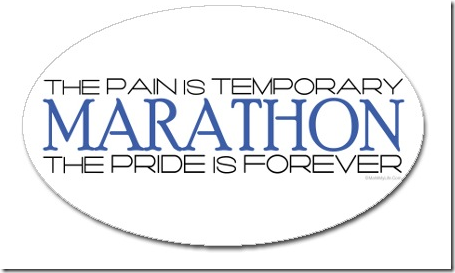 Some of your opinions made me reconsider mine, and I think I'm back to believing the article is complete BS.  What's the point of the debate raised by the NYT, anyway?  26.2 miles is still 26.2 miles, and everyone who completes a marathon should feel proud and happy.  The rest is just an issue of semantics.  No one – especially not the idiot runners quoted in the article – should make anyone believe anything less!
Thanks again for the insightful, interesting, and friendly debate! 🙂
FeelGoodz Flip Flops
The winners are the FeelGoodz Flop Flops giveaway are:
Stacie: "I wear flip flops year round (advantage–California!) but my favorite place to wear them is Hawaii (though that may be more related to the fact that everything feels great in Hawaii!)
BethAnn: "My favorite place to wear flip flops is everywhere!! I think I wear them until my toes could freeze off!"
Congrats!
There are so many fabulous notes up today on Operation Beautiful that I just had to tell you to GO CHECK THEM OUT!
Seriously, the notes are unusually good today.  :)  Makes me happy! 
Have a WONDERFUL DAY!