As discussed before, I am one of those vegetarians that actually miss meat.  I haven't been meatless long enough to have "forgotten" what meat tastes like, and sometimes I crave it.  So, I'm constantly on the lookout for faux meat that actually tastes good.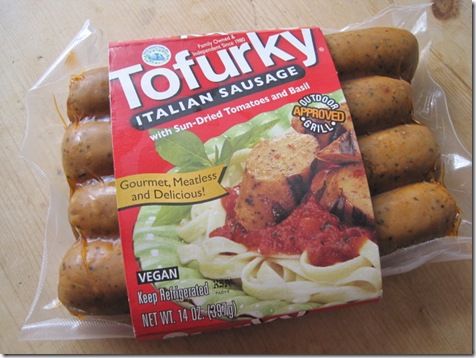 When I spotted this Italian "Sausage" at the store, I knew I wanted to use it to make…. 
Stuffed Acorn Squash!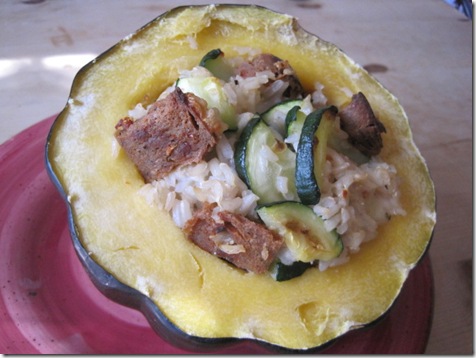 Because these sausages are a little calorie (270), sodium (620 mg), and fat (13 gram) heavy, I had 1/2 a sausage (which still packed 15 grams of protein)!
Inside my pre-cooked acorn squash (baked at 350 upside-down in a casserole dish filled with a little water for 40 minutes), I stuffed:
1/4 cup cooked brown rice
1/4 cup chopped zucchini (lightly grilled first)
1/2 a Tofurky sausage (lightly grilled first)
1/8 cup cheddar cheese
And then I baked the entire thing for another 15 minutes at 380.
The result was AMAZING!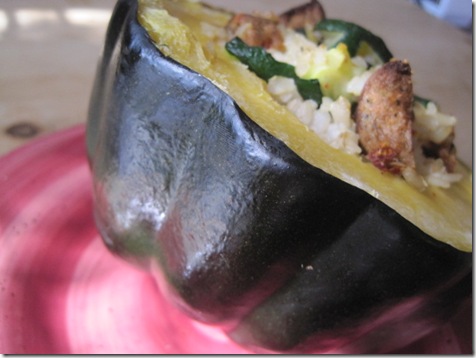 Tofurky, you did not disappoint!  The "sausage" tasted salty and rich, and it even had a similar texture to real sausage.  But it didn't taste TOO much like real sausage (none of that crunchy-skin thing), which was good in my book.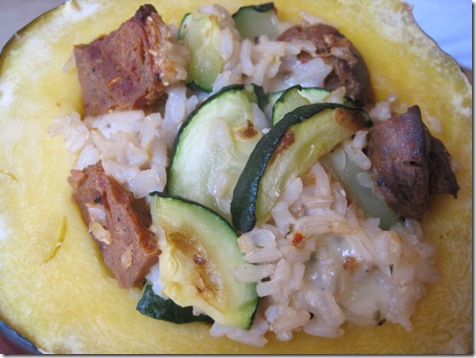 Yum!  I had a Snickers Fun Size for dessert.  🙂
Before lunch, I went on a 3.0 mile run.  I fueled up with a mini Oh She Glows bar: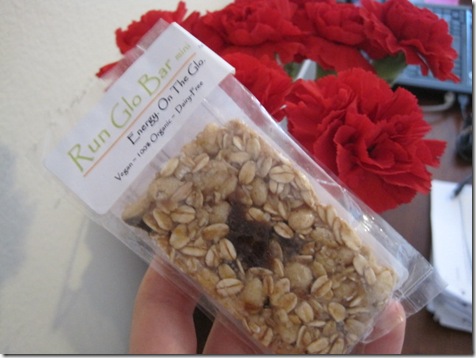 I'm trying to run all my shorter runs at Half Marathon goal pace to prepare myself for my upcoming race.  Only 10 more days!
Duration: 27:10
Distance: 3.0 miles
Mile 1: 9:16
Mile 2: 9:04
Mile 3: 8:54
'Twas an excellent run!  Even Maggie was excited for me.  🙂 Look, she got her little wiener legs off the ground:
I have an 18.0 miler on the schedule for tomorrow.   Eck!
What's your thoughts on faux meat?  Or do you just do the "real thing"? I don't like to eat a lot of faux meat because it's highly processed and filled with sodium, but sometimes it tastes really good!  I did have faux chicken strips over fettuccine once, and they tasted a little TOO much like the real thing for me to be able to enjoy it.