I feel like Meghann – my lunch consisted of a bunch of random items thrown into a salad bowl! 🙂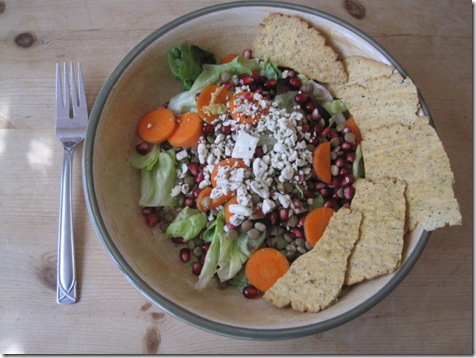 The star of my salad was a pomegranate.  I love how POMs are so time-intensive to cut open, but in the end, you have 2 cups of arils to show for all your hard work!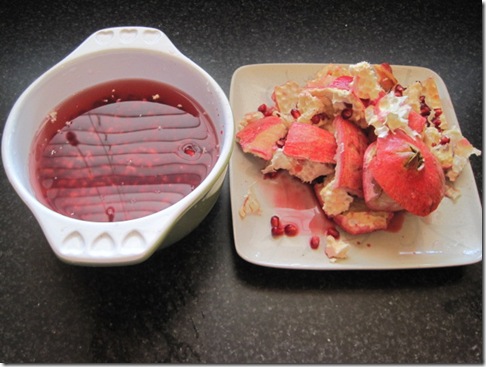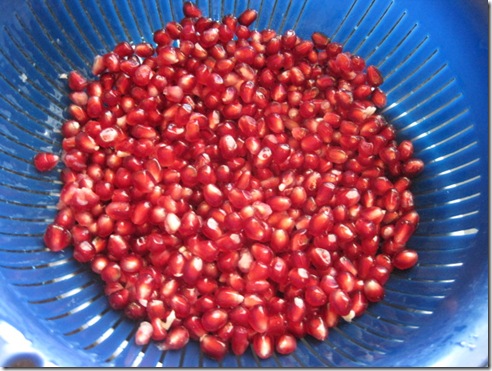 How to cut open a POM fruit (without ruining your shirt).
My salad consisted of:
Green lentils (cold)
POM arils
Feta cheese
Carrots
Lettuce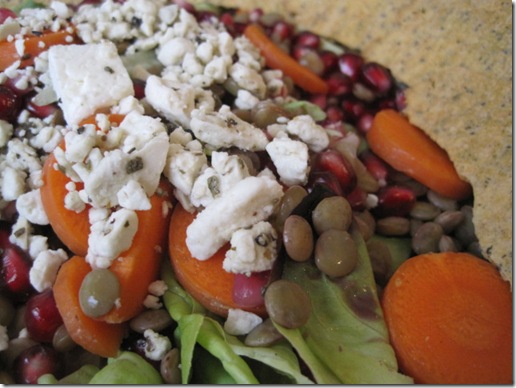 It was an unusual combination, but it worked!  I think the feta cheese balanced the salty flavor of the lentils and the sweetness of the arils.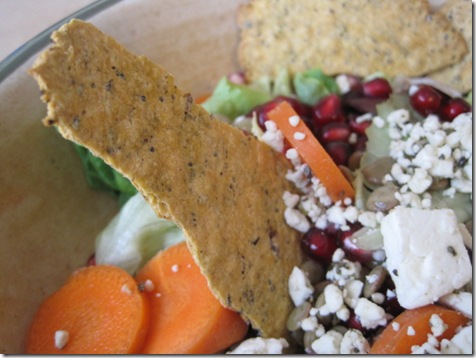 I had a serving of crackers on the side.
I also snacked on a mini Glo Bar this morning: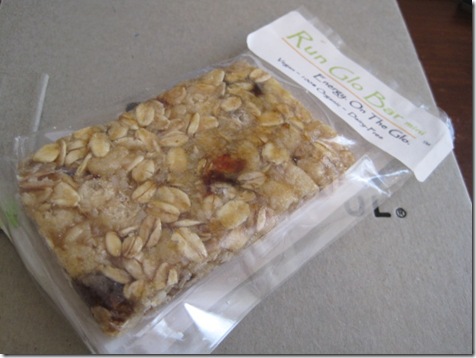 The Second Annual PILE ON THE MILES 2009 Challenge
Last November, I signed up for Bobbi's Pile on the Miles Challenge.   I'm really excited to help her host this blogger/reader challenge again!
It's almost part of the holiday season to slack off between November and December, and then vow on January 1 to get back on track.  It's hard to stay focused on your workout and eating goals when there are office parties, family dinners, and Christmas cookies at every turn.  But this year, let's try something new.  Instead of piling on the pounds, let's PILE ON THE  MILES!
Last year, Bobbi's event had amazing results.  As a group, we piled  on 1,763.52 miles!  In third place was Lacey @ Common Objects and Everyday Events with 127 total miles; in second place was Monica @ Run, Eat, Repeat with 131.38 total miles; and the winner, Sammie @ Running With A Recipe, ran 135.78 total miles!
From November 1 to Thanksgiving, keep track of how many miles you run or walk.   We've created a group Google Document so you can post your miles on the spreadsheet.  Be honest!  🙂
To ensure everyone has a chance to win, we'll be selecting three winners this time. 
The Grand Prize winner will be based on total mileage.
To qualify for the General Entry category, all you have to do is pile on at least 10 miles during the month of November!
To qualify for the Operation Beautiful entry, you must spread the Operation Beautiful love while out on your runs.  Get creative – carry chalk with you, bring post its, or write it in the sand.  But you've got to take a picture and e-mail it to me! 
We're working on pulling together some amazing prizes for the winners!
Last year I piled on 67 miles as part of Bobbi's POTM 2009 challenge.  This year, I'm aiming for 100 miles.  🙂
The POTM 2009 Challenge is a great way to stay motivated, participate in the blog world, have fun, and be healthy during the holiday season! If you'd like to participate, e-mail me at seebriderun@gmail.com and I'll send your the link to the Google Document spreadsheet.  You have until October 31, 2009 to enter!
Note 1: I am double checking with Bobbi, but I'm 99% sure that you must physically RUN or WALK the mileage.  Biking, elliptical, swimming, etc is awesome, but it cannot count for this challenge because then we have to do all sorts of weird calculations.  Yes, POTM is a runner-specific challenge, but I still love all you non-runners, too.  🙂
Note 2:  You don't need a blog to enter – anyone can!
POTM 2009!  Remember, if you want to participate, you must e-mail me (seebriderun@gmail.com).