Good morning.  I must admit that I am SO happy to be home.  :)  Just knowing the Husband and doggies are in the same building makes me happy.  It's so corny, but I feel like a part of me is missing when I'm away from my family.  True love.
I am still quite sick, unfortunately.  It's a pretty bad sinus/upper respiratory infection.  I had to call out of class tonight, even though we have a Anatomy test, because my community college has a zero-tolerance policy about showing up with a respiratory infection.  I don't think it's the swine flu H1N1, but its better to be safe than spread your germies around.
For breakfast, I had a bowl of banana oatmeal: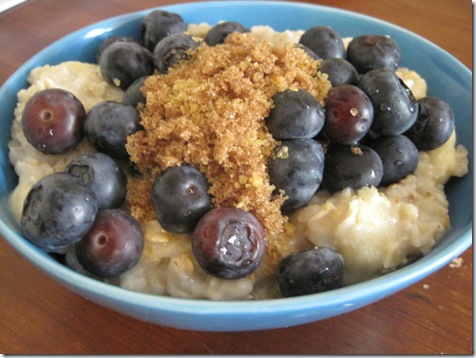 My oatmeal contained:
1/2 cup oatmeal
1/2 cup milk
1/2 cup water
1 sliced banana
Toppings:  flax, brown sugar, and blueberries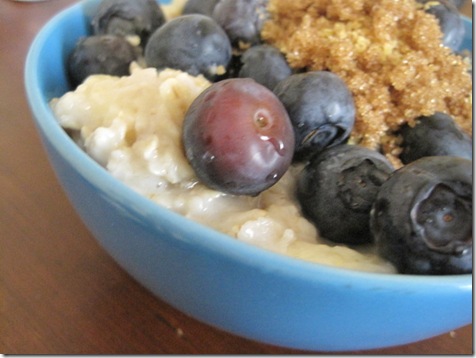 At least I haven't lost my appetite.  😉
Last Day at POM Wonderful Recap
Yesterday was our last day of the POM Wonderful tour.  I spent the entire morning at the plant and drove straight to the airport, so I didn't have a chance to blog.  Here's the recap of our excursion!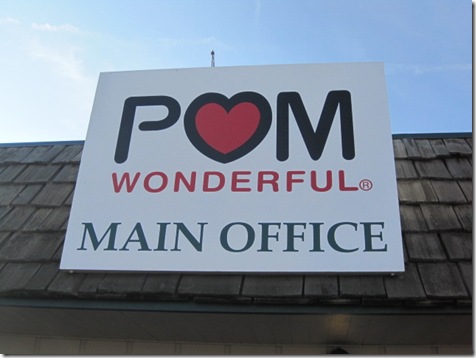 We toured the POM Wonderful offices, fruit packaging plant, juicing plant, and bottling plant.  It was a really interesting learning experience for me because I love learning how food/products is produced and packaged (nerd alert).  I have also been on tours of:
Several large-scale commercial breweries
An Audi factory
A Boeing factory
But I think the POM Wonderful tour was the most interesting one!
We donned sweet hardhats and hair nets before touring: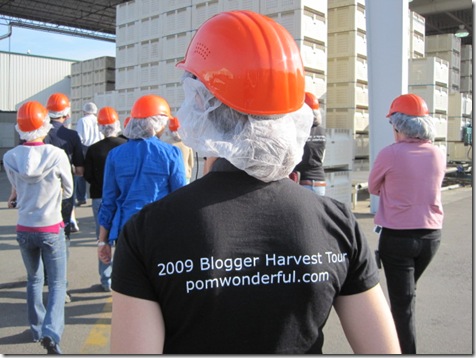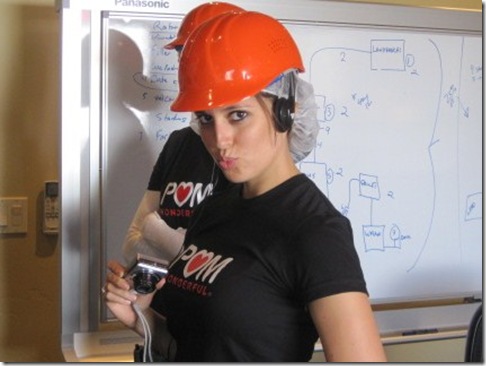 First, we toured the area where the fresh fruit is brought in from that day's harvest.  POM fruit is only harvested for 15 weeks out of the year.  They are stored in these large containers until they head to the sorting area.  The plant moves FAST – the fruit rarely waits more than a day or two.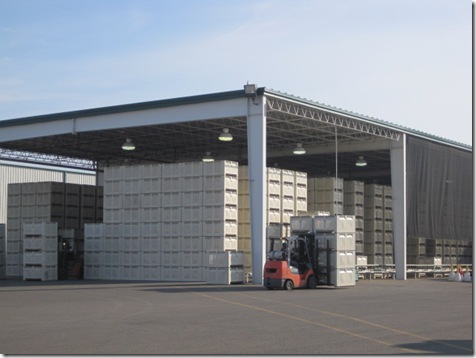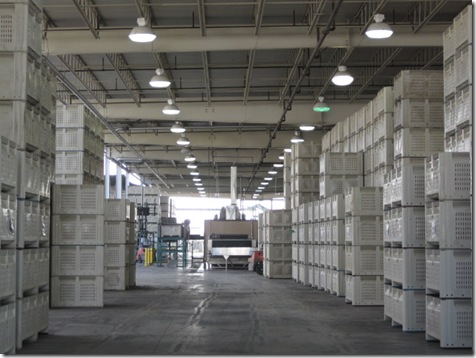 The fruit is loaded on a large conveyer belt, on which it travels inside the plant: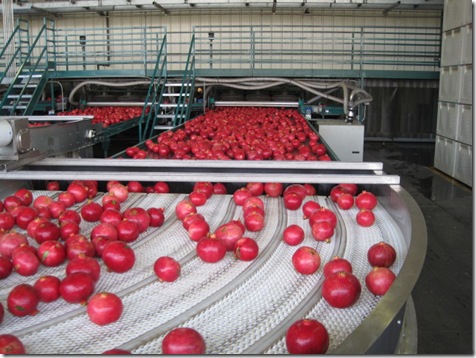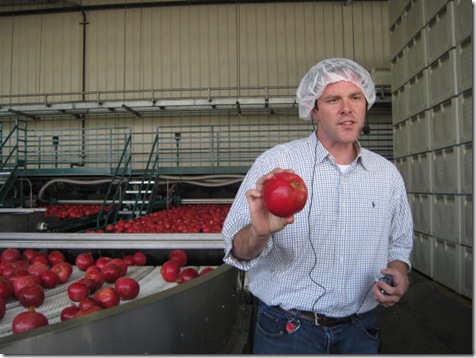 After entering the plant, each fruit passes under a $1 million machine that takes TWENTY PHOTOGRAPHS of EACH piece of fruit.  In the blink of a camera lens, a computer quickly analyzes the fruit for factors such as color, scarring, and size; sorts the fruit; and sends it down this belt: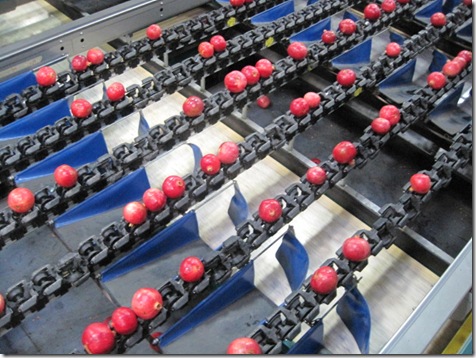 The computer "knows" which fruit to POP off the conveyor belt into one of three chutes.  The chutes determine the fruits destiny as whole fruit, juice, or another POM Wonderful product.
The cameras can sort 350 fruits a MINUTE.  How crazy is that?  That's 7,000 photographs of fruit in just one minute.  🙂
The fruits that are destined to be sold as whole fruit are the washed, coated with a light fungicide to prevent the spread of disease or bugs, and shined with a minimal wax.  Then the fruits are packaged for retail sale.
The POM Wonderful plant also has a non-computerized, traditional sorting facility.  About 200 workers sort each fruit by hand in this building.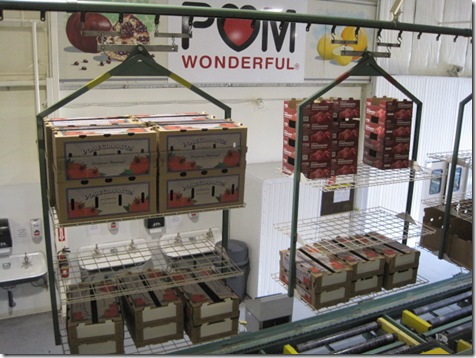 If the fruits are destined to become POM Wonderful juice, they are transported to the juicing room.  We also toured this area and the bottling area, but cameras aren't allowed in those rooms.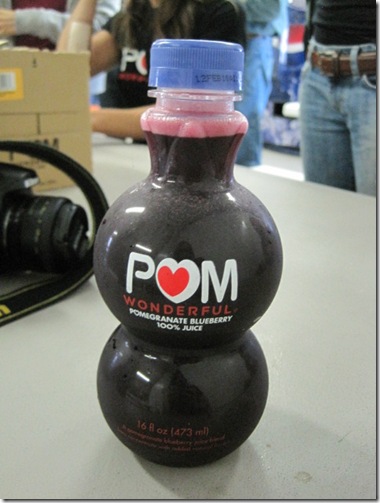 Leftover POM fruit shells and other materials are sold to cattle farmers, who mix the fruit into the feed. 
How to Cut Open a Pomegranate
Here's the official POM Wonderful technique for opening a POM fruit: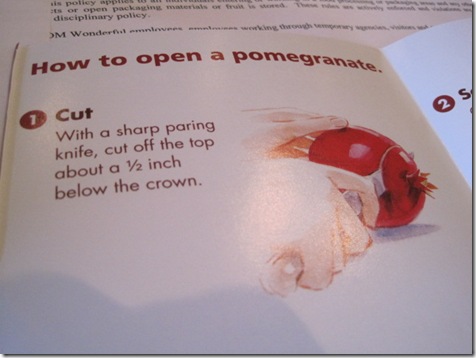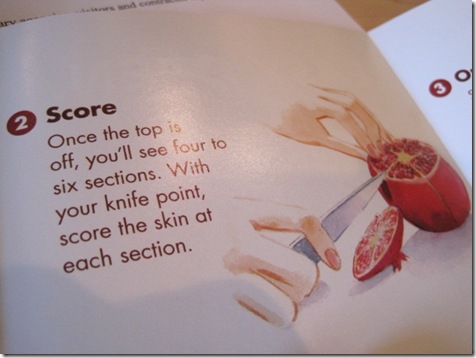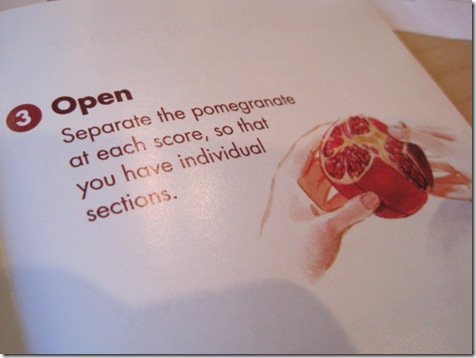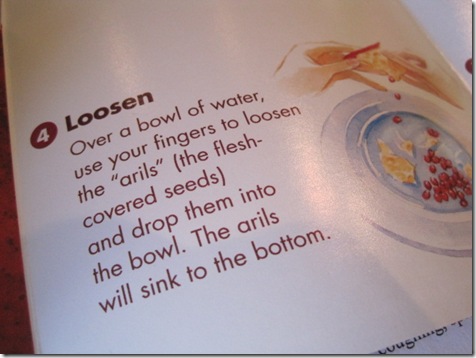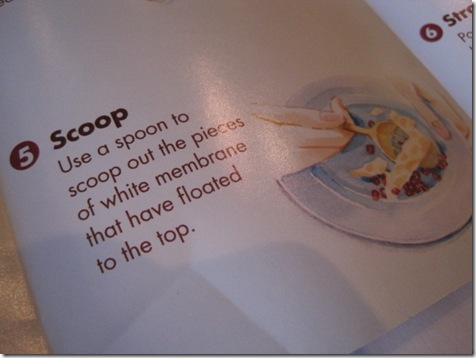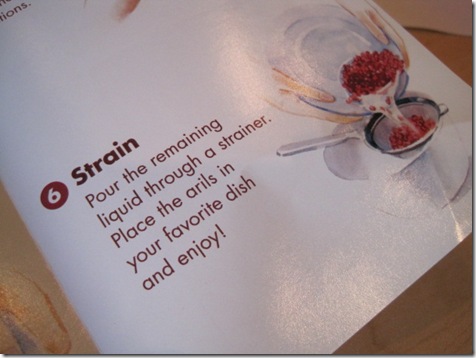 Good to know, because I have about 4 fruits in my suitcase and I want to eat them ASAP!  Maybe all the antioxidants will make my sickness go away?
All in all, it was an excellent trip! Thank you, POM Wonderful!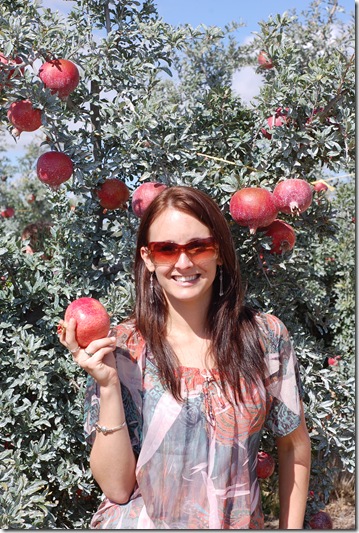 Have a good morning!  See you in the afternoon.  🙂