I have a cleaning question!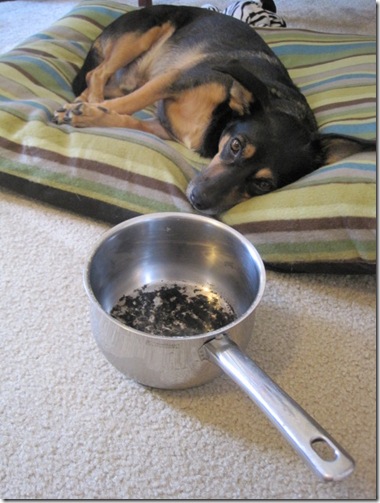 I've been cooking white rice for James (since his tummy still hurts from Monday's near-death experience) and I burned the rice to the bottom of the pot.  I cannot get that black stuff off as hard as I scrub!  I let it soak for 48 hours, too!   Any suggestions?  It's my favorite oatmeal pot.  🙁
Lunch was a Mexican fiesta!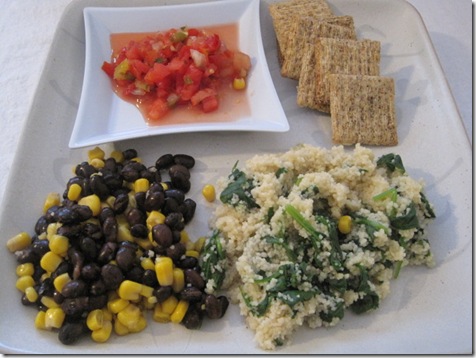 This healthy Mexican meal featured black beans and corn, as well as cous cous and steamed spinach:
Plus, crackers and salsa.  Ole!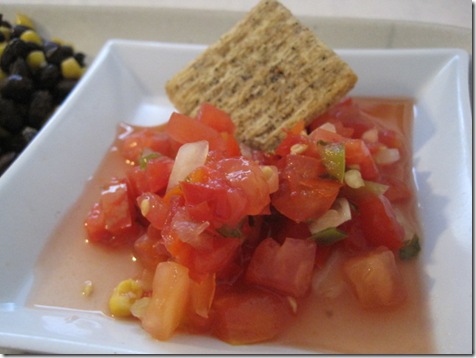 You May Now Squeal like a Little Girl
The New Moon soundtrack is being released on October 20, and I'm practically counting down the days.   The original Twilight CD is excellent, and I have no doubt the new soundtrack will be just as awesome.
The lead single, Death Cab for Cutie's Meet Me on the Equinox, was just released… as well as the accompanying music video… which features NEW FOOTAGE.  You may now squeal like a little girl.  🙂
Good song, too! 
PS – I realize Kristen Stewart's (Bella's) hair is probably not entirely hers (wig? extensions?) but I seriously wish my hair looked like that!  Also, I wish my life involved walking around fields with glittery vampires and speeding through Italy in my yellow Porsche 911 Turbo.