Update your Google Readers!  www.healthytippingpoint.com/feed
Sorry for the delay in posting.  :(  My Internet was down all morning, which was so frustrating because I live and breathe my computer.   My technical issues did mean that I had time to clean the house AND make a yummy breakfast: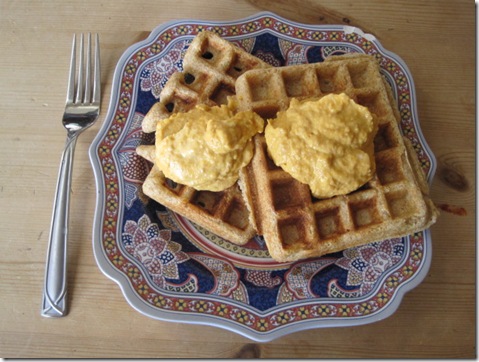 I love whole wheat waffles, but I do not love them with maple syrup!  I only like some sort of creamy yogurt-based topping, like this seasonal-inspired treat: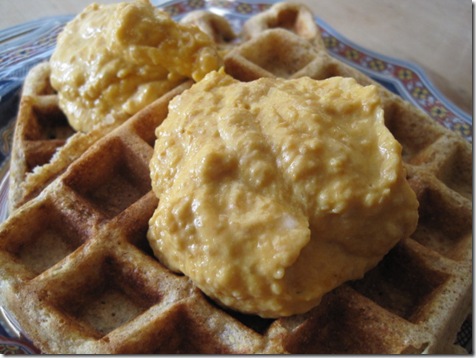 To make the pumpkin yogurt topping, I mixed:
1/4 cup canned pumpkin
1/4 cup Greek yogurt
1/2 tablespoon agave nectar
1 tablespoon ground flax
My waffles were packed with protein, and I even snuck a vegetable in! 🙂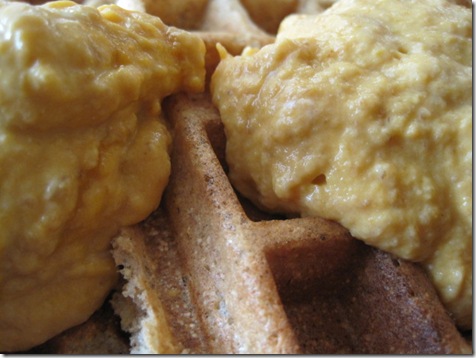 Yum!  🙂
I ate 1.25 waffles – these babies were big!  I'm trying to train myself to stop eating when I'm full, not when I've cleaned my plate.  I grew up in a "clean your plate" family, and although I do not like to waste food, I'd rather eat intuitively than end up stuffed.
My tips for intuitive eating:
Eat slowly!  If you're in a rush, you won't "notice" when you're full and may end up overeating.
Eat the most nutritious part of your meal first.   If your lunch consists of a yummy sandwich with veggies on whole wheat bread and a bag of chips, eat the sammie first.
Use smaller plates.  Research shows that people use the size of their plate to determine if a portion is sized correctly, not the actual amount of food.  A smaller plate means you're less likely to serve up too much food in the first place.
Similarly, use smaller silverware.  You guys know I love my tiny spoons!  Smaller silverware means less food per bite = slower eating = less likely to overeat.
Wait a while for dessert.  Take a breather in between dinner and dessert to see if you really "want" it or if you're just following social cues.
Savor your food.  Food is meant to be enjoyed!
Do you try to eat intuitively?