Good afternoon!  Megan and I ran 6.0 miles this morning.  It was obvious that we BOTH appreciated having a running partner today!
We managed to squeak out the mileage at a decent pace, but I had to stop and ask her if we could walk several times towards the end.  I don't think I'm fully recovered from my illness yet.  She said she didn't mind, and that's one of the things I like about running with Megan – she's flexible. 
Duration: 1 hour, 3 minutes
Distance: 6.0 miles
Mile 1: 9:58
Mile 2: 9:48
Mile 3: 10:21
Mile 4: 10:27
Mile 5: 11:37
Mile 6: 11:12
I came home and crashed on the floor.  I only let my dogs lick my face after a run since I'm getting in the shower anyway!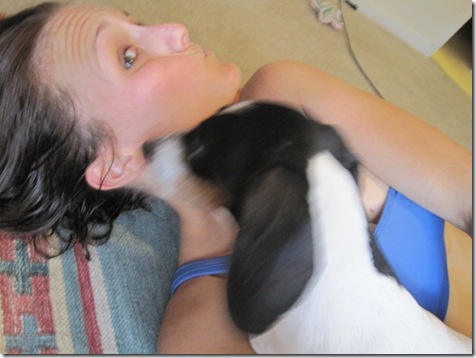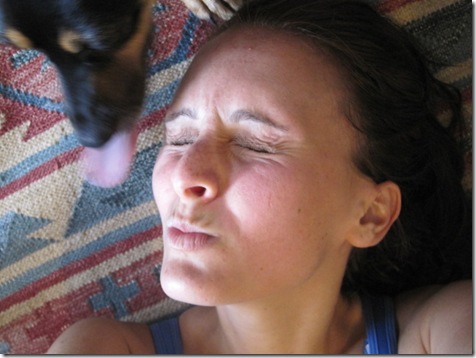 I think they like the salt? Eww.  🙂
I showered, iced my knees, and ate another Glo bar (my stash is rapidly dwindling):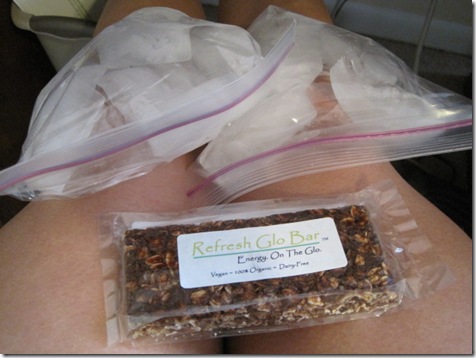 Worked a little, and then I made lunch: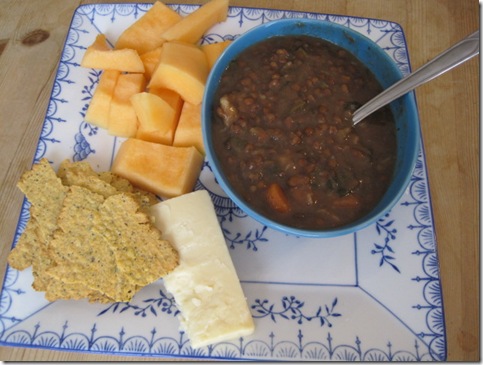 I had Lentil soup from Wolfgang Puck, which looks disgusting but tastes amazing: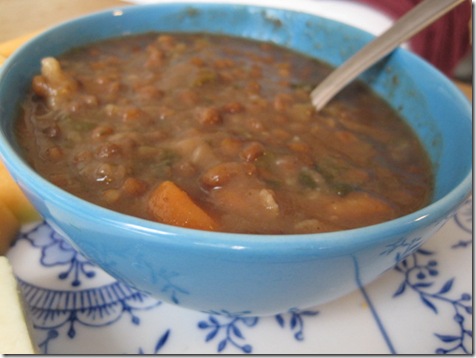 Melon: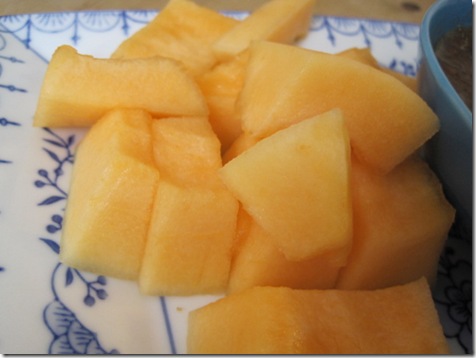 And about 1.5 servings of crackers with cheese: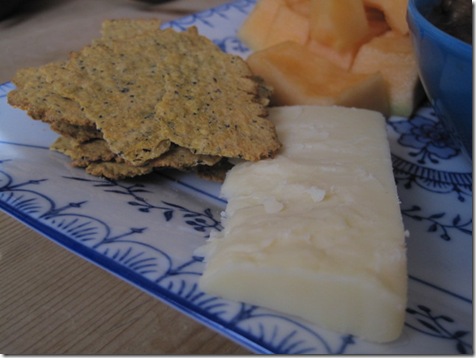 I've been tweeting like a madwoman about the Fit Bloggin' 2010 conference.  Fit Bloggin' is a conference for those that blog about fitness, wellness, good food, and a healthy lifestyle. It's an opportunity to connect, learn, grow, and network.

Fit Bloggin' will take place on March 20, 2010 in Baltimore, and I'll be speaking on the panel called: Beyond the Blog: Publishing Books and Other Forms of Media.  I'm excited to be on the panel, and hopefully it will help me get over my public speaking nerves before my book tour! 🙂
One of the things I liked about Fit Bloggin' is that there are two "tracks" for the attendees, so you don't have to listen to a panel that doesn't apply to your goals or interests.    Panel options include:
"Don't write about junk science: How to critically evaluate research" OR "Blogs, Accessibility and SEO: Dispelling the Myths"
"Getting Noticed: How to Pitch to Traditional Media" OR "Wordpress from .com to Self Hosted: An in Depth look into one of the Most popular Blogging Softwares out there"
"Beyond the Blog: Publishing Books and Other Forms of Media" OR "Body Image and Blogging: What are we teaching our kids?"
"Using Social Media to Reach Goals: The Power of an Online Community" OR "Making Money From Your Blog: Should You? Could You? How?"
Everyone gets to attend sessions on yoga and strength training, as well as the keynote speaker (to be announced).    Plus – there's a cocktail party and a fun run!  The complete detailed schedule for the conference is available here.   This conference is definitely aimed at bloggers, but I think readers would get a lot of out it, too. 
I hope you join me in Baltimore!  :)  I love to meet new people, so don't be shy if you feel like you won't know anyone – you'll know me!  Tickets are $75 on the early bird special, but that only lasts until SATURDAY.  You can register here.
Are you going to Fit Bloggin' or any other blogger conference in the future?  It's fun to go from 'electronic friends' to 'real friends' with people! 🙂