I was in bed by 10:30 and up at 6:30.  I feel productive already!  🙂
Breakfast was amazing: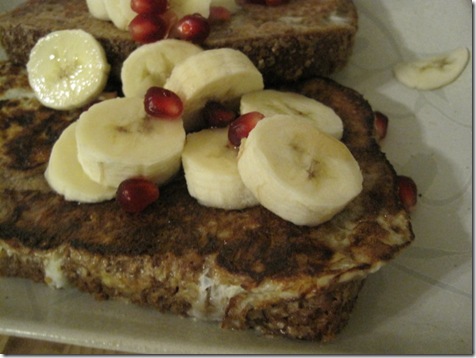 I made French Toast with a POM Wonderful twist, resulting in California Toast!
I added 1.5 tablespoons of fresh-squeezed pomegranate juice to mixed eggs + ground flax, and then cooked the French Toast like I normally would.  Then, I topped it with POM seeds, banana, and a drizzle of maple syrup.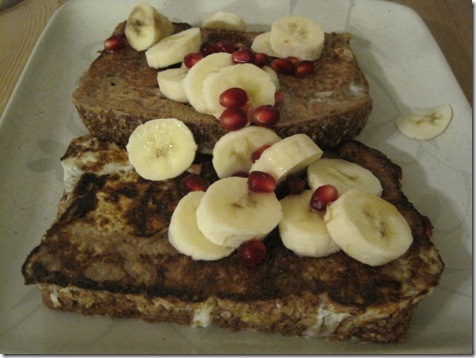 Nom, nom, nom.
Megan is coming over in half an hour to join me for a run.  We both need the extra motivation of a running buddy today, I think! Although we usually run in her neighborhood, she's driving to my place today because she's bored with the scenery around her house.  🙂
Thank you for your feedback on Back on Track Month.  It's helpful for me to hear that you guys "like it" when I admit my struggles with leading a healthy lifestyle.  It's not easy, but I know it's worth it. I love running, eating well, getting enough sleep, and feeling strong and healthy.   :)   So… time to get BACK ON TRACK!
There are some wonderful notes on Operation Beautiful today!  Check it out!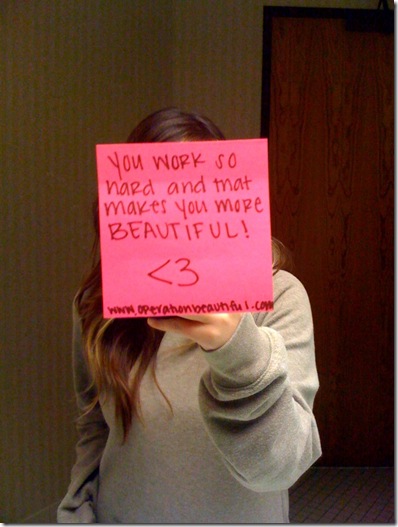 Things to Do:
Eat breakfast and blog
Run
Work, work, work!
Figure out health insurance
Book plane ticket to the Fit Bloggin' 2010 conference
Go to the bank
Anatomy class
See you later!