More people are joining Operation Beautiful!  Check it out:
Sam from Small Changes Add Up:
Angela from Oh She Glows: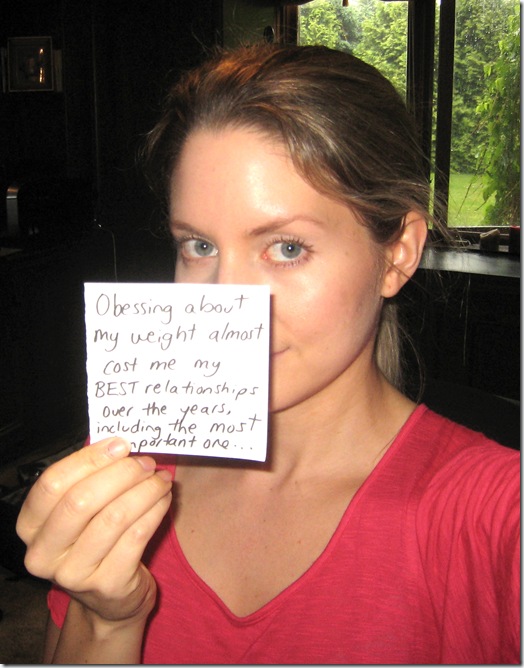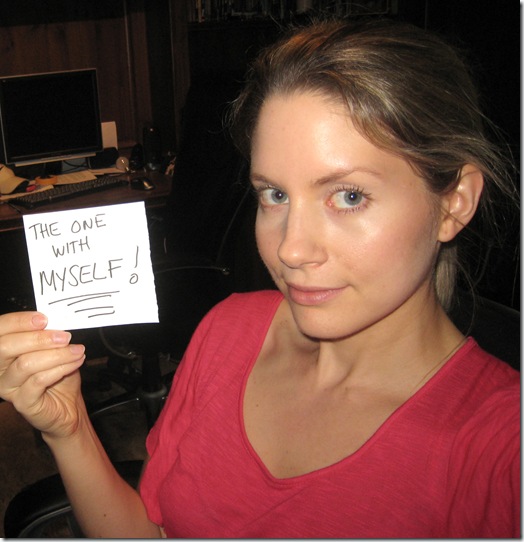 Angela had a great post tonight about body image: check it out here!
Another one of my public messages:
To learn more about Operation Beautiful and participate, check out this post!  Remember, I will share all Operation Beautiful photos, so send them in.
So, today was GREAT in terms of eating.  As I mentioned the other day, I feel like my eating has really gone to hell since I've started to work two jobs.  I made a conscious effort to eat more varied foods today and it worked out well!  And you guys know that I love to eat LOTS of little things so I tried to mix it up.  🙂
Lunch (around 10:30 AM! so early) was baked tofu, brown rice, and sugar snap peas:
Plus melon:
Mid-afternoon snacks included a slice of PB toast (at 1:00):
And a granola bar (at 2:30):
Oh, and some Dove Chocolate….
Which was sent to me by a lovely reader named Madison because she does PR for Dove and knows I am obsessed with the dark chocolate!  THANK YOU!
Right before I left for work, I ate steamed broc and kidney beans.  I was pretty proud of this mini-meal.  🙂
And I just ate (at 9:45) a tiny plate of grapes, carrot, a mini pita and some Sabra hummus:
Mmm!
Good night, sleep tight!