This post is sponsored by Celestial Seasonings.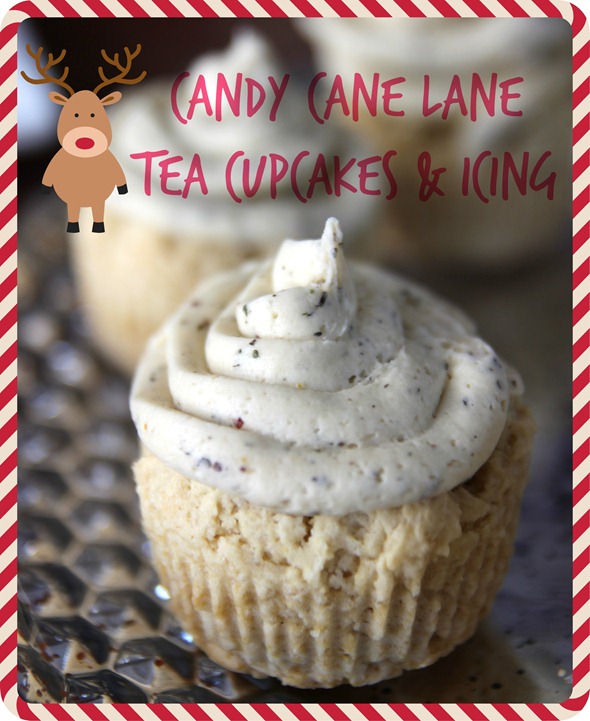 There is so much awesomeness packed into this post that I don't know where to start.  Obviously, tea-infused cupcakes would be a good place, but let's talk about this cupcake stand for just a moment.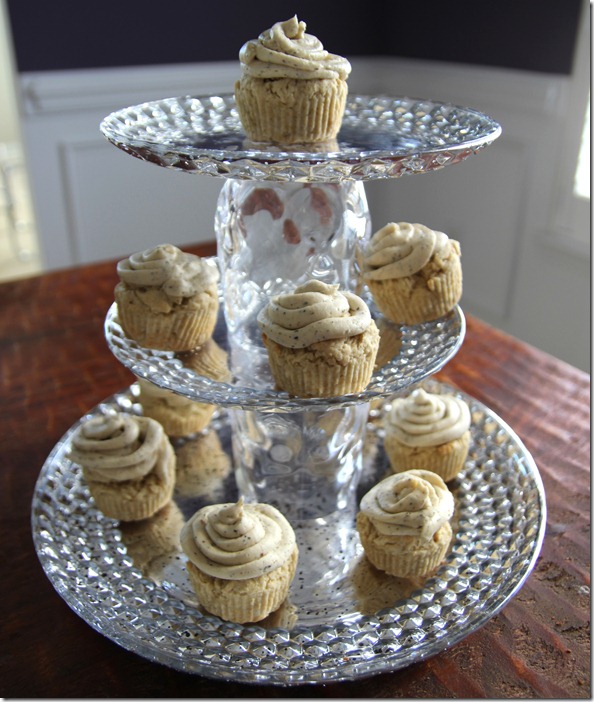 Would you believe that this stand is actually a charger, two upside-down plates, and two plastic cups all glued together?  Yup.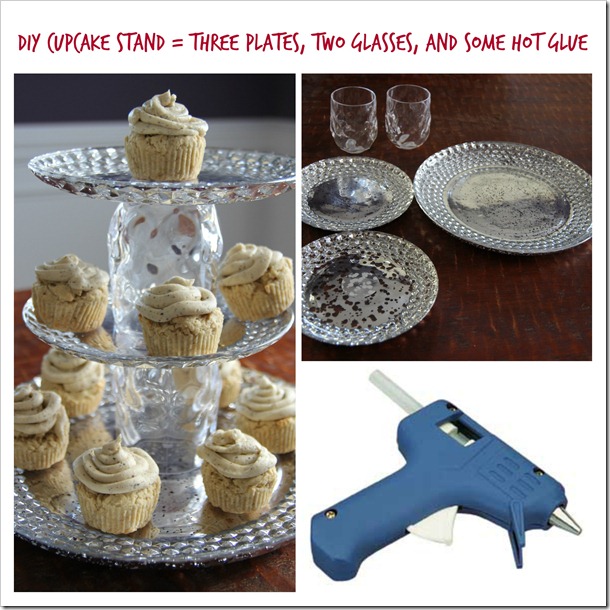 I love the look of rustic DIY cupcake stands that use colorful china plates and teacups, but this shiny silver + beveled glass look is very holiday-ish. And *much* cheaper than buying a real cupcake stand.
Okay… onto those cupcakes.
Celestial Seasonings has a variety of special holiday teas, but my favorite is Candy Cane Lane, a blend of decaffeinated green tea with "cool peppermint, creamy vanilla and a dash of cinnamon."
These cupcakes are infused with Candy Cane Lane tea, both in the actual cupcake itself and in the rich buttercream icing.  Serve up the cupcakes with some hot cups of the actual tea, and I promise your holiday guests will go nuts!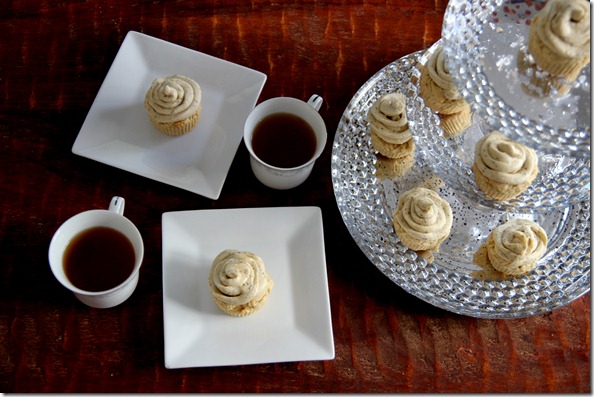 Click through for the recipe.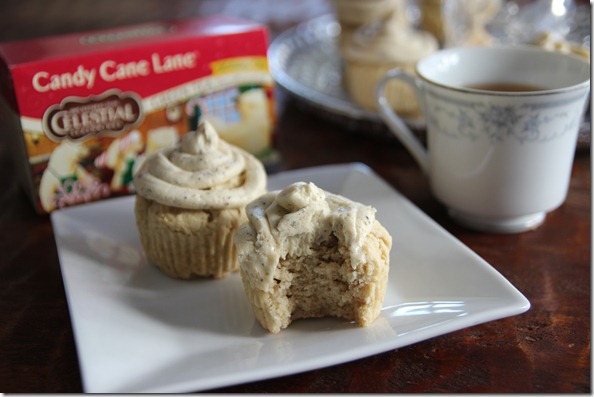 Candy Cane Lane Tea Cupcakes and Icing (makes 10 gluten-free cupcakes)
CUPCAKES:
3 Candy Cane Lane Tea bags
½ cup milk
¼ cup butter
¾ cup white sugar
2 eggs, lightly beaten
1½ cups gluten-free all-purpose flour (I used Glutino)
2 teaspoons baking powder
¼ teaspoon salt
ICING:
7 tablespoons butter, softened
2 cup powdered sugar
3 tablespoons water
2 Candy Cane Lane Tea bags
Directions:
Preheat oven to 350 degrees.
On the stovetop, bring the milk to a near boil.  Pour hot milk into a coffee cup over the first three teabags. Let steep for 5 minutes exactly, squeeze tea bags to remove excess liquid, and set aside.
In a stand mixer, combine butter and sugar for 2 minutes.  Add in eggs and beat slowly until combined.  Add flour, baking powder, salt, and tea milk. Beat until combined.
Pour into 10 cupcake tins and bake for 14 minutes. Set aside to cool.
To make the icing, steep 1 tea bag in three tablespoons of water for five minutes. Set aside to cool thoroughly before proceeding (put in the fridge to make it cool faster). In the stand mixer with the whisk attachment, combine softened butter, sugar, tea water, and the contents of one tea bag. Beat for at least 5 minutes, until light and fluffy.  Ice cooled cupcakes.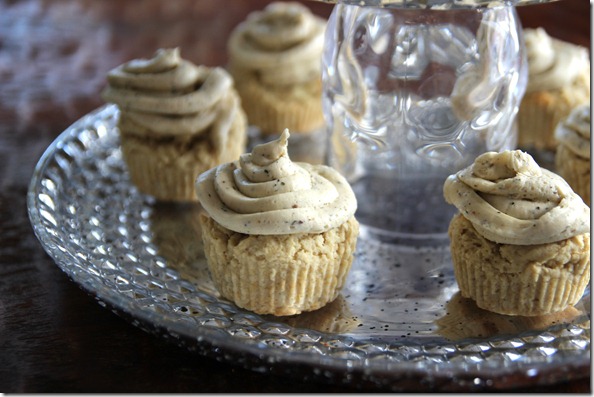 Here's the cool thing about this recipe.  I made a gluten-free version using special all-purpose GF flour, but you could apply the basic concept to any plain cupcake recipe.  Just be sure to infuse the milk with the tea bags, and skip any ingredients that would add flavoring (like vanilla or cinnamon).  But I definitely recommend you make this specific icing recipe – it's really good!  Actually opening up a teabag into the icing really gives it a ton of flavor (and a pretty confetti texture).  And while I love Candy Cane Lane tea, you could use any flavor – Earl Grey would be amazing.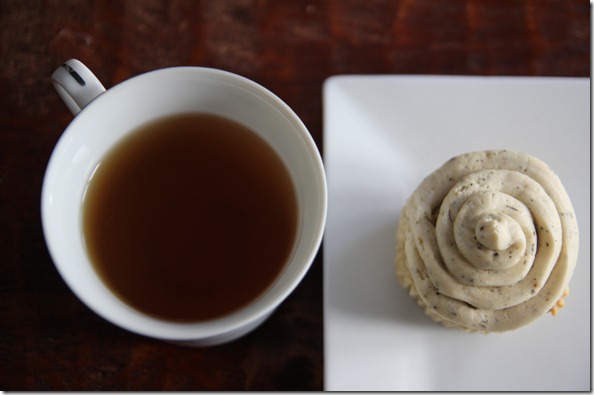 Enjoy!
This post is sponsored by Celestial Seasonings.  Thanks, as always, for reading sponsored content. It helps provide for my family, and I truly appreciate it.