Eight months old!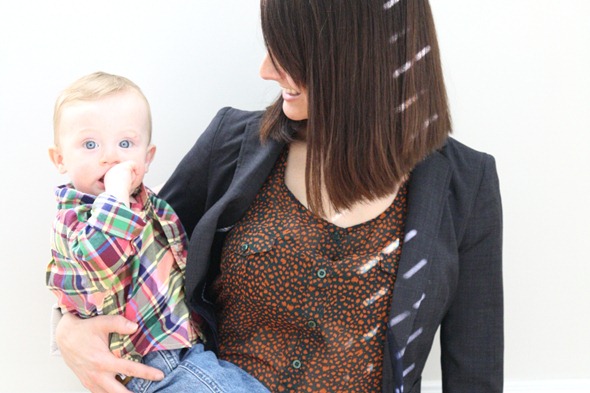 Oh, my little boy.  You seem more and more like a big boy every single day.  It makes me happy and sad all at once.  I remember when you were so tiny in my arms but couldn't do many fun things, and now you make my arms ache from your heft and can do so many neat tricks.  You're growing up SO FAST! 
We'll start things off with a quick fitness/body update and then move onto the topic that been weighing on my mind – breastfeeding.
Overall, I'm feeling great!  Much like last month, not much has changed.  I've been taking it easy since my last half marathon, achieving 3 – 5 workouts a week.  But to be honest, I'm not putting in that much effort.  It's kind of nice to 'phone it in' and just exercise to maintain the habit.  I'd like to rev things up before triathlon season, of course, but I've got a little bit of time.  And I've got a lot of other stuff going on.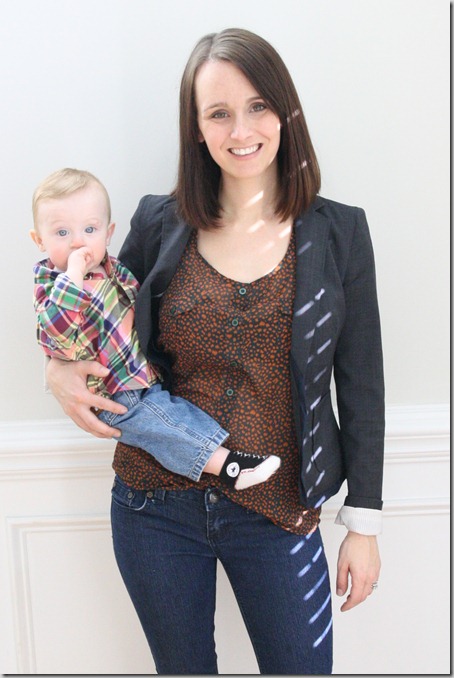 Can I just say that we've been sleeping SO WELL lately?!  Three cheers for sleep training.  Best thing I ever did.  I look back on the Month 1 – 4 pictures and think that I look like I was hit by a truck.  Sleep is so amazing.
Onto the 'mind' update…
This is a big month for me.  I've decided to stop breastfeeding.  I am extremely proud of myself for making it eight months, especially considering that I exclusively pumped for six of them.  In total, I have pumped over 1,000 times, producing more than 5,400 ounces of breastmilk.  Five thousand and four hundred ounces!  DANG!  I have pumped five to six times a day for the last 180-odd days of my life.  For 180 days, pumping has been the first and last thing that I did every single day. 
I cannot wait for it to be over.
There are lots of things that I want to say about breastfeeding, so forgive me if this becomes jumbled.   First, I want to say this: when I was pregnant, I had no idea what breastfeeding entailed.  Of course, I had heard that breastfeeding can be hard for some women.  But I never thought that it would be hard for me.  I never thought that physically feeding Henry would be difficult; I never thought that I would find public breastfeeding to be awkward (our physical issues made it logistically difficult).  I didn't understand what sleep deprivation did to a person; I didn't understand how badly I would need Kristien to give the baby a bottle every now and then (or, um, every night). 
Breastfeeding is a huge emotional and physical commitment, and although it is easy for many women, I really think we should give a HUGE round of applause to every mom who breastfeeds – no matter for how long.   I would never want to discourage other people from breastfeeding because I know that so many of you love it and don't feel like it's hard.  But even if it's 'easy,' it's a commitment, and for that reason alone, everyone deserves major kudos.
I felt a lot of pressure to breastfeed.  I run in 'holistic' circles; most of the moms that I know breastfed.  At my natural birth classes, I dared to ask about formula feeding and was given a huge stink eye for it.   I read the literature and many books; I knew that doctors consider breastmilk the best option.    I saw not one but two lactation consultants after Henry's birth.  I read the books.  Truthfully, I was not enamored by the idea of breastfeeding the way some people are, but I wanted it to work for numerous reasons.  So when physically breastfeeding became too hard and too complicated, I switched to pumping.   I pumped for six months.  Sometimes, it was okay; something it was not.  But by the end, I honestly hated every single day of pumping.  I stuck with it because I felt committed, I felt like 'I had to,' and I felt like I would be failing if I stopped.
Funnily enough, I never judged non-breastfeeding moms.  I never felt like other moms 'had to' do what I felt like I 'had to' do!  After all, the one thing that I've learned since becoming a mother is DON'T JUDGE OTHER PEOPLE.  Ever!  Everyone has a reason for doing what they want to do, and no one can be 'perfect' all the time.  Even if you do one thing 'right,' there's a million things you apparently aren't.  Dressing baby in fire retardant-laden clothes? Feeding them non-organic food?  Letting them chew on icky plastic instead of pricey wooden toys?!  GASP!  You're doing it wrong!  I recognized this very early on in my journey, so I didn't judge anyone else .  But for some crazy reason, I judged myself.   On one hand, I acknowledged that no one could be perfect.  But on the other, I rated myself as a mom by how close I felt to 'perfect.'   It doesn't make much sense, but that's how I felt about breastfeeding.
Due to this attitude, I couldn't give myself permission to stop.  Even when the thought of pumping made me sick, I would berate myself into continuing.  I would guilt myself into staying on the path.  At the end of the day, the pressure was really all my own; the guilt was my creation.  After a while, I realized how negative my rhetoric about stopping was:  "I'm a bad mom if I wean " or "I don't want to quit" or "I'll feel like a failure if I stop." 
Quite honestly, it ended up screwing with my head a lot.  It made me really unhappy as time wore on.  I am sure that other moms who have pumped can relate to how hard it can be – it's so emotionally and physically taxing in a way that breastfeeding just isn't (so I hear).
It took a sobbing session at my therapist's to realize that 1) I really do want to stop – I want my breasts back, I want my time back, I want my freedom back; 2) Saying I want to stop doesn't make me a selfish person; 3) I need to extend myself the same courtesy that I do to other moms; 4) Really and truly – no one can be perfect!  and 5) I need to focus on the positive.  I've started to say things like, "It's okay to stop" and "I've breastfed for eight whole months! DAMN, I rock!"
One of my 'homework' assignments to process stopping was this:  I made a list of all the things that I want to do to be a "good mom."  My list includes things like: engaging Henry in creative play, reading books to him every day, always being positive when he wakes up in the morning (I feel like this is a really great life habit), exposing him to other children, encouraging him to interact with safe adults, etc.  At the bottom, I wrote, "You made it eight whole months – congrats!"  I put the list in my closet and read it every day.  There are lots of ways to be a good mom besides how I fed Henry.   And I do think that I'm a pretty good momma.  Henry seems to like me.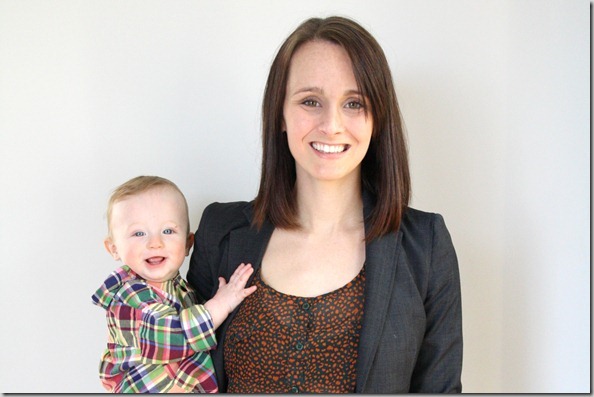 As you can tell, I am a perfectionist.  It's not always a bad thing; I have used that aspect of my personality to do some awesome things.  But perfectionist is a double-edged sword, and I never felt it attack me quite the way it did when it came to breastfeeding. 
I know this sounds strange (considering that I keep a very public blog), but I am actually a relatively private person.  I feel like I have a lot going on 'under the surface' that I only share with a few people in my real life; the topic of breastfeeding and pumping has become very loaded for me lately.  But I wanted to share my thoughts publicly because I know that so many of you can probably relate.  Even if you never started to breastfeed or found it to be easy as pie.  Even if you aren't a mom!  And I don't want others to feel alone.
We all have expectations for ourselves, our careers, our relationships that don't always work out.  And if you are really stuck on an idea, it can be hard to change your ways without feeling like you're failing.  But none of us are failing – we're just changing.  I think reframing your internal conversation to be more positive is such a powerful way to go about the change.  There's no reason to tear yourself down just because you are changing. 
I am proud that I made it eight months.  But I am very happy to be in the process of stopping and switching to formula.  This experience taught me a lot about myself.  I learned about strength, sacrifice, balance, self-preservation.  But most of all, I learned that while I may be able to force myself to do something, but I really cannot  berate myself into happiness.  And my happiness matters, too.   If something isn't working for me, it's just not working for me.  That's okay.  Very often, the vision we had is different than the reality we experience.
Life is complex.  Parenthood is complex.  But I guess I wouldn't have it any other way.