Last night, we randomly decided to paint a wall in our office with chalkboard paint (literally, paint that turns into a chalkboard when it dries).  It ended up only being an hour-long project, and it was kind of fun because how often do you say, "We should totally do this," and actually end up standing up, gathering the supplies, and doing it?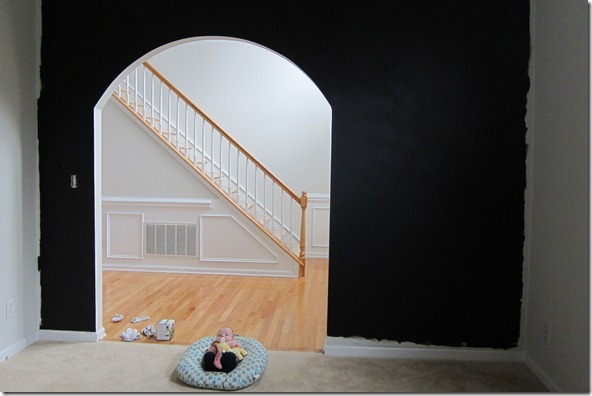 I need to do another coat and the edges today before we get to start drawing on our idea wall.  I also want to do some sort of wall décor to make it pop when blank – I was thinking of a painted wooden alphabet (like so?) down the skinny side on the right.  I imagine we won't keep the chalkboard up forever – we'd like to make the office all snazzy one day with built-in shelving – but it's fun for now.
Good times.

On to the point of this point:  I need some fun playlist suggestions, so I thought I'd reveal what I've been jamming to lately on my runs in hopes that you'd be inspired to do the same.  I'd love some new song suggestions!  Oh and try not laugh too hard at my love for Justin Bieber…
Ellie Goulding – "Lights Bassnecter Remix"
Justin Bieber – "Never Say Never"
Edward Maya and Mia Martina – "Stereo Love"
Pitbull and Lil Jon – "The Anthem" (I feel like every person that grew up in Miami knows this song by heart – am I right?)
Cher Lloyd – "Want U Back"
Owl City and Carly Rae Jepsen – "Good Time"
What workout songs do you have on repeat?