Kristen wrote in to ask, "I was wondering if you had some 'get started' swimming tips for me. I can't seem to get hooked on running but through your blog (and some others), all I want to do is SWIM!! Besides casual swimming in my parents' pool, the last time I went swimming was… ohhh… probably elementary school swim lessons. I'm basically starting from the beginning.  Help!"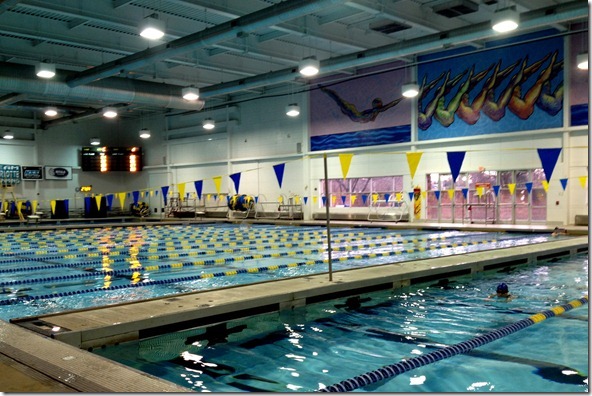 Ah, swimming.  I really feel that swimming is an underrated exercise.  Let me count some of the ways:
Swimming is an exercise that boosts endurance, increases flexibility, and improves cardiovascular strength.

Because you're moving your body through water, which is heavy, it's also a great way to build muscle tone and strength.

It's an excellent form of cross-training from high-impact activities like running.  Participation in swimming will help reduce your overall risk of injuries and prevent mental burnout.

It's a complete body workout that works a ton of major muscle groups, especially if you do a variety of strokes.

Pools are nice and cool – a perfect spring or summer workout!
Really, the only drawback is that swimming doesn't really help much with bone density (as it's not a weight-bearing exercise).  Oh, and you smell like chlorine. 

So – how do you get started with swimming?  I'll admit – much like cycling, swimming feels very intimidating at first.  It's just not as easy to dive into swimming as it is to get started with running.  So here are a few of my simple tips.
First things first, you'll need some basic gear

.  This is a topic that I discussed in my

So You Want to Do a Triathlon: Swimming

post.  Really, all you

need

is a cap and goggles, which you can buy at Target.  A one-piece swimsuit is nice (check athletic stores for sales), but you can get buy with an sturdy two-piece or even an old sports bra and shorts.  Side note: I've had a lot of people ask me about

maternity one-piece fitness suits

; I simply bought a regular suit two sizes larger than normal (suits should be really tight as they stretch over time).
You'll also need a place to swim.  Many gyms have pools, and some cities have aquatic centers or public pools with lanes.
Learn proper form.

  Again, three easy options for learning proper form are covered in the

So You Want to Do a Triathlon: Swimming

post.  If you're trying to learn the freestyle stroke (the most common and easiest one), I would recommend assuming that your first two or three swim workouts are going to be spent focusing entirely on form – not truly exercising.  Once form 'clicks' for you, you can work on building endurance.
Remember to share.  One thing that really intimidated me when learning to swim was what to do when the pool was busy.  I distinctly remember heading back to the locker room when I realized all the lanes were full.  However, there is a solution – you either lane share (if there is one other person in the lane) or you circle swim (more than two others).  For lane sharing, instead of swimming in the middle, one person swims up and down the right side, and the other person sticks to the left.  For circle swimming, you swim up the right side of the lane and down the left (making a circle).  If someone is faster than you, they will just pass you – no big deal.  To make it less awkward when the pool is full, observe the lanes for a minute to determine who is close to your speed, sit at the edge and wait for them to finish a lap, and when they look up, smile and say, "Do you mind if we share?"
How long?  Ask a lifeguard or the desk attendant how long your pool is.  Most pools are either 25 yards, 25 meters, or 50 meters in length.   A 'swimming mile' is 1500 meters or 1650 yards (yes, it's not exactly a mile).  To put it in perspective, a sprint triathlon swim is generally 500 – 750 meters and an Olympic triathlon swim is 1500 meters.  An Ironman swim, the ultimate triathlon, is 3800 meters.  Of course, it's all relative, but for me, 1000 meters is a decent half-hour or so swim workout.  These days (at 8.5 months pregnant), I'm happy to swim 0.5 a mile.
Consider a plan.

  Look – I get it.  Some people really love training plans (like me!).  It's very easy to find running plans for newbies but hard to locate similar plans for swimming.  Check out the

0 to 700 plan

and the

0 to A Mile plan

.  If a plan isn't for you, just work on gradually increasing time or distance in the pool.
Here are some other swim-related posts!
Any other swimmers out there?  What advice do you have to share?