Happy Memorial Day.  Amongst all the sun and BBQ and parties and summertime celebrations, let's not forget what – and who – this holiday is really about.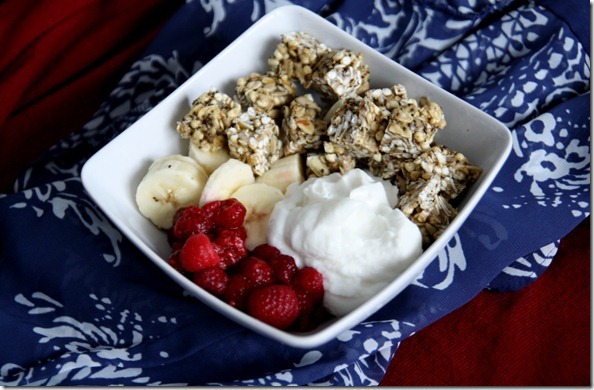 Patriotic breakfast:
Greek yogurt
Anne P's peanut butter bar
Banana
Raspberries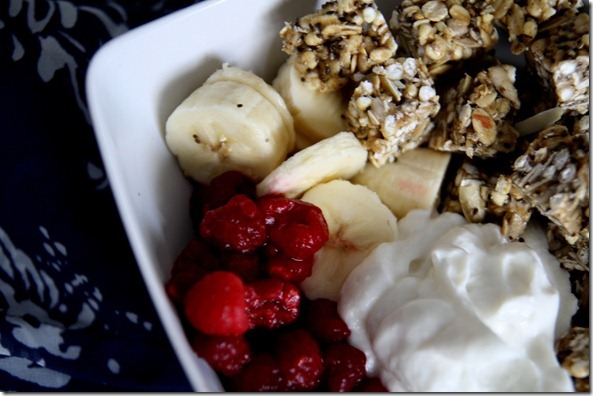 I hope everyone has something special planned for today!  The Husband is off golfing, and I have a BBQ to attend.  The weather is warm and breezy – perfect all around.
Intentional Gratitude
A few days ago, I mentioned that my friend Tonya stopped by and we discussed Christian author/'prayer coach' Marilynn Chadwick.  I'm not religious but I found Tonya's description of Marilynn's prayer method to be very intriguing and want to apply it to my own life and beliefs.  Now, I haven't read Marilynn's book, so my understanding of the method is based purely on Tonya's interpretation of it, but it seems like a great idea for 'organizing' gratitude.  While I'm sure some people would argue that daily prayer or gratitude (I like the term gratitude more because it seems more secular) should be spontaneous, let's face it – lots of good-intentioned habits just don't happen if you don't plan for them to happen… well, at least for me!  That's why I like this method.
Anyway – this is how it works.  You list several categories; each categories is basically a community that you're a part of, starting with your immediate family and working your way out to the world.  My categories may include:  immediate family/closest friends, extended family/other friends, people I know through work and charity, people and issues that are important to me on a state or national level, and people and issues that are important to me on a global level.  Under each category, list all the people/issues that you'd like to be grateful for – doesn't have to be in order of importance.  Then, number each person/issue #1 – 7.  You may only have two people or issues in a category.  But if you have 8 or more people or issues in a category, restart numbering them with 1, 2, etc.  Everyone who is a #1, you are grateful for and pray for on Mondays; everyone who is a number #2, you are grateful for on Tuesdays, continuing on through the week.  Every day, you can also do a 'prayer on demand' for someone who needs special attention or thankfulness on that day. 
Creating this intentional gratitude chart is my goal for today.  I figure Memorial Day is as good as a day as any to start trying out the method.  I'd really like to be more intentional in my gratitude and do it on a daily basis, so here's to hoping Marilynn's method works for me.
What are you intentionally thankful for today?  Me – this gorgeous weather, our service men and woman, and a day off from work!