The other day, I was at a party and began to chat with a women who is just getting into triathlons.  She told me she was about to buy a bike, and I remarked that I was so jealous that she was going to buy a new bike. "I would love a new bike," I said. "I just really can't justify the expense right now, especially considering my current bike does the job."  I paused and laughed.  "You know, a few years ago, I bought my husband a bike in hopes of getting him into triathlons.  He hardly ever rides.  I should've bought myself a new bike with that money."
And that's when I realized… I am a walking (riding?) triathlete cliché.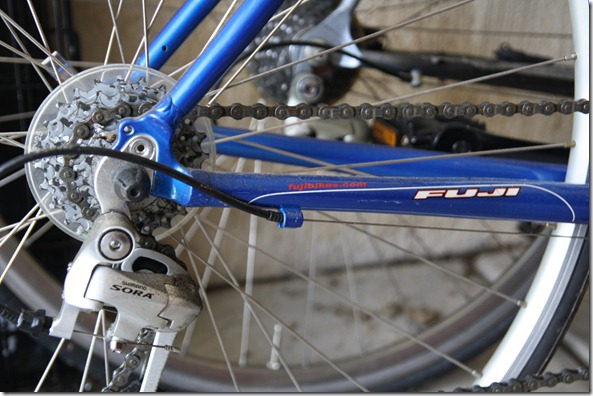 Please note the layer of dust.
This is how it goes – one partner in the relationship (let's call her 'Caitlin') really wants their spouse to get into cycling or triathlons (let's call him 'Kristien'), so Caitlin decide to try to get Kristien excited about the sport by buying him a brand new bike. Despite the fact that Kristien has expressed minimal interest in the sport, Caitlin buys him a shiny new bicycle, a sweet helmet, and lots of other fancy gear. Because, after all, if someone bought Caitlin a bunch of awesome new bike stuff, she would be on her bike all day long.
Kristien is excited to have a bike and goes riding with Caitlin a few times.  She is in heaven.  But then… weeks pass without a ride.  Months go by.   Eventually, years pass.  The shiny new bicycle begins to gather dust in the garage.  After all, cycling was never really Kristien's hobby at all; he didn't initiate the bike purchase.  Caitlin is left riding her secondhand bike all by her lonesome.  She tries to convince Kristien to sell his bike, but he protests, claiming that he will eventually use it again one day, which is probably true….  Still, Caitlin is sad, knowing this whole mess is her fault.  She should've never pushed her hobby on her husband and can't blame him for wanting to keep the pretty bicycle 'just in case.'  She wouldn't want to part with it, either!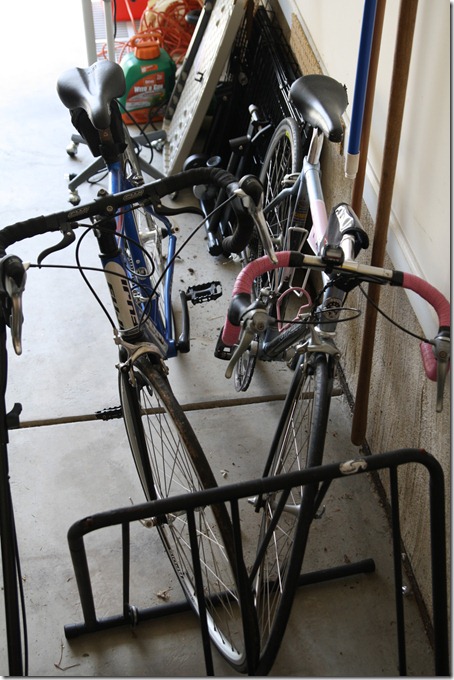 The great irony of this story is that Caitlin's secondhand bike was once a shiny new bicycle that a man bought for his wife to try to get her into the sport, and said wife only rode it twice before storing it in the garage and eventually selling on Craigslist.  It's the circle of cycling life.
Observations:
The following reasons are inappropriate motivations to buy your spouse a fancy new bike:  You really want a riding partner; you just know they would like triathlons if they gave it a try; you want to spend more time with them (um, doing what you want to do). 

If your spouse wants to get into cycling, he or she will express the appropriate interest.  Buying them expensive and fancy toys rarely initiates such interest.

The following reasons are appropriate motivations to buy your spouse a bike:  They start training for a triathlon but don't have a bike; they look sad when you leave for your long rides and say, "I wish I had a bike so I could come with you…"; they begin to look at bikes online; they ask you to come with them to a bike shop to help pick out a bike; they begin to save money for a bike.

Approximately 87% of secondhand bikes on the market are the result of the "I want my spouse to get into my hobby" phenomena.  And 98% of statistics are just made up.