I hate math.  Always have, always will.  I am so embarrassingly bad at math that after nine years, the Husband knows to double-check the bill at restaurants to ensure I added up the total and tip correctly… and half of the time, I didn't.  But I love writing – it's my favorite thing to do!  One day, I realized that part of the reason that I hate math is because it is far too absolute.  In writing, there are many different ways to answer a question.  A paragraph can be composed twenty different ways, each as valid as the last.  A math problem can only be answered one way.
This is why I love to cook but hate to bake.  Cooking – making stir-fries, for example – builds in lots of room for error.  You don't really need to measure anything; eyeballin' it is just fine.  Baking is a science.  It's exact math.  Too much flour or too little baking soda, and you're done.  Now, I realize that this is the exact reason why many people love math and love baking.  There is only one right answer, and for some, that's pretty comforting. 
You know what else is comforting?  Cookies.  Sorry, stir-fry, but you just don't compare.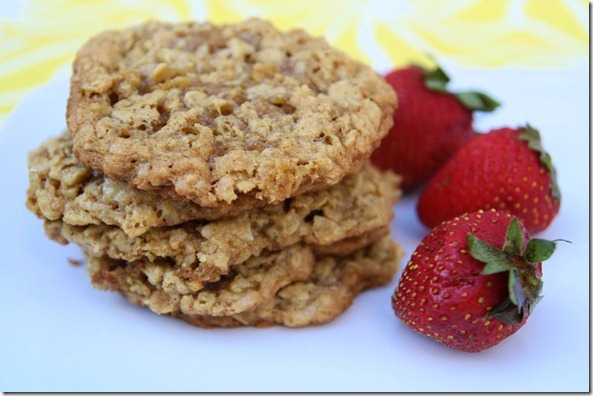 And for cookies, I'm willing to go out on a limb every now and then and bust out my measuring cup.  Because, like I said, a Saturday evening of cookies and quality DVR time is mighty fine.
These beauties happen to be gluten-free and dairy-free (do eggs count as dairy? I say not technically but the Husband says that in practical terms, most people consider them to be dairy – thoughts?).  They're super chewy – aren't all good oatmeal cookies chewy! – and the flavors are quite complex, thanks to the coconut, almonds, and peanut butter.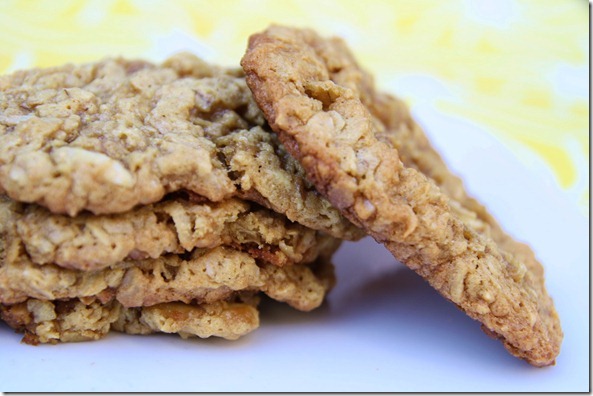 I may not like math and measuring, but I know this… Caitlin + Tea + Cookies = Bliss.  Dig in!
Coconut Peanut Butter Oatmeal Cookies
Ingredients (makes 30 cookies):
3/4 cup Earth Balance (you could also use butter; not positive if the replacement would be the same, but it probably would be)

3/4 cup packed brown sugar

3/4 cup white sugar

2 eggs

1/4 tablespoon vanilla extract

1 and 1/4 teaspoon baking soda

3/4 cup peanut butter

3 cups oats (to make it gluten-free, be sure to use GF oats)

1 cup sweetened coconut

1/4 cup silvered almonds
Directions:
Preheat oven to 350 degrees.

Using an electric mixer, combine Earth Balance, brown sugar, and white sugar until combined and creamy – at least for two minutes.

Add in eggs, vanilla extract, and baking soda and mix just to combine.

Add in peanut butter and mix to combine – at least a minute.

Slowly add in oats, coconut, and almonds.  Mix until combined.

Place dough in fridge and let it get chilly – at least 20 minutes.

Grease a cookie sheet.  Scoop out 2 tablespoons of dough, roll into ball, and place ball on cookie sheet (about two inches from other dough balls).

Bake for 14 minutes, remove, and let cool thoroughly before removing or the cookies will crumble.

Enjoy!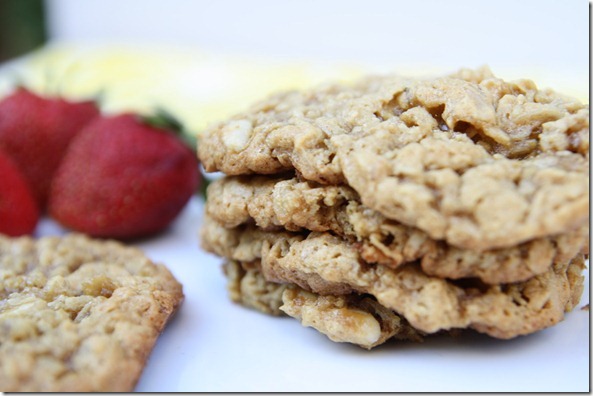 Now, if you excuse me, cookies and tea are on the agenda for the rest of the night.