On maternity photographs
I feel like I'm in the home stretch.  Only 7 weeks to go until my due date… but only 4 weeks until I'm 'full term.'  Life is going to change, and it's gonna change SOON!
I officially feel every inch of 8 months pregnant.  I waddle.  I could go to sleep at any moment, in any location.  The Husband actually has to give me a push so I can roll out of bed.  My sciatic nerve is killing me.  Walking up our steep driveway leaves me out of the breath.  Yup.  I'm definitely pregnant.  I'm still trying to stay active, though – my original goal of exercising 3 times a week has been very helpful in keeping me motivated.  Although my workouts are getting shorter and slower, I'm keeping up with my promise!  Whoo-hoo.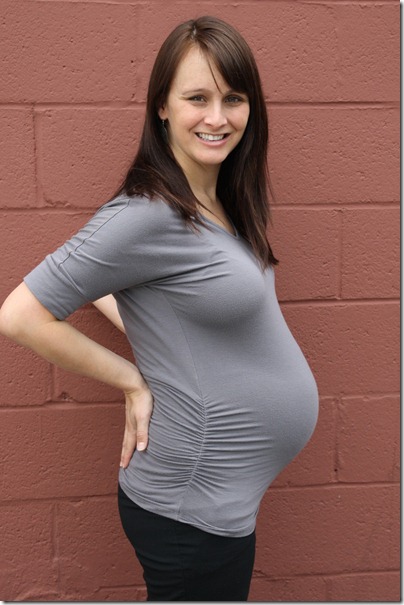 Here's what BabyHTP is up to at 33 weeks: "Your baby is still gaining weight (about half a pound a week), and she could grow up to another full inch this week. With that much baby inside your uterus, your amniotic-fluid level has maxed out, which explains why some of her pokes and kicks feel pretty sharp these days. (There's less fluid to cushion the blows.) Antibodies are being passed from you to your little one as she continues to develop her own fetal immune system, which will come in handy once she's outside the womb and fending off all sorts of germs." (Source)
So – lately, we've been discussing all sorts of serious topics:
I thought it would be nice to lighten it up this week and talk about something less heavy: maternity photographs!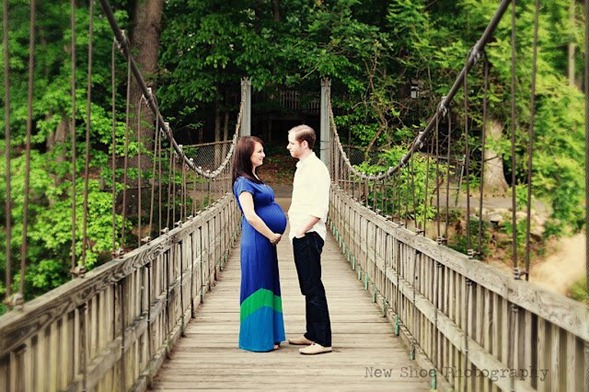 When I told MomHTP that we were doing maternity and newborn photographs, she was a little confused. "Maternity photos?" she asked. "What are those? Do you get naked?!"  Granted, maternity photographs are not a pregnancy necessity in any way, but I was really looking forward to getting them done.  I wanted to capture Kristien and I at this very pivotal moment in our lives – right before two (well, four, counting the furkids) become three (or five).  As awesome as I am at using the self-timer, when you get family photographs taken by a true professional, it shows.
Our friend Jen Fagan, the photographer at New Shoe Photography, took our maternity photos (disclosure: we arranged to do a services swap).  Jen asked me what type of photographs we wanted, and I struggled to respond.  I can photograph food (and dogs!) but I'm always at a loss for creative shots of people.  I knew I wanted non-cheesy photos of us in our home for our album, but I also knew that I wanted photos that were more 'look at us amongst this pretty scenery' to hang up on walls.  How to exactly make that work, I wasn't sure.
I started to browse Pinterest so I could show Jen examples of what I liked, but I found it easier to find examples of what I did not want, such as:
Photographs that incorporated watermelons as a humorous metaphor.

Photographs that involved writing on my belly with permanent marker ("eviction date: June 13!").

Photographs that involved being nude and the Husband awkwardly cupping my breasts from behind.

Photographs that involved the Husband comparing his 'beer bump' to my baby bump.

Completely out-of-place props.

The use of Photoshop to superimpose a baby image on my baby bump.

Photographs in which someone looks creepy and/or murderous.
(Source)
In case you need a chuckle, check out these Awkward Maternity Photographs and Even More Awkward Maternity Photographs.  Epic.
Not saying that there is something inherently wrong with watermelon metaphors or eviction notices on baby bumps, I just knew they weren't for us… and they weren't getting framed and going up on the living room wall.  Know what I mean?
Anyway, thankfully, Jen is a great photographer who managed to take my vague list of "do's" and my long list of firm "please do nots" and create wonderful maternity photographs.  Here are some of my favorites: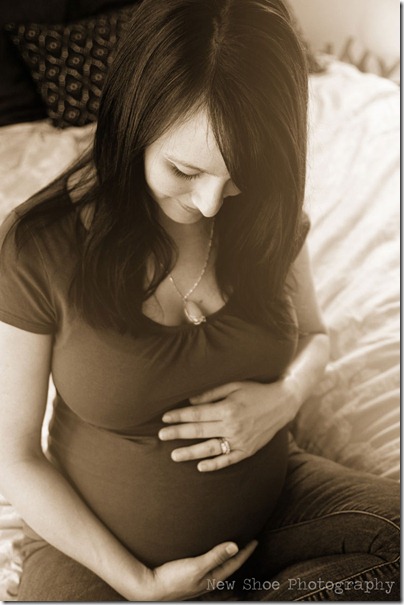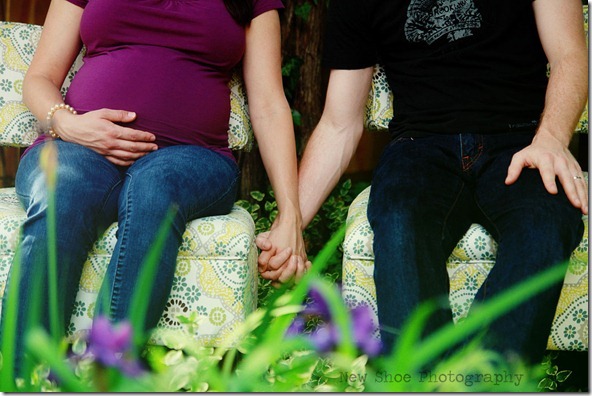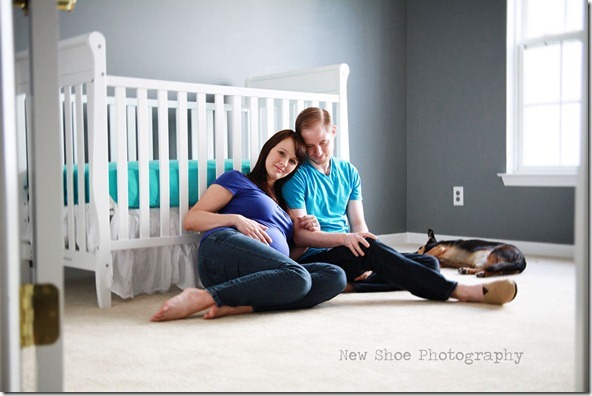 (Hey! We actually have a crib! More on that soon.)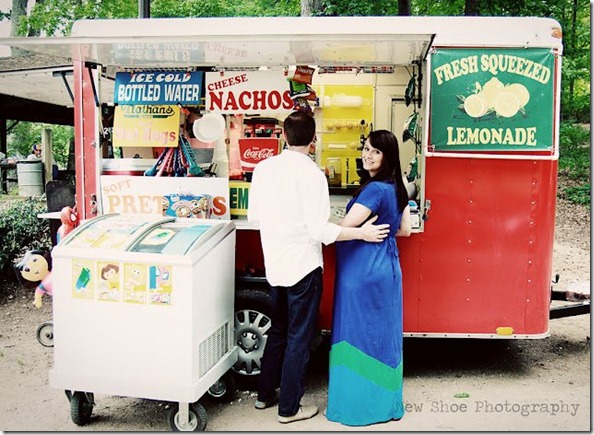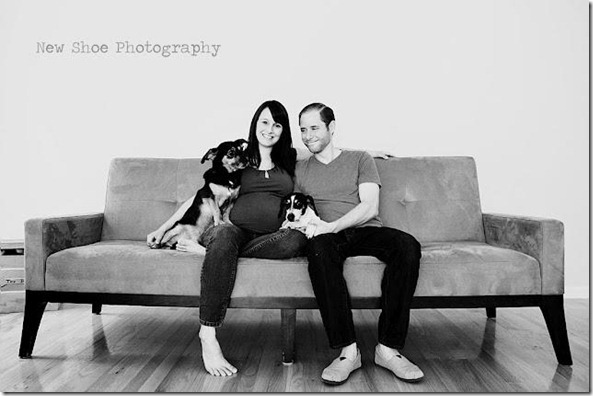 And last, but not least…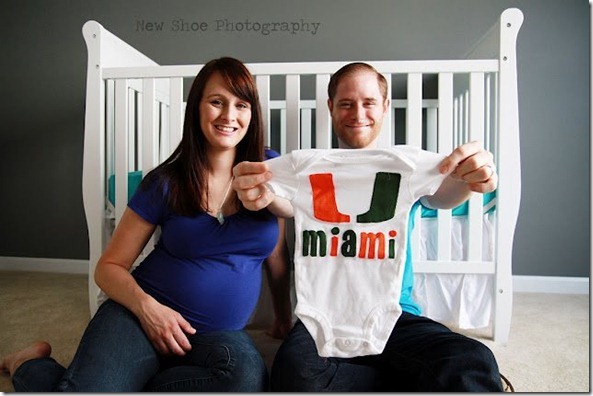 If you've been reading for a while, you may remember that I had preemptively bought that Miami onesie when we started trying to get pregnant. But I hid it from Kristien, waited until I got the positive test, wrapped it up, and gave it to his as a 'surprise gift.'  He freaked out when he opened the package (here's the full story). The onesie has held a special place in our hearts ever since (well, let's be real, anything with Miami on it is automatically special to the Husband).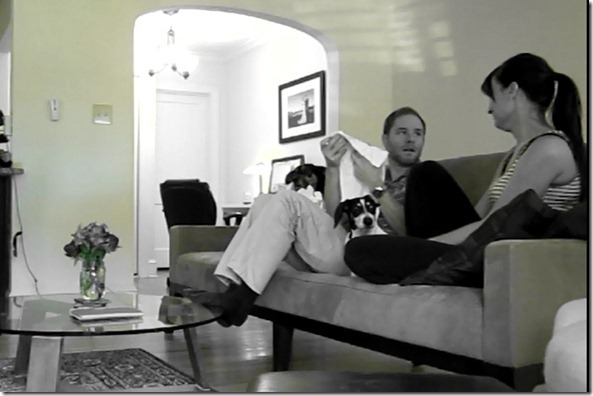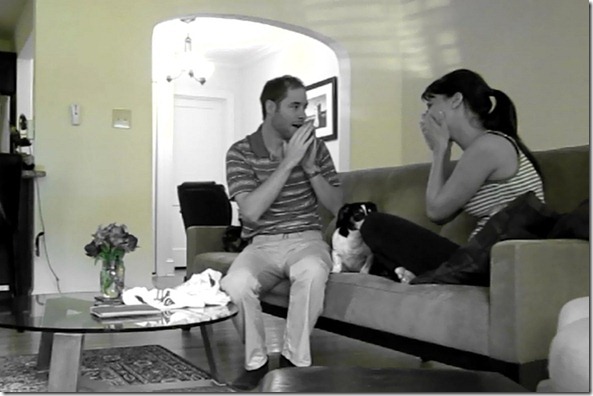 (Hidden camera view – maybe I'm not so bad with the self-photographs after all?)
f you want to see more of our maternity photos, head over to Jen's blog.  If you're in the Charlotte / Western North Carolina area and are interested of a shoot with Jen – she does all sorts of portrait work – she's offering HTP readers a 20% discount off the session.  You can check out New Shoe Photography for contact information. I highly recommend her!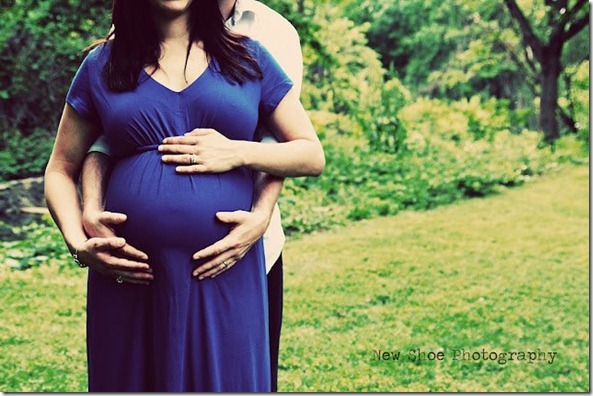 Although – I must say – I do wish I had the courage to strip down and do nekkid shots.  I'm sure some people find the nekkid shots to be tacky (hey, to each their own – watermelon metaphors and all).  Not for the living room wall or anything (eck!), but it might have been nice to stash in a box and rediscover when I'm 75 years old.
So – let's discuss.  Maternity photos, wedding photos, newborn photos, whatever – what poses do you adore and loathe?  Again – to each their own!  What props are cute and which are cheesy?  Would you ever do 'boudoir' photos (sexy portraits traditionally given to the groom on the cusp of the wedding) or nude maternity shots?