Time for another guest post from DadHTP (he has also penned posts on Buying a New and Used Bike and How to Shift Bike Gears Without Falling Over).  This post, however, isn't about sports – it's about haggling!
On last Friday, we headed to a Ford dealership so DadHTP could buy a car – he just moved from California to Charlotte and is giving up the RV lifestyle, so he needed a new ride.  He specifically opted for a new car instead of a used car because the new Ford Focus had much better safety features, which is very important to him.  I wrote about how, as a former salesman, he was the best haggler ever, and many of you asked for his advice on haggling.  Now, please remember that this is just his perspective on the process and, although it has worked for him for half a dozen cars (he's helped friends buy cars because of his mad skillz), it may not be exactly true for every car at every dealership.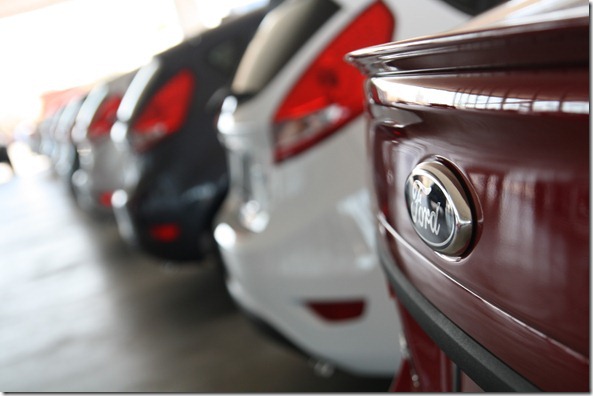 He says:  "Buying a car doesn't have to be a horrible experience. The sales system is very traditional; just like waltzing, if you know the steps, it's not hard at all.  First, pick a car that reasonably will fit your needs and budget.  Just go to dealerships, collect business cards, and decide what you may want to buy… and then leave.  Don't ever start talking price, financing options, or trade-ins until you've gone back to your house to do your research on the specific car you're interested in.  More information on researching is provided below.
First, have the salesperson find the car with the options you want, and then talk about only that car.  And again, never discuss more than one part of the transaction at time (i.e. the car, financing, trade-in).  These are all separate.  If you allow the salesperson to start working two parts of the transactions at once, you'll lose track.  He does this every single day and stands to gain a lot by getting you confused or sidetracked.  If you start to feel like you're losing control, it's perfectly okay to say, "Would you mind stepping away and giving me five minutes?"  Remember: he's not a bad person for wanting to sell the car for the most he can, and you're not a bad person for wanting it for the lowest price.
I'm sure there is more than one service that offers pricing information; however, Consumer Reports has always worked well for me.  Buy and print out the reports and be sure to bring the reports with you to the dealership.  Lay them out on the table so the salesperson can see that you have this information.  Several salespersons have insisted that Consumer Reports 'lies' or 'doesn't understand the entire situation,' and I've always just shrugged and let it go – I've found that they are normally willing to come pretty close to what Consumer Reports calls a 'good price' for the car.
Consume Reports breaks down the dealer cost for each option available for the car.  Remember that the retail price on the sticker is basically pointless.  Use the data provided in the Consumer Report to determine what the dealer's cost of the car is, given the available options.  Unless the car you want is rare or in very high demand, almost any dealer will close at $300 over his cost. $500 over cost is a lock almost anywhere.  Getting to this point will take some time – bring a book or a snack! – but here's how to do the haggle ritual correctly.
On top of the Consumer Report, write down your initial offer – a good initial offer is $200 over the total dealer cost of the car and the options.  Your salesperson will take this information to his or her boss.  You will be left waiting for half an hour… or an hour.  This is intentional; it's to make you sweat and get bored.   Bringing a book signifies you're willing to sit there to save $400 or $500 dollars, and your salesperson will, as a result, be less inclined to string out the haggle all day long.
When your salesman returns, he'll have a typed counter-offer. In my case, it was $900 higher than my offer (or $1,100 over what I knew was the cost). I  thanked him for his time and started to stand up and leave. I barely had gotten off the seat before he said he'd go back to his boss. All I did was politely say goodbye, and he offered to get me a better price. After another half hour, he came back with a price that was $650 higher than my offer – much closer to what I was looking for, but still not great.
In response, you should say "We are still too far apart," and add $200 to your initial offer – your first movement on your initial offer.  In my case, he was sure his boss wouldn't go for it; so I looked at Caitlin and said I've got to re-consider the Malibu (their main competitor) and really did stand up and offer to shake hands goodbye. Remember – don't EVER look to eager to buy the car, even if it really is your favorite one.  Once again, my salesperson asked me to wait while he spoke to his boss.
Keep in mind, this whole time we've all been friendly; he wants to sell a car, I want to buy a car, and we're just trading offers. For all I know, he has no boss he's actually taking my offer to – he may just be killing time in the break room.  At this point, you may actually be 'turned over' to the sales manager – what salespeople call a T-O – but don't get flustered.  Even though your partner has changed, it's still the same dance.  Every time they tell you 'no way,' just smile, thank them for their time, and start to leave. I have actually been stopped at the door on the way out of a dealership with a cry of, "Wait, wait! Don't leave!"
When my guy returned, he asked for an extra $150 over my second offer. Clearly, this was over, so I offered to split it, and he quickly agreed. I ended up paid about $475 over their cost – a good deal for everyone. Just by sitting there at the dealership and talking with Caitlin, I saved $625 in comparison to their first counter offer (and over $2,500 off retail)… in three hours' worth of work!
Regarding trade-ins:  You'll get more for your old car if you have one by selling it yourself, but this is a headache. After you have a written price commitment on your new car, ask what you'll get on your trade-in (remember, don't do two transactions at once!).  You will be asked if you plan to trade in your car during the new car negotiation; just say you don't know – because you won't until you know what they're really willing to sell you the new car for. Consumer Reports also has a used car price guide.
It's better to know your financing options from your credit union, bank, or be approved online before you talk to the finance guy. This is another profit center for the dealer; he probably won't offer you the lowest rate you'll get, but he might match your best other offer (for example, my dealer immediately dropped 0.5% because I said someone else had offered that rate).  Be sure to shop around.
If anyone is interested in buying a new car but is too scared to haggle, I will happily serve as a buying agent.  I charge travel expenses plus $100 for haggling skills!"