You know what's coming…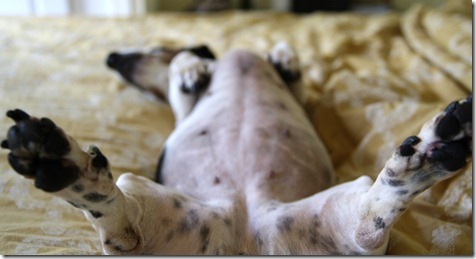 But first – lunch!
This meal was a twist on my Creamy Dreamy Roasted Chickpeas.  I didn't have any chickpeas on hand, so I subbed in pinto beans.  I also used orange juice instead of lemon juice.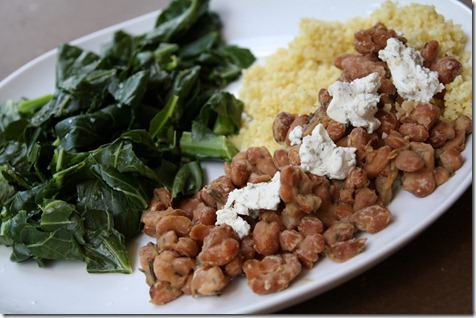 The changes were nice.  The beans still had that sweet but citrusy flavor, which really complements the goat cheese.  Creamy and dreamy, I'm telling you!  I served up the beans with millet and steamed collard greens.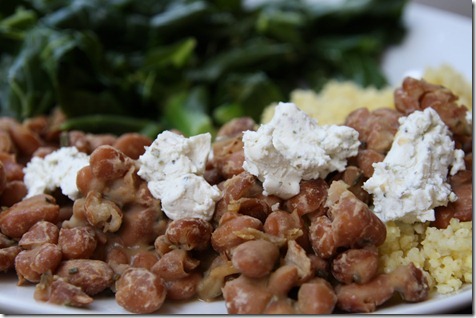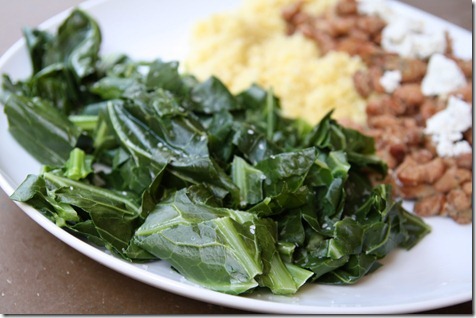 Alright – onto the fun stuff!
Dogs in the Bed Debate
Last night, the Husband and I were in bed, chatting about random stuff.  We have the strangest conversations in the dark.  Somehow, the topic of the dogs sleeping in our bed came up.  The Husband remarked that he loved that the dogs sleep with us (well, James technically sleeps on top on him) because it makes it feel like a "pack."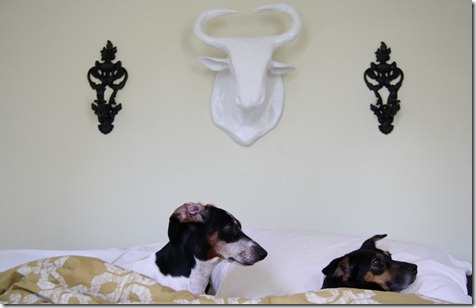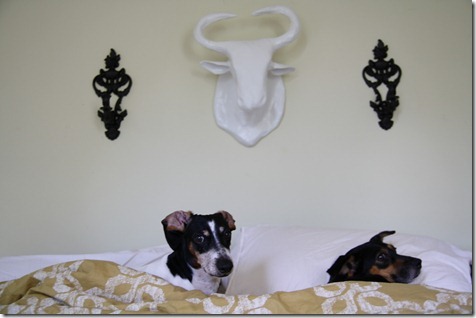 I also love that the dogs sleep in our bed.  As a child, my family dogs always slept with me in bed.  I am an only child and my parents divorced when I was 7, so I think cuddling with a pup made me feel less lonely and scared. 
When we got Maggie five years ago, we never intended to let her sleep in the bed.  But the first night, she cried and cried in a panic, so we let her under the covers.  And she's been there ever since.  When we got James six months later, it was natural that he'd come into bed, too.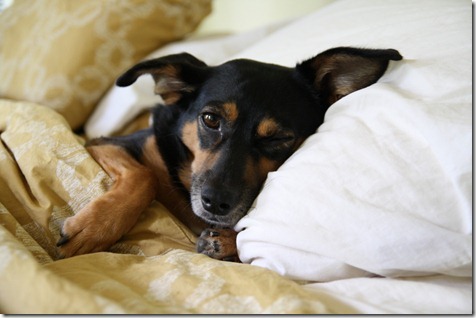 Anyway, last night, we were discussing whether the dogs would continue to sleep in our bed when we have children.  I said that I hope James moves out of our bed and into the nursery because he tends to get up and down through the night and disturbs the Husband (James wouldn't be in the crib or anything so I assume he wouldn't wake up our future children).
Plus, he'd be a good protector!  You know, if a terrible beast entered the nursery.  Like a squirrel…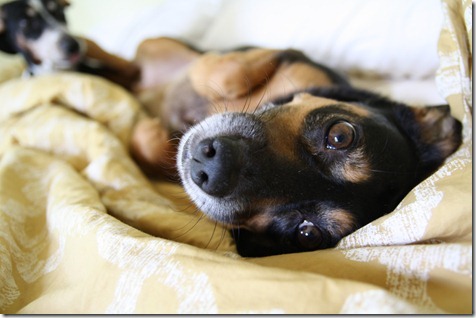 I hope Maggie stays in bed with us forever.  She's not very good at many things (being quiet, doing tricks, not geeking out when we leave her), but she is an excellent sleeper, rests at the bottom of the bed, and keeps my feet warm.
Of course, there are MANY reasons to keep dogs (and cats) out of the bed:
They track in dirt, bugs, and germs.
Their hair and dandruff can cause respiratory issues.
They can disturb your sleep patterns.
They can ruin your sex life.  Because who wants to make love with the family dog giving you the stink eye?  
But… I don't care!  All of the reasons to kick the dogs out of bed are overshadowed by how nice it is to squeeze and cuddle them throughout the night.  They keep us warm, make me feel safe, and remind me that we are, in fact, one big, happy pack. 
Do you allow your pets to sleep in bed with you?  Have you ever kicked a pet out of your bed permanently?  And, if you want to get TMI, how do you do the horizontal polka with your dog in bed?