Today's guest post comes from Susan Lacke, a regular contributor to one of my favorite sites, No Meat Athlete.  Enjoy!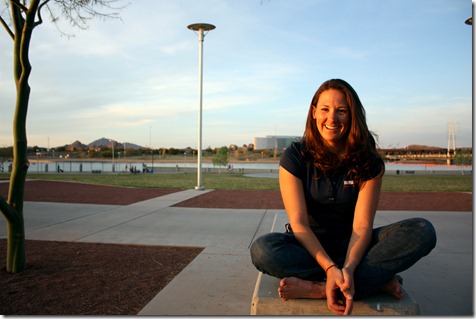 "Running is for crazy people."  I stubbed out my cigarette and continued my reasoning.  "There's no reason to run unless someone is chasing you. Those people are like a cult. Have you seen them? They're brainwashed into being completely absorbed by this lifestyle. They even get tattoos after doing a race, to declare they were initiated into that stupid cult! It's ridiculous."
Those people were my friends. Sure, I loved them, but they were always running and doing triathlons and eating weird health-nut foods. Though I knew they weren't trying to talk with an air of superiority, every time they shared they just got back from a ten-mile run or rode their bike for a couple hours, I felt like they were criticizing my unhealthy habits. 
Ten miles? At 23 years old, I couldn't even fathom walking one mile, much less running ten.
Answers in All The Wrong Places
Though I knew my unhealthy habits were wrong, I somehow justified them.  Smoking causes lung cancer, yes, but it alleviated my stress. That made it all right in my book.  My rational mind knew I would never find answers to life's problems in the bottom of a bottle, yet at the end of every stressful work day, I poured myself a drink. And then another one. And another. Then one more, for good measure. 
Exercise? I didn't have time for that. As a first-year college professor, I had too much work to do. 
I did eat healthy foods, at least by my definition of healthy: A grilled chicken salad from McDonald's – with extra ranch dressing. 
I was in an unhealthy relationship, but didn't leave. Who else would love me? I certainly wasn't good enough for anyone out there. 
The more I engaged in these behaviors, the worse I became. I gained weight, was diagnosed with a major medical issue, and had a ridiculously poor self-concept. Yet instead of acknowledging my habits were the cause of my problems, I continued to turn to them as the solution.
The Tipping Point
I was smoking outside my office one day when my boss came up to me and pointed at my cigarette.  "Mind if I have a drag?" He queried. 
I was shocked. Carlos was a fitness nut, someone who competed in multiple Ironman triathlons every year. This guy smoked? No way. Shocked, I handed him my Marlboro Light and watched as he took it between his fingers…and threw it away in the ashtray nearby.
"You don't need that shit. Come on, let's go get some coffee."
I was infuriated, but too shocked by his bold gesture to say anything except… "Umm…Okay."
Over Americanos, we talked about a lot of things, but mainly how I was using cigarettes to relieve stress, what was causing the stress, and how frustrated I was by this cycle of stress and poor coping mechanisms. Carlos listened intently, only interjecting with an occasional nod and a "Hmm." After unloading all my personal problems on my boss, he said one thing:  "You should come swimming with me during lunch tomorrow."
"Listen, sir," I laughed, "I know you're one of those health nuts who thinks a good run solves all of life's problems. I'm not one of those people." 
"C'mon… Swimming is fun!" He responded. "But don't take my word for it. You should try it for yourself."   I hesitated.  "If anything, you'll get a good suntan out of it." 
Did I mention sunbathing was one of my vices, too? 
"You should try it for yourself." 
I went swimming that day. And the next. And the next. It didn't take any prompting from Carlos. I just enjoyed that time every day where I was in the sunshine and doing something active. I enjoyed getting to know my boss as a friend, and appreciated an intelligent and athletic guy him was willing to put up with this slow, chubby kid who made poor choices.
One by one, those poor choices went away. 
I started reducing meat in my diet, until I became a vegetarian.  Vegetarianism led to weight loss, and weight loss led to more physical activity. I decided I wanted to begin running, and trained for my first 5K. 
I had the obvious slapped in my face when I realized that running would be a lot easier if I didn't smoke, so I quit buying Marlboro Lights.  Ditto for the heavy drinking every night. 
The confidence gained from these changes gave me the boost I needed to get out of my unhealthy relationship and forced me to look at myself as someone who deserved nothing but the best. 
I ran a half-marathon. Then a marathon. Then a triathlon.   I didn't realize it, but I had become one of those people. 
Yes, I Have the Tattoo
I'm pretty sure Carlos got the shock of his life when I sent him an e-mail telling him I had registered for Ironman Wisconsin, a 140.6 mile triathlon. I'm pretty sure he got an even bigger shock when I actually completed it, loved every second, and signed up for my next Ironman (Arizona) right away. Perhaps most shocking of all: I'm a card-carrying member of those people, complete with "140.6" tattooed on my foot.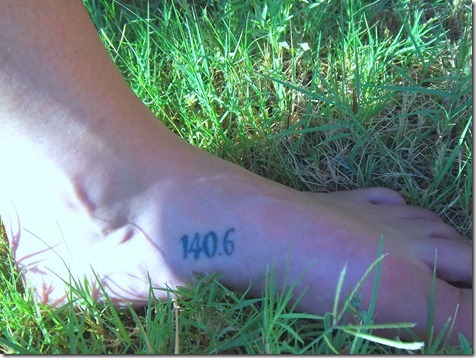 Though Carlos has become one of my closest friends, I doubt he realized my life today all started with him asking for a drag of my cigarette. 
I didn't realize it then, but I've since figured out that when I felt judged and criticized by my friends' discussion of their healthy lifestyle, it was all in my head. They weren't judging me, they were just talking about their own lives, which were very different from mine. My own insecurity chose to interpret that as criticism. I knew what I was doing was wrong and unhealthy – I just didn't want to admit it, and certainly didn't want to work at changing it.
Nothing Happens Spontaneously 
It's basic physics: A body at rest will stay at rest until acted upon by an outside force. 
Many of us are scared of change, and when faced with drastic change, will retreat to our comfort zones. I'm certainly guilty of that. But when change presents itself in a small opportunity, as with Carlos inviting me to swim 5 years ago, it doesn't seem as scary. 
Change doesn't have to be sweeping and tremendous and instantaneous. In fact, the best kind of change is the kind where you don't even realize what's happened until one day, you look back and realize, "Holy cow…I'm one of those people now." 
The feeling when that happens? It's pretty amazing. 
But don't take my word for it.  You should try it for yourself.