… But at least I have an interesting blog post for you: an awesome charity story and a review of So Sexy So Soon by Jean Kilbourne.
But first….
Since lunch was so light and I only munched on pretzels on the flight, I was ravenous by the time we sat down for dinner in the Atlanta airport.  Therefore, I attacked these greasy chips: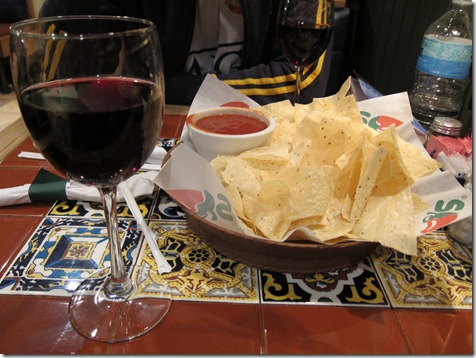 Our entrees weren't any better, either.  I got the veggie burger and the bun seemed buttery – not in a good way.  The waitress also screwed up and brought me fries (which I gave to the Husband).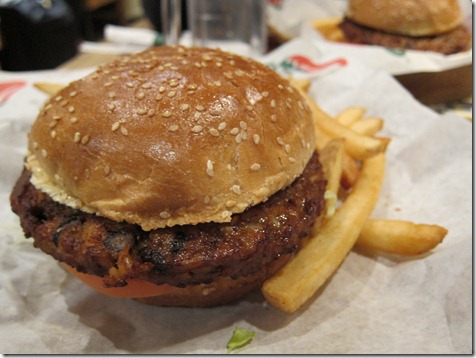 But she corrected the mistake and brought over a side salad.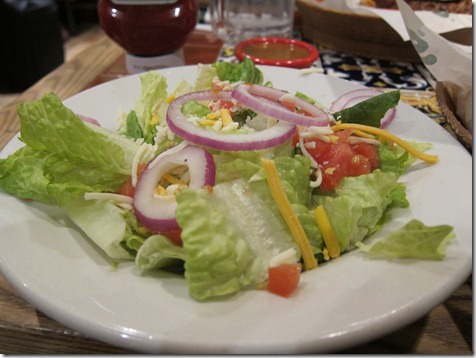 Something about this meal didn't sit well with the Husband or me.  It made me feel so icky from the inside out (I'm talking health-wise; I have no guilt about eating meals like this).  I think it was the chips that pushed me over the edge.  My stomach was cramping, my mouth felt all greasy… Ugh. 
The Husband suggested we walk off our dinner by hoofing it from Terminal A to C and I happily agreed!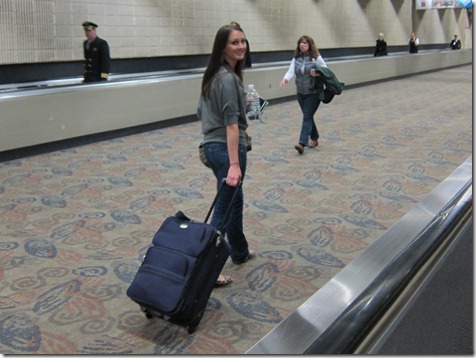 Since we have a FOUR HOUR LAYOVER, we also stopped to read all the informational signs and posters most people ignore.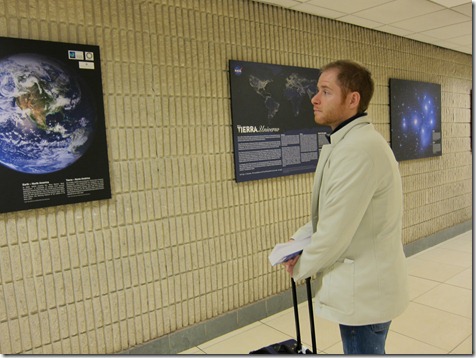 Alright – the two fun things I promised you!
Help This School Get a Track!
A week or so ago, I received an e-mail from a reader named Ashley.  Ashley said:
I am branching out this year and have entered the Orange County Marathon on May 1 (yikes!).  I am running it to help a very special school.   I have a friend who is the track coach at W.S. Neal High School in Alabama.  The school is incredibly underfunded.  The kids don't have running shoes or uniforms.  Their track is in complete disrepair.  They can't host meets or train on it properly.  The school can't afford to help them.  Their parents can't afford to help them (in fact, no parents even showed up when this team went to the state championship!). 
Despite this, they keep practicing.   And by "they" I mean any kid who wants to run.  Track at W.S. Neal is a no-cut sport.  My friend has taken each high schooler who wants to participate, and helped them achieve their full potential.
My friend even lets the middle schoolers run during her practices to help them, too! 
And to top it off, she has coached these kids to TWO state championships.  She is such an amazing coach and supporter for these children.  As the childhood obesity epidemic rages, particularly in the south, I think it is crucial to enable these kids to run to their potential. 
I am fundraising to help this school get the track that those kids need.  I was hoping that some of the Healthy Tipping Point readers would be inspired and would be willing to help the kids at W.S. Neal.  Even a small donation – like $5 – would be a huge help.
If this story touched you (and how could it not?), please consider visiting Ashley's donation page to help the kids at W.S. Neal get a new track constructed!
Plus… My Review of So Sexy So Soon
I also promised you a review of So Sexy So Soon: The New Sexualized Childhood and What Parents Can Do to Protect Their Kids  (S4 from here on out).
I was inspired to buy S4 after reading Jean Kilbourne speak at the Girls on the Run summit.  I also suspected it would help me as I wrap up the Operation Beautiful Tweens book. 
The authors (Levin is a professor of education; Kilbourne, an authority on the effects of advertising) accuse the media of sexualizing children. Constantly, American children are exposed to a barrage of sexual images in television, movies, music and the Internet. They are taught young that buying certain clothes, consuming brand-name soft drinks and owning the right possessions will make them sexy and cool—and being sexy and cool is the most important thing. Young men and women are spoon-fed images that equate sex with violence, paint women as sexually subservient to men and encourage hooking up rather than meaningful connections. The result is that kids are having sex younger and with more partners than ever before. Eating disorders and body image issues are common as early as grade school. Levin and Kilbourne stress that there is nothing wrong with a young person's natural sexual awakening, but it is wrong to allow a young person's sexuality to be hijacked by corporations who want them as customers. The authors offer advice on how parents can limit children's exposure to commercialized sex, and how parents can engage kids in constructive, age-appropriate conversation about sex and the media.   (Plot summary from Publisher's Weekly)
Although I'm not a parent, I am HIGHLY concerned about the sexualization of children – not just girls but boys, too.  I truly believe that the sexualization of children is one of the primary reasons we have such rampant self-esteem issues these days.  Kids are just too young and naive to really understand all the insanely mixed and negative messages that the media sends them. 
The book discusses how the current atmosphere has changed and why sexualization of children is different today than it was 30 or 40 years ago.  Key topics include how marketers use sex and violence to capture children's attention, drive a wedge between them and parents (so they nag their parents into buying them things and their parents feel guilty so they give in), and how sexualization of children in the media retards natural sexual development. Perhaps most shocking for me was learning that most young tweens engage in 6.5 hours of "screen time" (TV, Internet, phone) EVERY DAY.  I couldn't believe this fact!  
Some of the things that I liked in the book:
S4 doesn't blame parents or schools for the sexualization of children.  It's not so easy to just "say no" when your kids want things.  As S4 says, saying no doesn't shield children completely from negative message in the media (they can get it at schools, shopping malls, at friends' houses) and it also doesn't help children understand the messages.  Saying no without explanation also makes children feel guilty when they do see movies or shows their parents disapprove of and makes them less likely to ask questions if they are confused.
There are sample scripts on what to say to kids when they ask certain questions (one script is what to say when a little girl says she's fat and wants to be 'sexy'). 
The authors offer tons of examples of "gender-neutral open play" games that young children can engage in without free of negative messaging from corporate giants.
There is also an entire chapter on how to work with other parents and schools to reduce negative messages in media without looking like a prude or an insane helicopter parent.
I loved how the book recommended that adults watch the child's favorite shows and listen to their music so they can stay "with it" and relevant.  I think this is very, very important!
I wish S4 had MORE scripted examples of things to say to children.  Although I understood the basic premises (don't inject your opinion right away, ask open ended questions, don't punish them), I personally need a lot more specific coaching examples.  Also, my attention started to wane in the later chapters (which were about dealing with teenagers), but I also didn't think those chapters were very applicable to me.  Parents with older children would probably appreciate it.
All in all – it was a really good read.  I think this would be an excellent resource for parents, teachers, or anyone who volunteers with children.
Has anyone else read So Sexy So Soon?  What are your thoughts on these issues?