Morning!  In honor of the upcoming Healthy Living Summit (I leave for Chicago on Thursday), I had a Grilled Banana Sandwich for breakfast: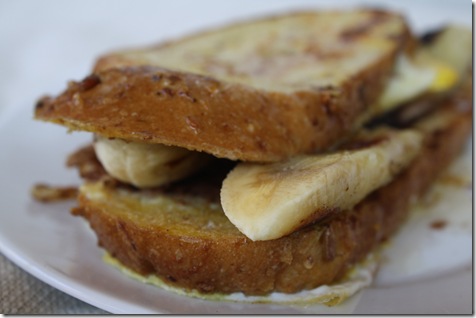 I first ate Grilled Banana Sandwich (the unhealthy version) in Boston on the Friday of the first HLS, and then I came back home and created a healthifed version of the recipe!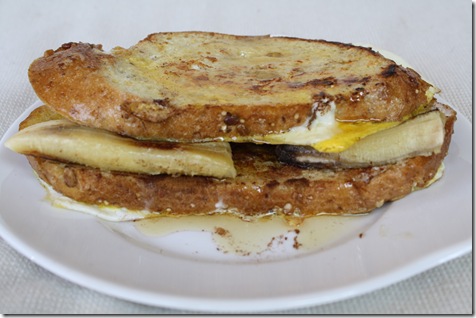 It will always be one of my favorite recipes!
I wonder what kind of recipes I'll bring back from HLS 2010 in Chicago! 
How to Pick Up Friends at the Gym
This post idea came to me in my sleep!  I woke up this morning and thought, "I should write about my pick-up tips at the gym."  :)  I know how many of you are dying to meet more healthy-minded friends.  I've actually picked-up many friends at the gym over the years.  Here's how to pick up friends at the gym… without appearing creepy or desperate.
Prepare to dust yo' shoulders off. 
Pick the right gym:  If you're new to an area and want to meet people, don't join the small neighborhood gym just because it's close to your house.  If most of the attendees are several decades older than you are, it's going to be hard to meet friends your age.  When scoping out gyms, consider all the factors: location, atmosphere, price, and friend potential.
Listen to earbud cues:  Don't stroll around the gym blasting music.  It makes you seem unapproachable.   Similarly, if a potential friend has her earbuds in, don't interrupt her – she doesn't want to chat.  Some people use the gym to socialize, and others use earbuds as a "No talking" sign.  Be aware of your signals and others, too.
Don't forget about the employees:  Become friendly with the trainers and receptionist.  They are potential buddies, too!
Take classes (and show up a little early):  Find a class you enjoy and attend it regularly.  You'll become a familiar face and other regulars will notice.  Say hello to people when you walk in and ask them how their weekend went – be engaging!  By arriving earlier, you'll have more time to talk.
The best opener:  I always open conversations with a stranger with a genuine compliment.  "I have those sneakers, too.  I love Brooks – aren't they great?" or "I love your ring – when are you getting married?"  It's hard to turn down a compliment.  :) 
Take it outside the gym:  Once you establish a connection with a gym buddy, try to move the friendship outside the gym after a few weeks.  This will probably happen naturally, but if it doesn't, jokily saying something like, "We should probably hang out outside of these crappy fluorescent lights and yoga pants one day."  Go for a post-workout smoothie or coffee.  Or suggest trying out a yoga studio or going for an outdoor run. 
Have you made friends at the gym? What's your pick-up line?