I've got exciting news!  But first…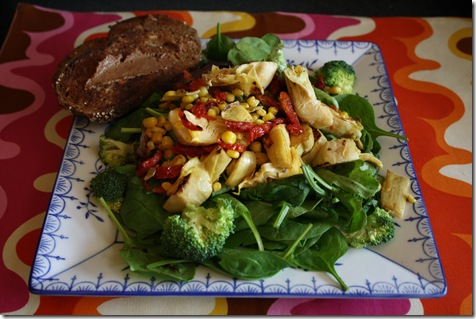 A wonderful lunch!  I love salads when it's so hot outside.  This mix was absolutely divine and super filling.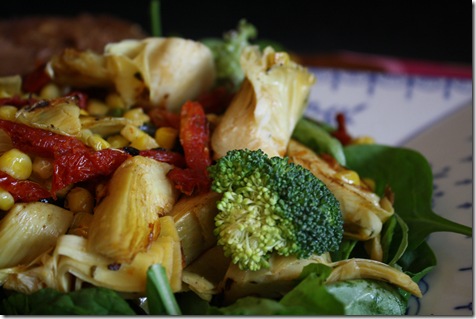 The mix contained:
Spinach, arugula, and mixed greens
Raw broccoli
Stir-fried artichokes
Sundried tomatoes
Stir-fried corn
And on the side, I had two pieces of hearty bread with Chocolate PB.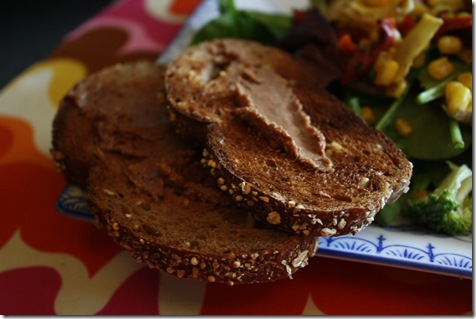 And for afternoon snack #1, I had a bowl of cherries: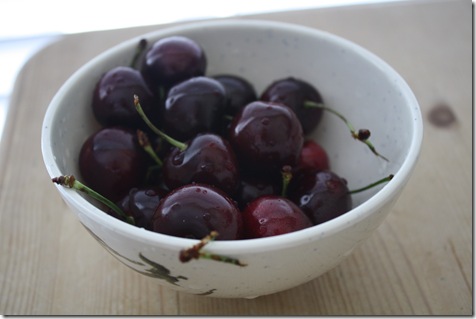 My New Fitness Challenge
Yesterday, I took a poll asking for suggestions for my latest fitness challenge.  My requirements were as follows:
It can't be a huge time commitment – a max of 1 hour a day, 4 times a week.
I need to be able to do it from the comforts of my home or while traveling.  I don't belong to a gym!
I'd like to make my running faster… my pace has dropped lately because I haven't been doing speedwork!
I actually like exercise videos.
I'd like to tone up and get stronger.
I could sign up for a 5K without feeling too  much 'training pressure.'
In order of popularity, I received the following suggestions:
P90X or the INSANITY Workout DVDs:  Although more than 25 commenters recommended these programs, I have to pass because 1) I don't want to spend $100 on workout DVDs; 2) I've heard Insanity is not a good plan for people with knee problems; and 3) It's an hour a day, all week.  Too much time commitment for me right now.
TRAIN FOR SPEED:  An equal number of people recommended that I train for speed, whether I set my sights on getting speedy for a mile, 5K, or 10K distance. 
YOGA CHALLENGE:  About 10 people suggested I try a month-long yoga challenge.  Many people recommended the Yoga Downloads site so I could do the challenge without having to join a studio.
Other suggestions included:
Adventure races, such as the Warrior Dash
Muay Thai martial arts
Swimming
Run 100 miles in one month
Bike 100 miles a week
Rollerblading
THANK YOU ALL SO MUCH FOR THE SUGGESTIONS!  It was a lot of fun to read everyone's thoughts and experiences about Fitness Challenges.
I've decided to do a TWO part challenge.  :)  It's a HYBRID Speedy 5K + Jillian Michaels' No More Trouble Zones Challenge!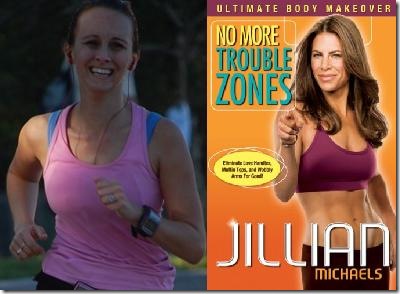 I've done Jillian Michaels' 30 Day Shred before as a 30-day blog challenge (recap) and loved it.  After hearing such great things about NMTZ (and yes, the title of that DVD sucks), I really want to try it!
But I know from experience with the 30 Day Shred that the DVD isn't truly a 'stand alone' workout, and I want to continue running regularly (of course), so I'll be starting a Speedy 5K training plan in hopes of FINALLY beating my 5K personal record of 23:42.  I'm going to aim for a sub-23:00 race.
I'm excited for this new blog challenge because 1) I can do it at home or while traveling; and 2) there's enough variety so I won't get bored.  I think NMTZ will help me shape my body in new ways (especially because I struggle to do any sort of weight training regularly).
I'm starting the challenge NEXT MONDAY so stay tuned for my training schedule! Anyone else want to join me in the Speedy 5K/NMTZ Challenge?