On Saturday, I posted this picture and said,"Guess where we are going on Sunday?"
If you guessed The Players Championship, you were right!  That famous hole is called the Island Green, and all around it the grounds slope up like a stadium.  It makes for a very fun golf tourny! 
We've gone to TPC for 3 years now, but I don't have any past recaps to share with you because they don't allow cameras or cell phones into the event.  Unfortunately, TPC is not know for healthy/vegetarian food options, but I survived on beer and potato chops.  🙂
On the way home, I ate a big Chipotle vegetarian burrito (side note: the pinto beans have meat in them) in preparation of fueling up for today's workout.
Ashley and I are going to attempt to bike 80 MILES today.  I am feeling pretty drained from a full day of walking around a golf course – and we didn't get home until 10 PM – but I'd much rather attempt what will likely be my last super long ride before the 100-mile race on May 23 with someone else.
Breakfast had some extra calories, too: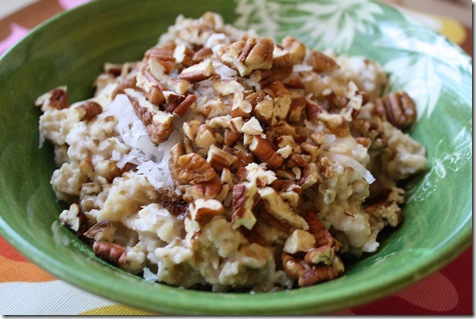 Oatmeal contained:
3/4 cup oatmeal
1/2 cup water
3/4 cup almond breeze
Banana
Toppings:  Pecans, Coconut, Brown Sugar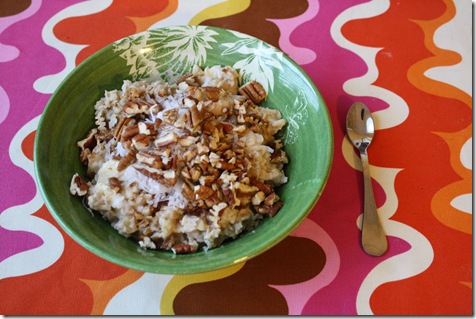 Since I'm leaving you without any decent entertainment, here are some oldies but goodies for you to pursue:
And… I'm off!