The Husband got to go to his favorite place in the entire world today….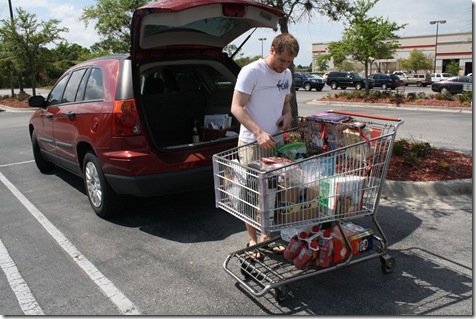 Yes, Costco.  He is obsessed with Costco.  Something about healthy food in bulk makes my man very, very happy.
Normally we go to Costco once a month to stock up on dry goods and vegetarian faux meat staples.  This shopping trip was a little bigger (i.e. more expensive) because we were replenishing a lot of stuff.
Before we left for heaven Costco, I made a Cherry Chocolate Bomb Green Monster for the ride.
My smoothie contained: 1 cup almond milk, 2 cups raw spinach, 15 frozen cherries, 1 scoop Nesquik, and 1/2 a banana.
I've been asked to document what we buy at Costco before, so here it is! 
Two bottles of wine, frozen pasta, two blocks of cheese, blackberries, two loaves of whole wheat bread, Carr's crackers (for the cheese, of course), brown rice, and oatmeal.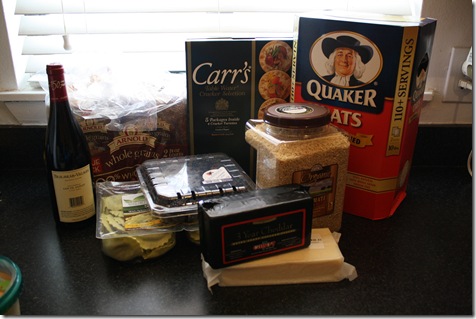 Cinnamon, Greek yogurt, garlic, asparagus, pecans.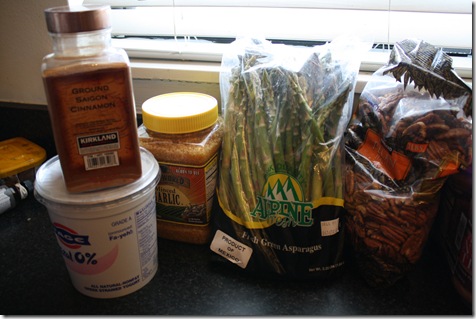 Peanut butter, veggie burgers (two kinds), hummus, Brussel sprouts, frozen broccoli, and artichokes.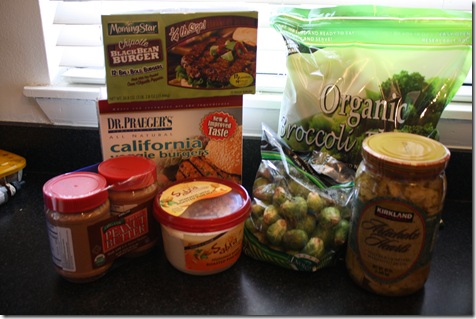 We also bought some juice, trash bags, dog food, and other odds and ends.
After shopping, I made us a quick lunch of 1.5 servings of cheese and spinach tortellini, asparagus, artichokes, and red sauce.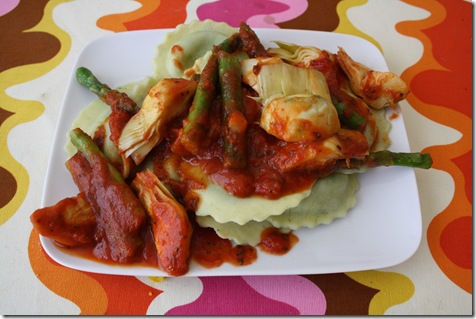 I think the canned artichokes from Costco are my favorite thing in the entire store!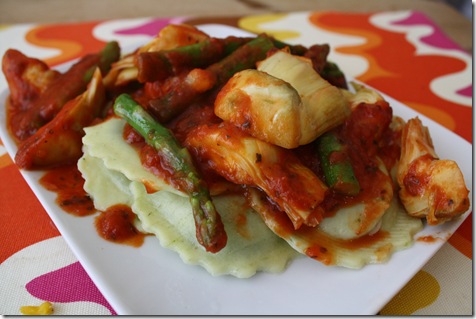 After digesting, I played around on Twitter for a while, trying to talk myself into a bike ride.  I saw this tweet from Caitlin and it totally got my booty in gear.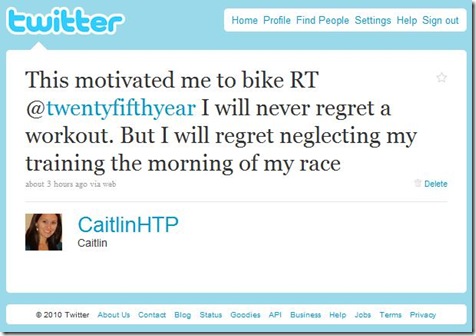 Just thinking about riding 100 miles in Napa Valley on May 23 is enough to get my helmet on!  I decided to reduce my mileage though because I wasn't feel so enthusiastic.  I like to cut myself slack (or skip the workout entirely) when I'm not "feeling" exercise because I hate associating negative emotions with something I love so much.
In the end, I was REALLY glad I got out there!  It was beautiful weather out.  I did 12.75 miles in 53 minutes (I normally do 18 miles on short ride days).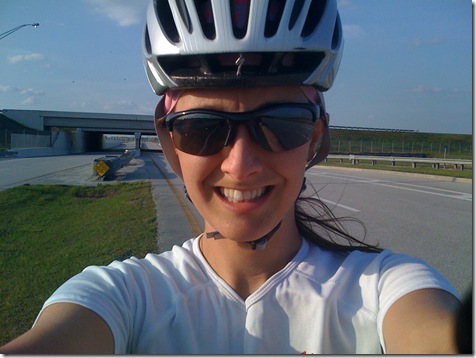 Dinner was quick and easy!
Just a small sweet potato, vegetarian baked beans (from a can, Bush's brand), and a bunch of steamed Brussel sprouts.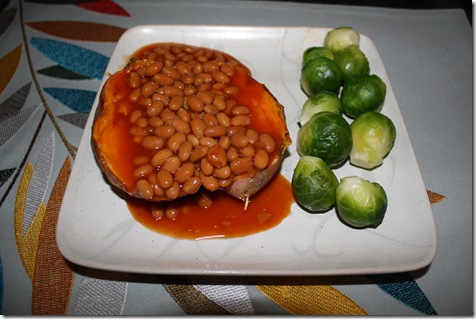 Red wine and couch time is in my future.  🙂
And THANK YOU SOOOO much for all the nice comment on Operation Beautiful's Oprah news! It was all very much appreciated.  :)  If you want to participate in Operation Beautiful, email me a note at seebriderun@gmail.com and (if you have a blog) tell me your blog link!  It's a fun way to drive traffic to your site!
Have a wonderful night!