If you're reading this post, I'm busy racing in my first Olympic Triathlon (that's a 1.5K swim, 40K bike, and a 5.6 mile run).  Hopefully, I am winning my age division.  🙂
I have no doubt this race will be physically challenging.  But I know that it will be a test of my mental endurance more than a test of the power of my legs and the strength of my arms.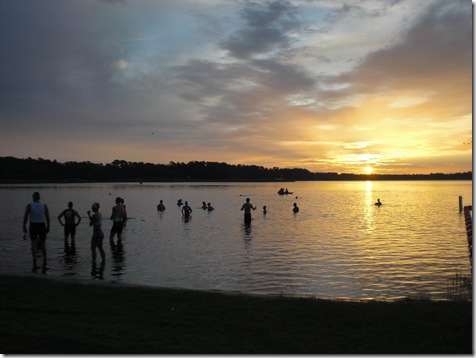 The journey to this triathlon began almost two years ago, when I decided to do a sprint triathlon.  I was a newbie when it came to racing – I only had a 10K and a 15K under my belt.
Pre-blog, pre-marriage, pre-marathon, pre-ME as you know ME!
I remember standing at the water's edge and FREAKING out.  The Husband and my Dad tried to calm me down, but there was no stopping the hysteria rising in my chest.  I was breathing way too fast before I even got into the water.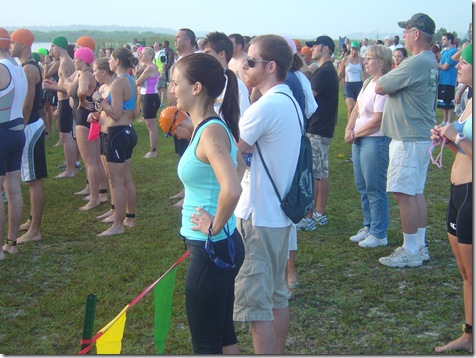 All I had to swim was 0.25 mile, and I couldn't do it.  Within three minutes of getting into the lake, I had a panic attack and flagged a lifeguard.  I hung on the lifeguard's kayak for about 10 minutes and then swam back to shore.
I got out of the water feeling absolutely humiliated.  I cannot express in words how embarrassed I was that I was so weak mentally.
My Dad and the Husband urged me to finish the race, so I got on my bike to do 10 miles…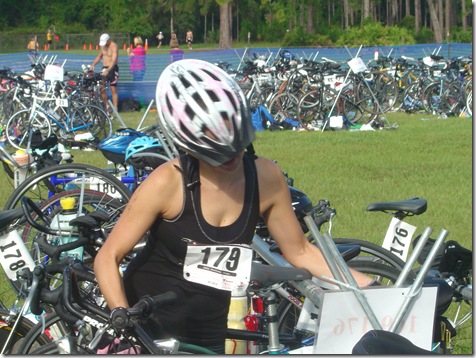 And did the 3.0 mile run…
I carried that horrible feeling of being a quitter around for the next two years.  I did another 17 races, including three half marathons and a marathon, and nothing ever took away the sting of that failed triathlon.
The worst part of that triathlon was that I quit because I mentally couldn't handle the pressure.  I would have felt better if I had undertrained and was physically was incapable of doing the race.  Instead, I let fear overtake me, and I got sucked in.  I fed my negative emotions instead of rising above them.
I avoided doing another triathlon for two years.  In January, I decided I needed to face my fear of the water and try again – and this time, in a BIG way!  An Olympic Tri is a great challenge.   I am scared, but at the same time, I feel much more confident than two years ago.
Today's race is going to be different.
I am MUCH stronger physically.
I am MUCH stronger mentally.
I CAN DO THIS.   This is my chance for redemption.
Inaction breeds doubt and fear. Action breeds confidence and courage. If you want to conquer fear, do not sit home and think about it. Go out and get busy.  (Dale Carnegie)