I have been putting this off for about two weeks…  I HAVE to learn how to use clip-in shoes on my bike.  The thought of being attached to my bicycle and falling over is really scary!
Most cyclists cannot believe I rode a Metric Century (race recap) without clip-in shoes.  Clip-in shoes make it so much easier to pedal because you can lift the pedals up, not just push them down, which makes you go faster.  My upcoming Century finally lit a fire under my butt to figure it all out.
I spoke to Dad (the bicycle guru) and he recommended I try practicing in a door frame.  So, I woke up early this morning and hung out in my kitchen for a while: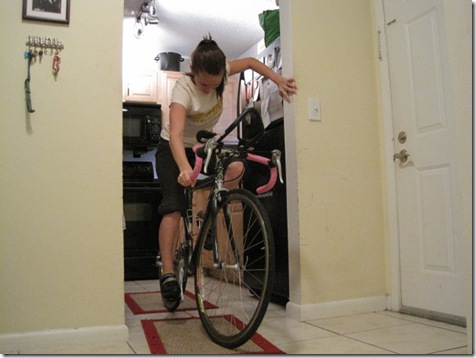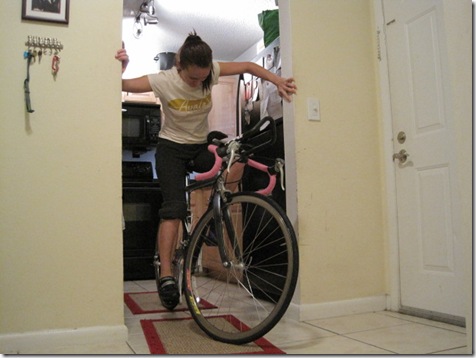 It took me a while to figure it out, but soon, I got the hang out it (you have to be really aggressive and jam your foot down). 
I was feeling quite confident until I realized that if I was on the road, I would have nowhere to put my arm and balance (duh). 
Next, I decided to take my bike outside and practice on the grass.  I figured if I fell down, it would be on the grass and wouldn't hurt so much.  I only ended up falling down once before I got the hang out it!
I also then realized that I don't need to unclip both of my feet when I stop. Only having to clip in one foot made me feel a lot better, so I started to bike around my apartment complex, practicing clipping in and out on my left foot.
I'm feeling confident enough now to go on a ride once my oatmeal settles!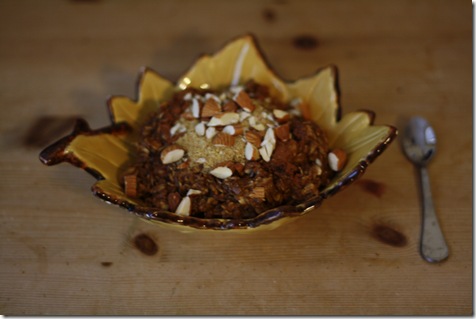 My coffee oatmeal contained:
1/2 cup oatmeal
1/2 cup rice milk
1/2 cup water
1 sliced banana
1 tablespoon instant coffee
Toppings: cinnamon, flax, almonds, brown sugar
I love English instant coffee! I will be so sad when my stash runs out.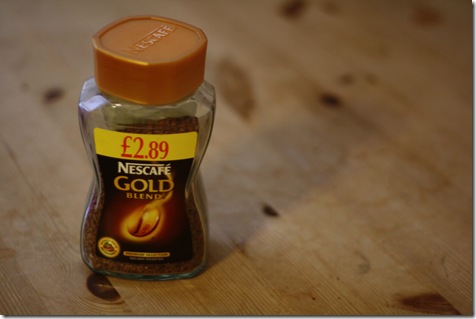 Nom, nom, nom.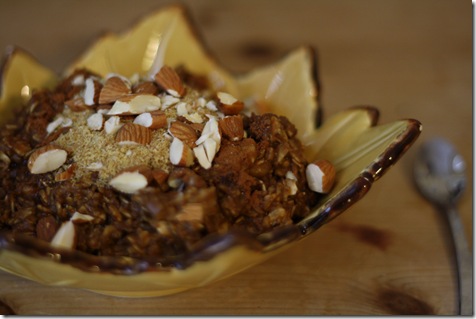 Off to RIDEEEEEEEEEEEEEEEE!  Wish me luck!
I guess this falls under the motto: "do one thing everyday that scares you."