The digestion system is so, so weird.  There's something about the guts that just freak me out.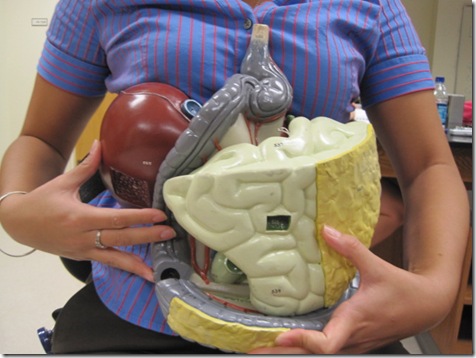 My lab partner makes an excellent model.  :)  Tonight's anatomy lab was filled with tons of information about poop.  Of course, I asked why marathoners poop themselves sometimes, and everyone turned around and looked at me like — "Why? Have YOU pooped yourself?"  (The answer is not yet).  😉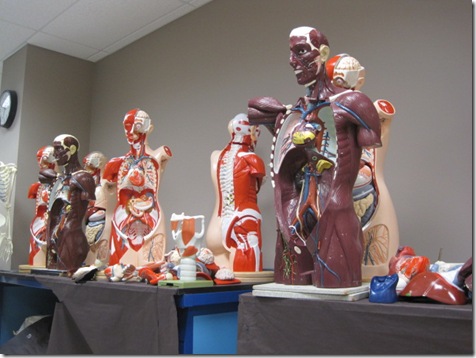 Speaking of long runs, I am getting so nervous and excited for my 17.0 mile run tomorrow! I think its important to build up long runs in my head.  I try not to spend the entire week dreading my long run, but looking forward in anticipation.
I fueled appropriately by having a little pasta party for dinner: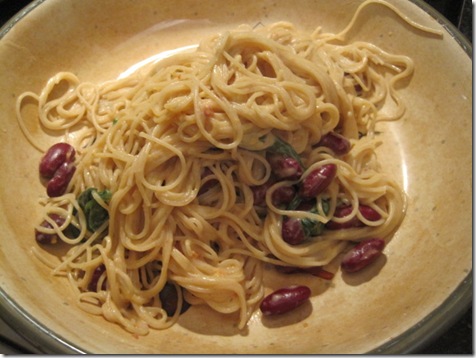 Angel hair whole wheat pasta, Alfredo sauce, kidney beans, and spinach (plus another 1/2) – yum!
Other snackies of the evening included an Oh She Glows bar: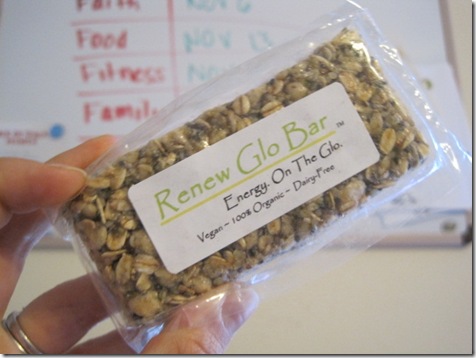 A bowl of cereal + banana: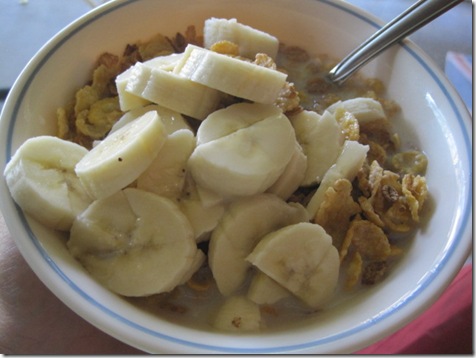 And some Halloween candy.  Tis the season!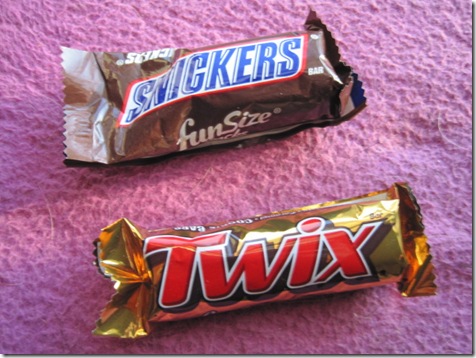 Clearly, I believe in carbohydrate loading for several meals before a long run.  I definitely ate with a purpose today – I don't think its wise to overdo portion sizes the night before a long run (per the pooping incident), but I have noticed a huge difference in my performance with I build up my glycogen stores over several meals.
Fun fact: You body first burns off any glucose (i.e. food) in your body during exercise, and then it switches to using glycogen.  Glycogen is the long-term energy stored in your liver and muscles.   During a marathon, most runners will deplete their glycogen stores around mile 20 – 22.  This depletion is most commonly known as "hitting the wall."  I've hit the wall once (during the Crooms Fools Run – check out the recap for the ugly details!) and it was NOT pretty.  I also came close to hitting the wall during my 60-mile bicycle race.  This is why it's super important to fuel during long runs.
Time for The Office, and then it's time for BED!  17.0 miles is a long, long way to run, and I need all the sleep I can get.
If you're an endurance athlete, have you ever hit the wall?  What does it feel like for you, besides mind-numbing exhaustion?  🙂