Basically, the Grilled Elvis is a Grilled Banana Sandwich with the addition of almond butter. Elvis Presley liked to put bacon in his sandwiches, so maybe a meat-eater out there can try this with bacon and let me know if it's good?  I bet it would be (even I can admit that bacon is pretty yum)!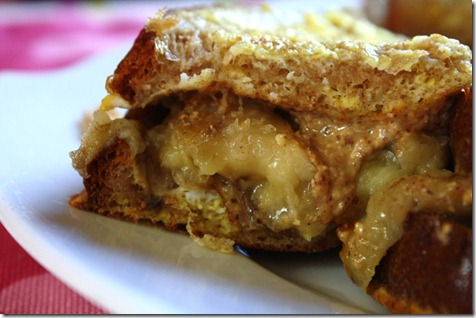 Ingredients (for one sandwich):
2 slices whole wheat toast
2 eggs
1 banana
1 tablespoon almond butter
Directions:
Pre-heat a griddle to medium high and grease the pan.
Slice a banana in half, lengthwise and widthwise so you have 4 pieces.  Place in corner of griddle.
Crack eggs and beat in a small dish.  Make French toast by dipping the bread in the egg mix and putting on the griddle.
Once one side cooks, flip bread and bananas.  Put tablespoon of almond butter on one cooked side of bread (this helps it melt).
Let other side of bread cook.
Combine everything into a sandwich with the banana and almond butter in the middle.
Enjoy!