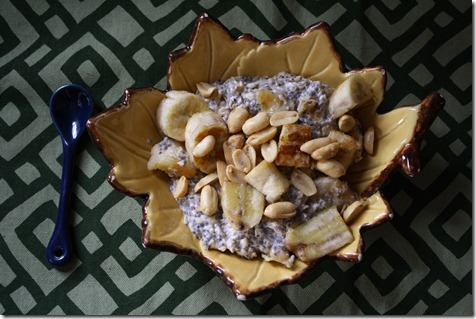 Adapted from this recipe.
Ingredients:
2 tablespoons chia seeds
1/3 cup oatmeal
3/4 cup almond milk
Banana
Five heavy pinches of sugar
Salted peanuts
Directions:
In a small bowl, combine chia seeds, oatmeal, and milk.  Put in fridge and let stand overnight.
In the morning, remove chia seed mixture and stir.
On a hot and greased griddle, place banana chunks and cook on high until it begins to brown.  Flip once and sprinkle with sugar.
Mash half of the grilled banana into the VOO and plate. 
Top with remaining banana and nuts.
Enjoy!