Bruschetta is one of my favorite things to order at restaurants, but it's easy to make at home.  The one single ingredient that makes bruschetta really stand out?  Balsamic reduction!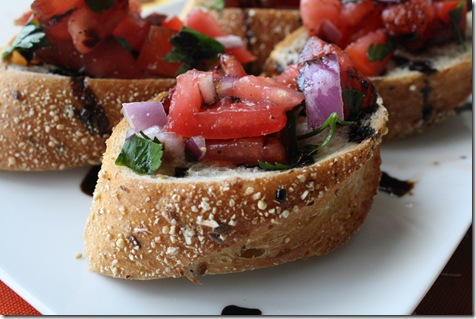 Ingredients:
4 one-inch slices of whole wheat or multi-grain baguette
1 tomato
1 tablespoon chopped Italian parsley
1 tablespoon chopped red onion
1/2 cup balsamic vinegar
Directions:
Chop the tomato into small bits, and then rinse and drain to remove the seeds.
In a small bowl, mix together tomato, parsley, and onion.  Let sit for 5 minutes.
Meanwhile, pour balsamic vinegar in small pot and cook on medium low until the liquid becomes thickened.  Remove from heat.
Toast bread in oven.
Place tomato  mix on top of bread slices and then drizzle with balsamic reduction.
Enjoy!