(inspired by the Non-Dairy Queen)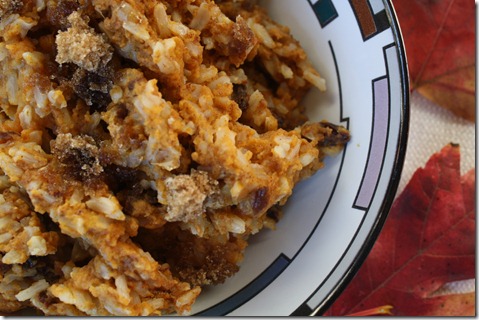 Ingredients (for one serving):
1 cup cooked brown rice
1/2 cup canned pumpkin
2 tablespoons almond milk
1 egg white
1 teaspoon of cinnamon
Drizzle maple syrup
1 tablespoon raisins, chopped
Several almonds, chopped
1 tablespoon brown sugar
Directions:
Preheat over to 425.
Grease a medium-sized casserole dish.
In a small bowl, mix cooked rice, pumpkin, milk, egg white, cinnamon, maple syrup, raisins, and almonds.
Spread mixture in bottom of casserole dish.  The goal is to spread it thinly – less than an inch – so it cooks and browns quickly.
Bake for 17 minutes.
Scoop into bowl, top with brown sugar, and eat!