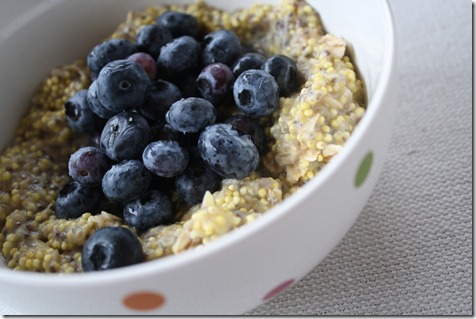 Ingredients:
1/4 cup millet
1/4 cup oats
1/2 cup almond milk
1 large banana
1 tablespoon chia seeds
Toppings:  blueberries
Directions:
In a small pot, mix millet and almond milk.  Turn heat to medium high.
After 3 minutes or so, add a thinly sliced banana, stirring occasionally in between feeding the dogs or brushing your teeth. 
After 5 minutes, add oats and chia seed.
Stir, turn to medium low, and let stand under all the liquid evaporates away (another 5 minutes or so).  The banana should be creamy by now.
Plate and top with chia seeds.