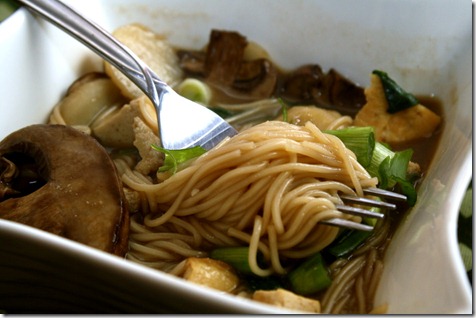 Ingredients (for 2 servings):
1/3 block extra firm tofu
3 servings of authentic Japanese wheat noodles (Somen) or another thin whole wheat noodle
1 cup Portabella Mushroom soup (I used Imagine brand; just check for MSG)
1.5 cup water
2 handfuls of raw spinach, shredded
1/2 pack of portabella mushrooms, rinsed and patted dry
3 tablespoons low sodium soy sauce
1 cup watercress chestnuts
2 stalks of green onion, chopped
Directions:
Pre-heat George Foreman or grilling pan.  Slice tofu into thin pieces (no need to drain) and grill until golden.  Remove and slice into bite-sized pieces.
Meanwhile, in wok, cook mushrooms and 1 tablespoon soy sauce until they begin to soften.
In a medium pot, combine soup and water.  Bring to boil.  Add noodles.
Wait one minutes and add wheat noodles, spinach, cooked mushrooms, watercress, rest of soy sauce, and tofu.  Stir.
Turn off heat and let stand for a few minutes.
Pour into bowls, top with green onion, and serve.