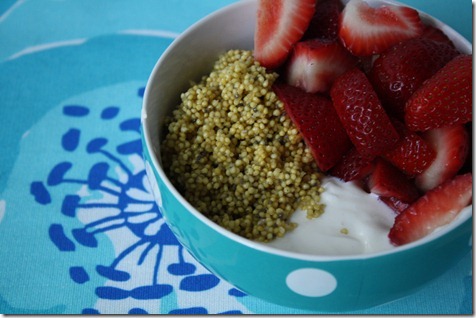 Ingredients:
1/4 cup millet
2 cups water
1 tablespoon maple syrup
1 tablespoon chia seeds (or ground flax)
Greek yogurt (any flavor – I used honey)
Fresh fruit
Directions:
Bring 2 cups of water to boil and add in millet.
Cook for 5 minutes.
Drain away any extra water and return to turned-off (but still warm) stovetop.  Let stand for a minute to remove any remaining water.
Add maple syrup and chia seeds.  Stir thoroughly.
Allow millet to cool completely and then transfer to the fridge to chill (or – do what I did and stick the stainless steel pot directly in the freezer for 10 minutes).
In a bowl, combine millet, yogurt, and fruit fruit.  Serve and enjoy!