This dip works well as a side dish or even the 'meat' of a meal.  Serve on toast or with crackers!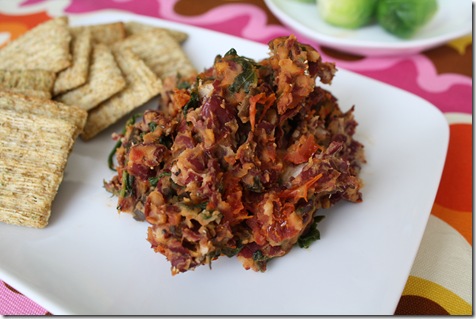 Ingredients (for 2 entree-sized servings or 4 side servings):
1 can dark red kidney beans, drained and rinsed
1/4 cup sundried tomatoes, packed in olive oil
2 handfuls raw spinach, torn into small pieces
1/4 cup whole canned black olives (no salt added)
Lots and lots of hot sauce
Pepper
Directions:
In a wok, combine the first four ingredients.
Cook on medium high for 8 minutes (or until spinach is entirely wilted).
Pour mix into large bowl, add pepper and hot sauce (to taste, but you can't go wrong with adding a lot), and mash into a dip.  Alternatively, you could put it into a food processor to make it all creamy, but I liked the chunks.
Serve warm!