My goal for this breakfast was to make something sweet and tasty without adding extra sugar (I think I'm over sugar – at least temporarily – after the great Christmas cookie extravaganza of 2010).  This dish totally hit the mark.  I love the flavors the corn muffin mix adds to the dish, too.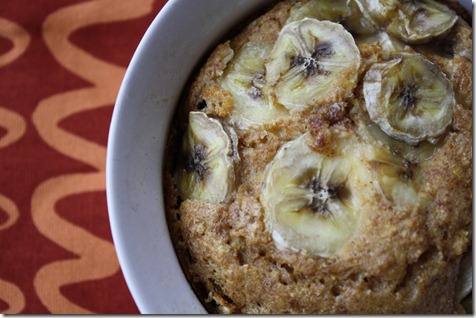 Ingredients (for a single serving):
1 banana
1/8 cup raw oatmeal
1/4 cup whole wheat pancake mix
1/4 cup corn muffin mix (I used Bob's Red Mill)
Cinnamon to taste
1/4 cup almond milk
1/8 cup water
1 egg white
Directions:
Preheat oven to 375.
Grease mini casserole dish.
In a bowl, combine all ingredients except 1/2 the banana.
Use a spoon or fork to mash up the 1/2 banana in the mix.
Pour mix into casserole dish and slice rest of the banana on top.
Bake for 24 minutes or until firm.
Let stand for a few minutes and serve.