Drum roll, please!  It's time for Sweet Santa 2014.  Thanks to everyone who sent in their pictures.  It was so hard to choose finalists – every kiddo was so sweet.  <3  But I whittled it down to FIVE FINALISTS (which are at the end of the post), and I need your help choosing the winner. 
But first…
Here are all the Honorable Mentions of Cuteness!
Jess wrote, "This is my 10 month old daughter Evie and my 3.5 year old son Henry. I really thought I would be sending in a scary Santa to you but the stars aligned for me."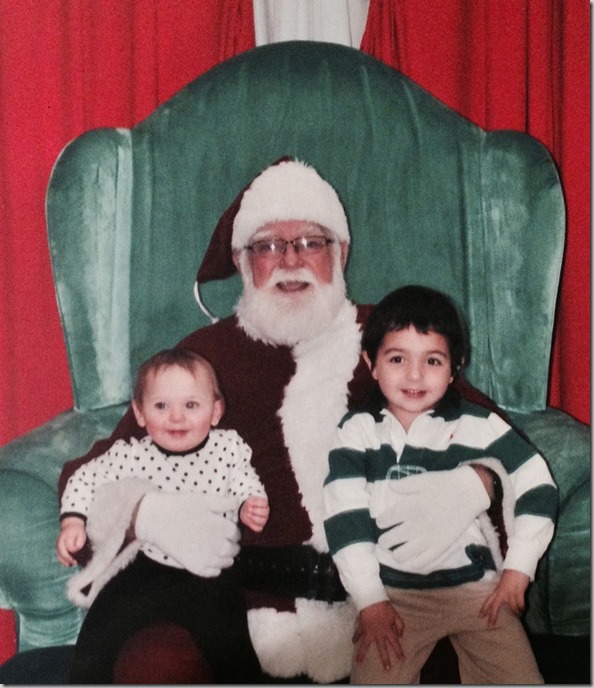 Rachel wrote, "This is my 5 year old daughter Siena. This is the same Santa we visit every single year and this is the first time she would sit on his lap. She is SO excited this Christmas and can't wait to get a Muppet Babies phone… Which reminds me, does anyone know where you can find a Muppet Babies phone??"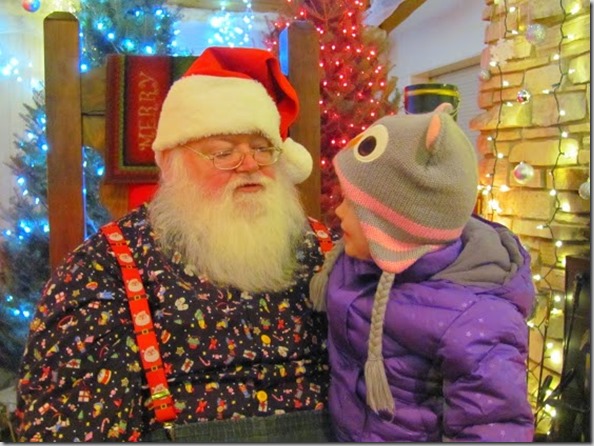 Helen wrote, "This is my 5 month old son, Oscar. He just woke up from a sleep as we were walking past the Santa in the mall last week. There was no line and I thought 'might as well try' thinking I'd get a terrible photo and or screaming and tears, but figured I didn't have to buy it! To my surprise, he hammed it up for the camera, Sophie the giraffe in hand, and absolutely loved it, laughing hysterically. Santa, as you can see, wasn't that impressed…"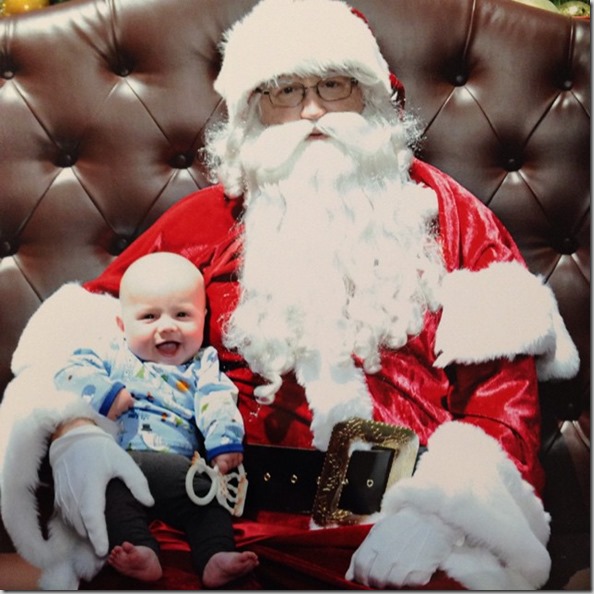 Kristen wrote, "This is Wyatt Robert in his first photo with Santa at 6 months."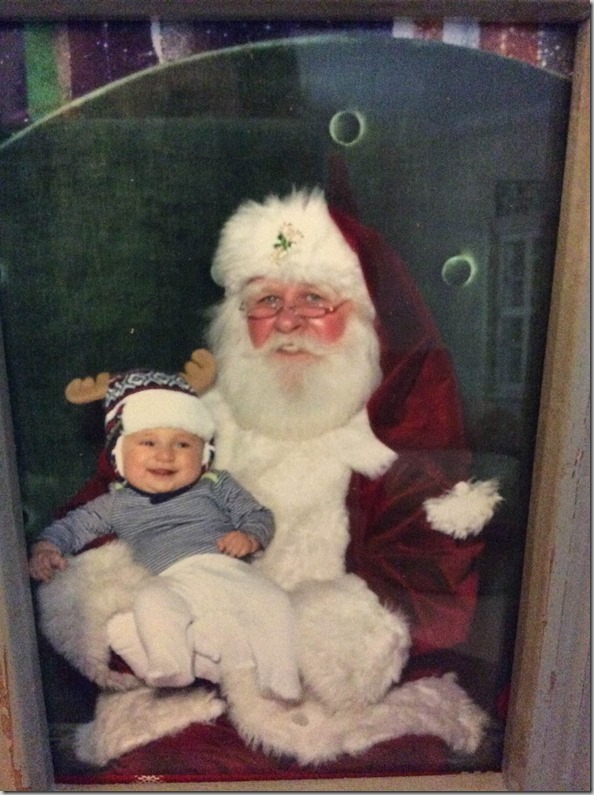 Chelsea said, "This is Sophia and Allessandra. First Santa where we got both to kind of smile."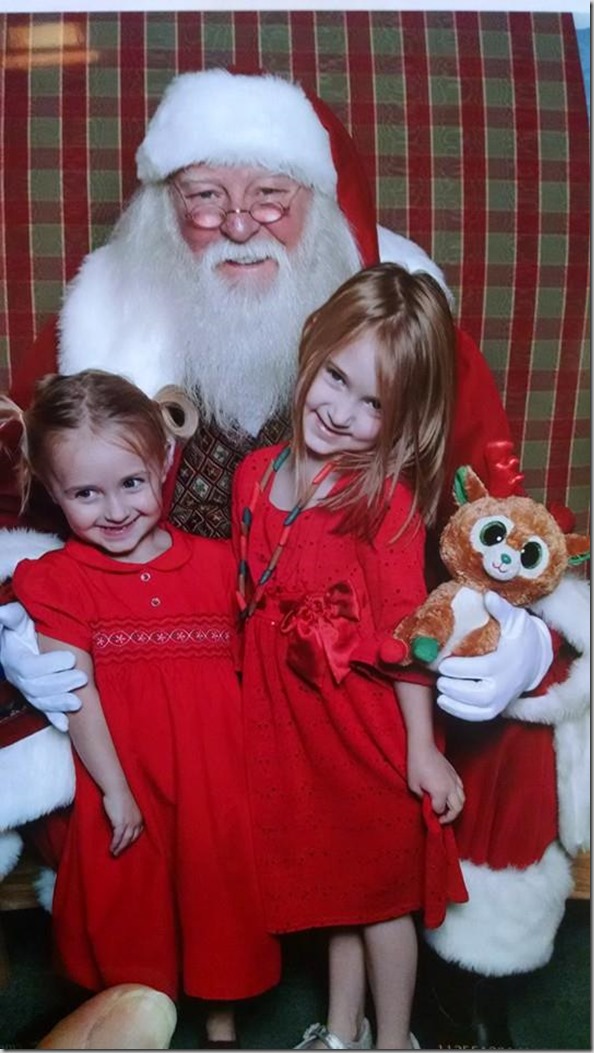 Shannan wrote, This is my girl Lane at 14 months. I couldn't pass up the little elf outfit! She even had elf slippers on!"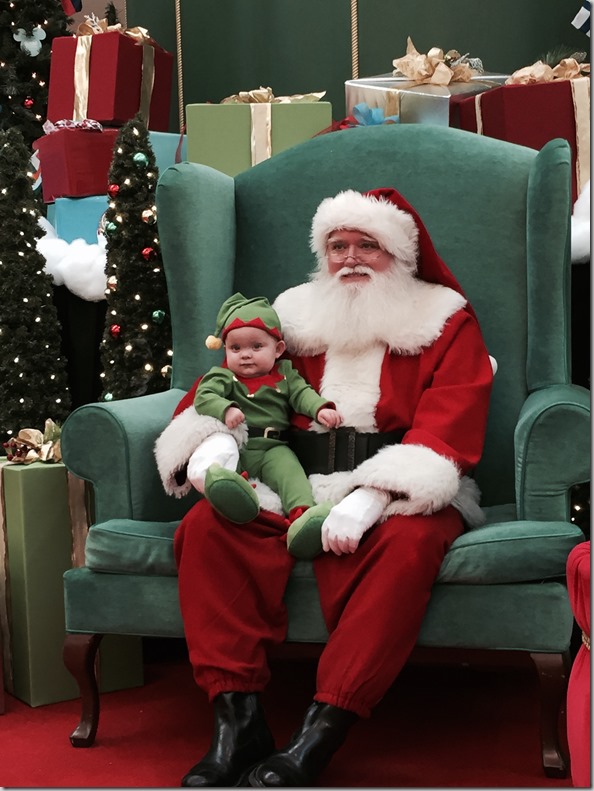 Jennifer wrote, "It was the first year my daughter, Eve (3 1/2 years), was excited to see Santa- Charlotte, at 19 months, not so much. She was terrified and cried hysterically after we placed her on Santa's lap. This Santa was so incredibly sweet. It was his idea to seat the girls next to him so that Charlotte could be by her big sister. We were snapping pictures while they talked, encouraging Charlotte to smile. Nothing worked. Completely unprompted, Eve leaned to her sister, hugged her, kissed her on the cheek and said, "It's OK Charlie. Smile. Santa's nice. I'm right here." Charlotte calmed down and although we didn't get any super happy/smiling pictures, we got this shot and I love it. I really doubt anything is going to top that moment for me this Christmas.  When the girls are sick, sad, scared, whatever, I always whisper to them, "It's OK. I'm right here." And I always believed they would have a special bond as sisters, but to see it so strong and present already – well, that was the best Christmas gift ever!"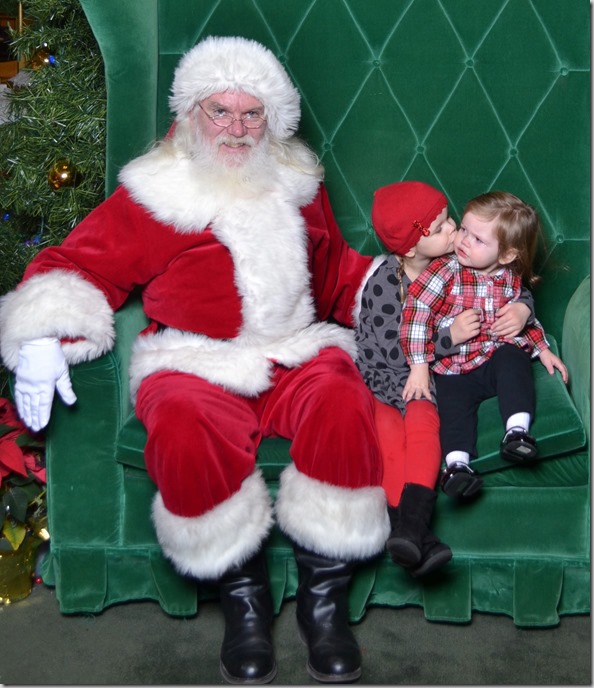 Kim wrote, "Our little Nora visited Santa at 3 months old. I had been told by friends to prepare for an epic meltdown but as soon as she sat in his lap, she was all smiles!!"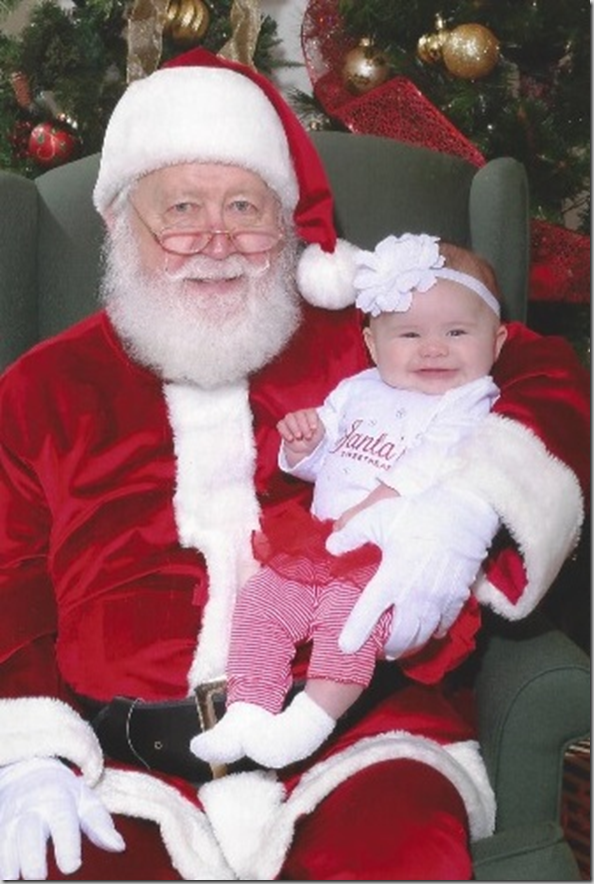 Ashley said, "This is a picture of my 11 month old son, Jack.  For the majority of the pictures he was not enjoying the experience.  They were able to capture a few pictures at the end that weren't too traumatic looking."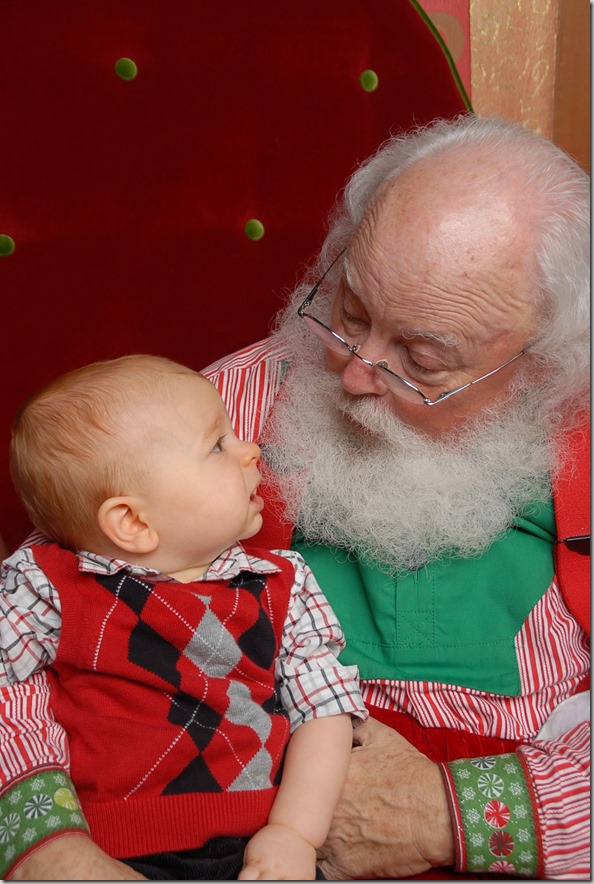 Ashley said, "My girls, Clementine (toddler, 2.25) and Lola (3 months). My husband has taken Clemmy every year and this year he took them both – his first solo outing with both kids, haha. Fun fact – my girls have the exact same birthday!"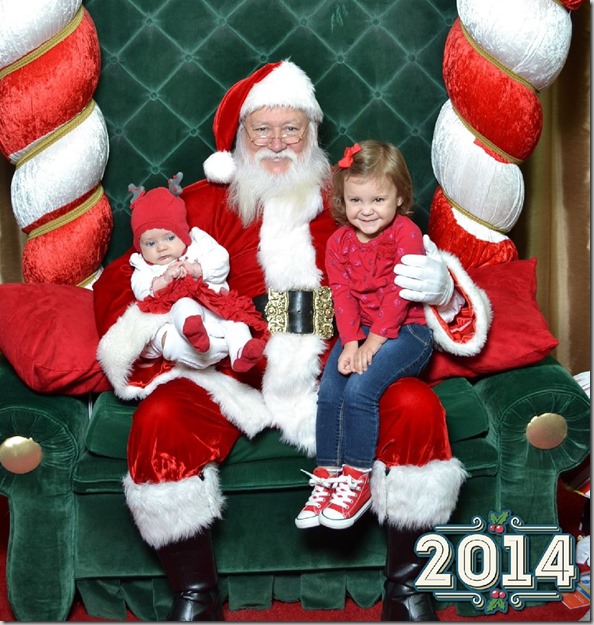 Jennifer wrote, "Here is my baby Connor- this is his first Christmas!! He's 5 months old and did so great with Santa. I was so happy!"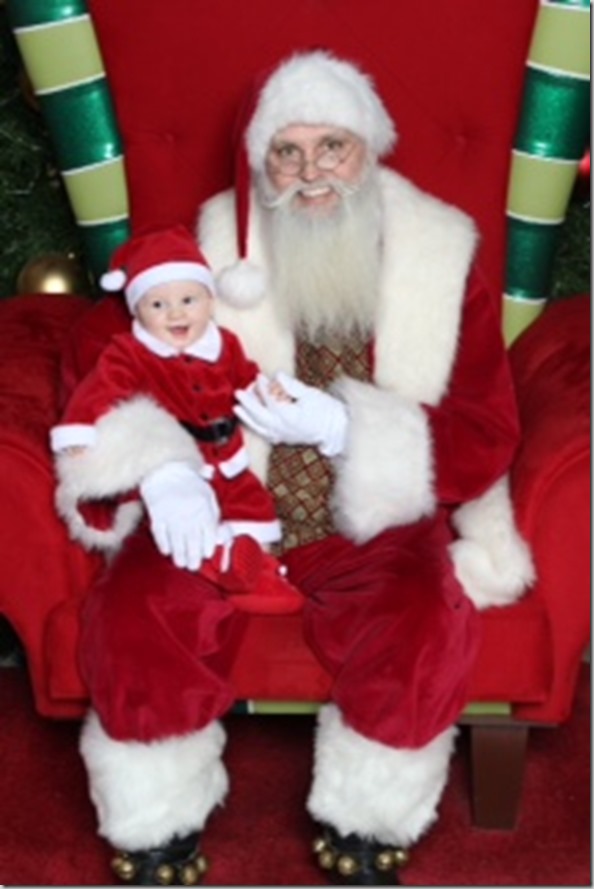 Lauren said, "Ethan was really excited when he saw Santa from line. When it was his turn, we took him out of the stroller and he said "Santa!" and ran right over. Once he was actually on Santa's lap, all he could do was stare;  he just couldn't believe it was really him!"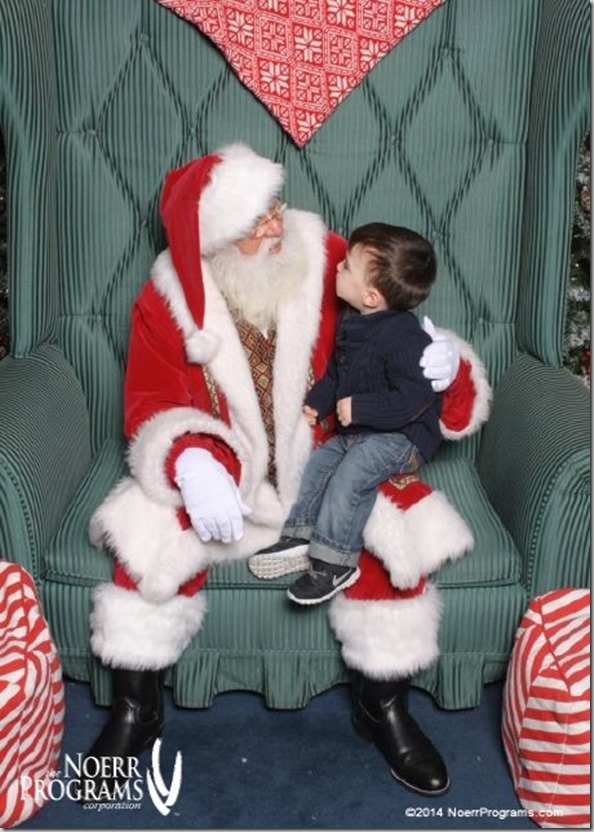 Caitlin said, "Maggie (7 months) met Santa after a long time spent at a holiday event at my hometown. Despite having a dirty diaper and being hungry, she was really calm and seemed really intrigued by both Santa and the stuffed animal she received from him!"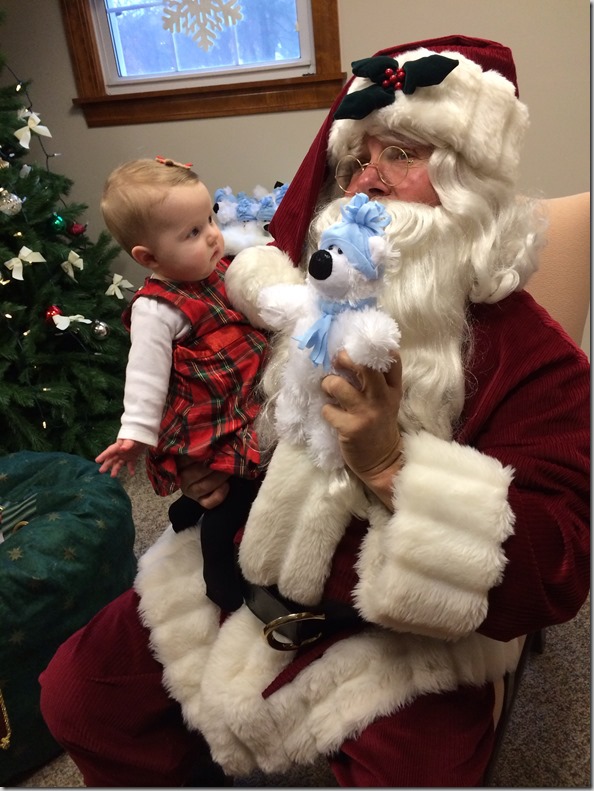 Abby wrote, "This is Layla and James. Naughty and Nice!"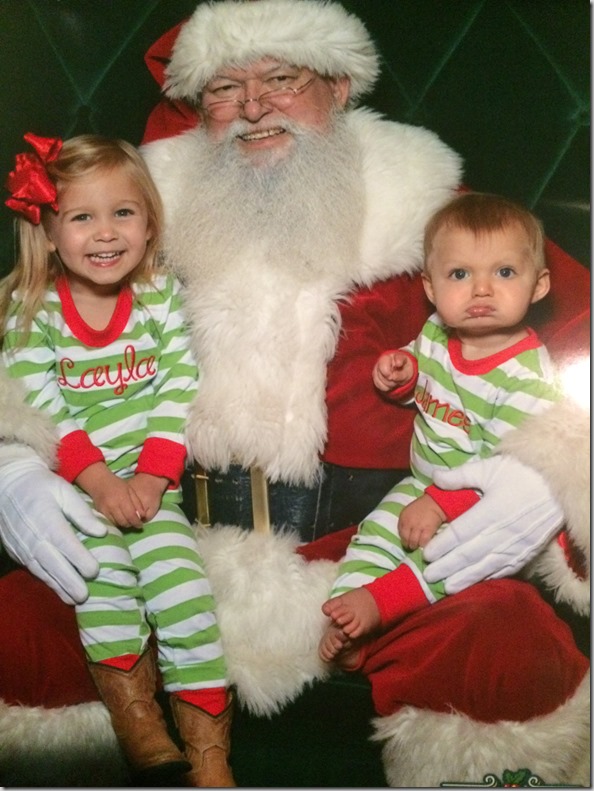 Tori said, "T met Santa last week. She was so super excited to visit the "North Pole" AKA Bass Pro, and was more concerned where the reindeer were than asking for any presents. She is 3 years old."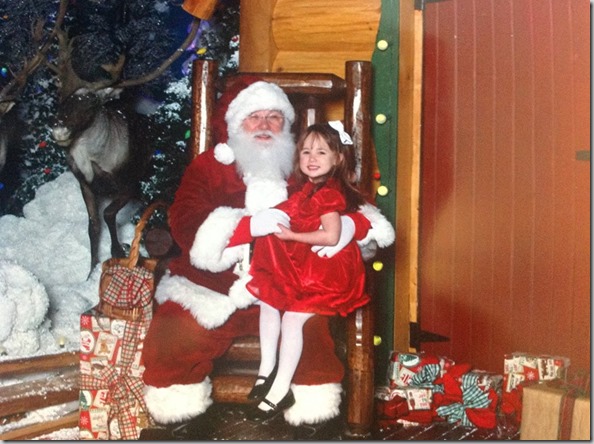 Holly said, "This is Riley (10 weeks old!) and Sleeping Santa."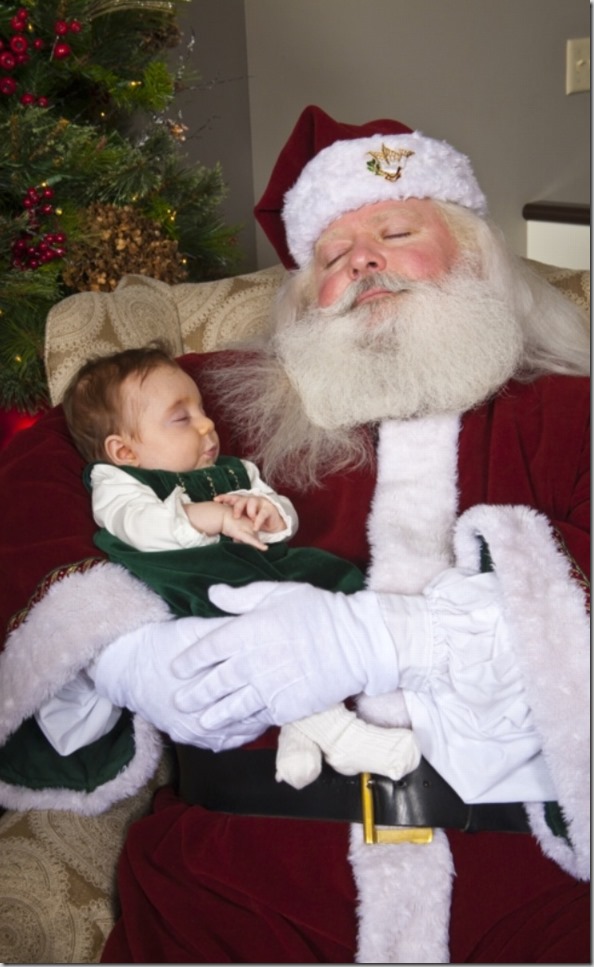 Sara wrote, "This is my son James meeting Santa. He was 2.5 weeks old at the time. So sweet!"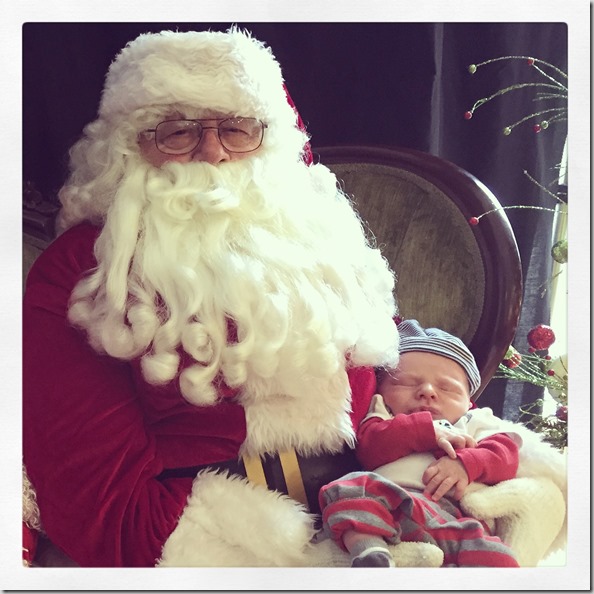 Heather wrote, "This is 6 month old Sawyer. We expected his first Santa encounter to be horrible. It was way past nap time and we has to wait a long time in line to meet this creepy Santa Claus. When we finally got there, he was nothing but smiles!!"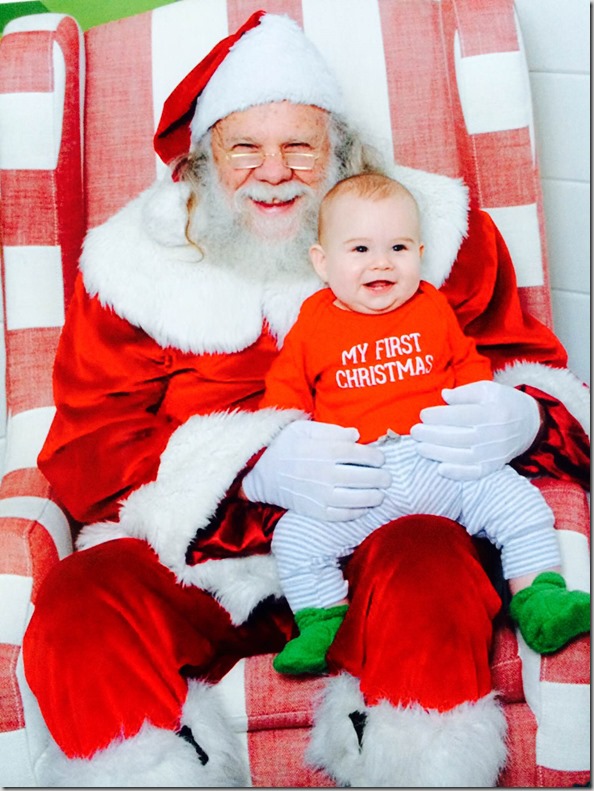 Sierra wrote, "Here is Noah, he's 5 1/2 months old.  We couldn't get him to smile but he was pretty content just hanging out with Santa."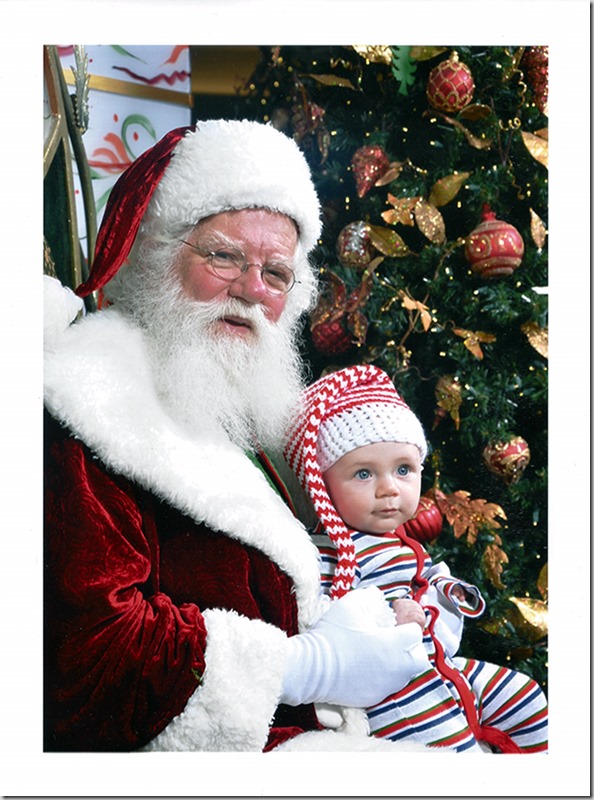 Allison said, "This is Nikola. He just acted like he knew what he was supposed to do!"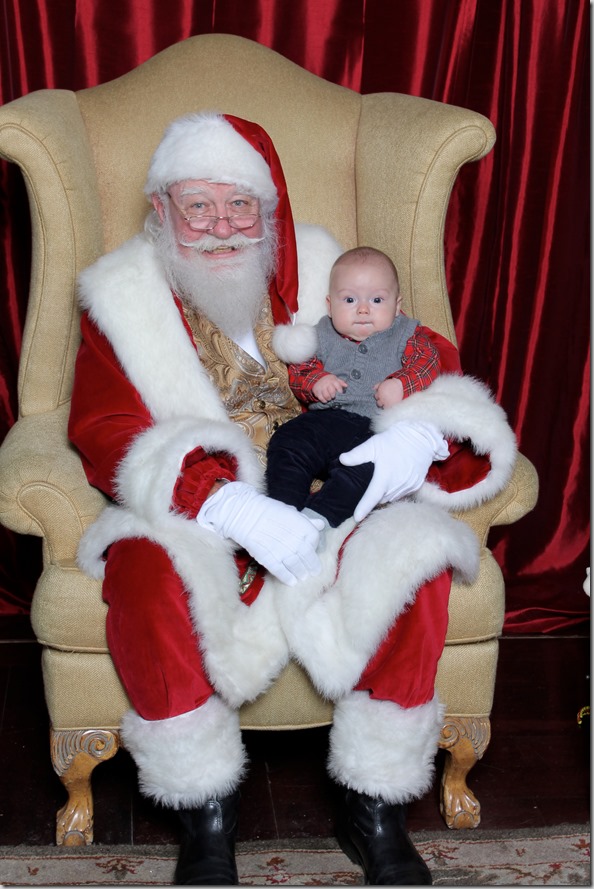 Amber said, "For some reason, my kids Love Santa!"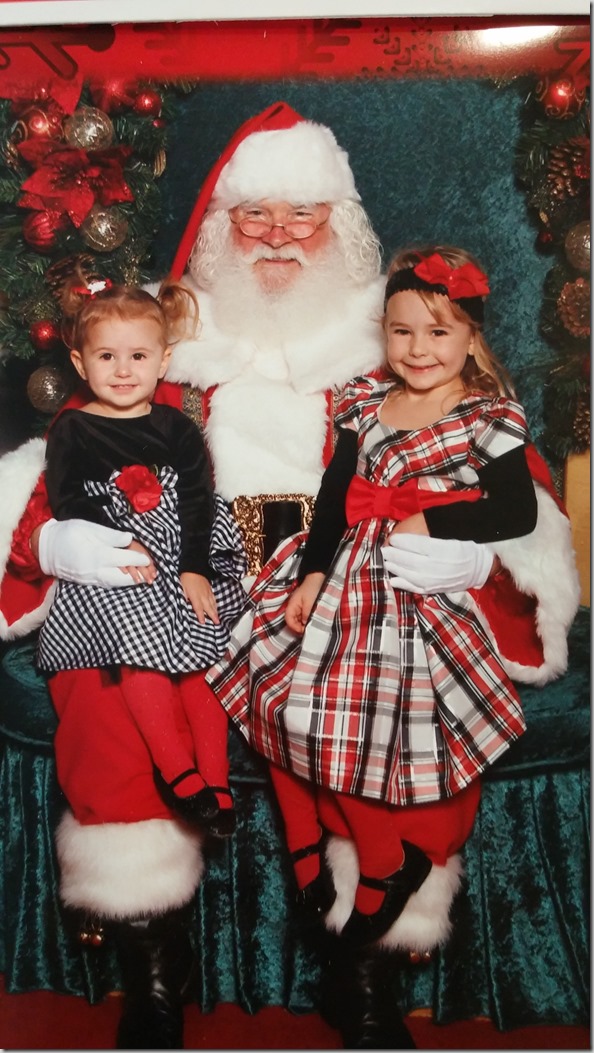 Claire said, "Caleb was just waking from a nap but Kate was excited!  Every year after our town Christmas parade, a local business hosts Santa and Mrs. Clause at their homemade gingerbread house.  They are escorted in on the top of a fire truck (this year included Olaf! – that is the extra picture included here).  Then all the kids get to sit with Santa at the gingerbread house, drink hot chocolate, and eat cookies.  It was a lot of fun!"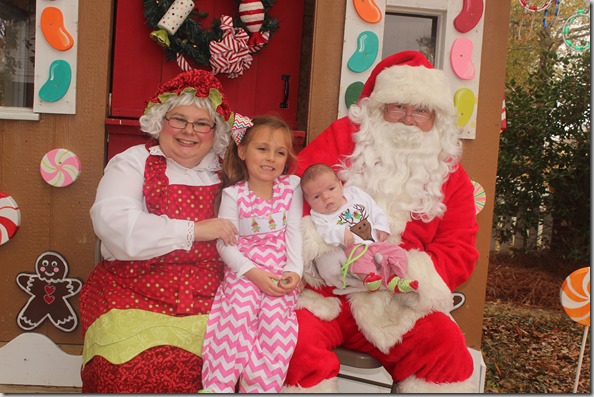 Alison says, "This is Bethany's 1st Christmas!"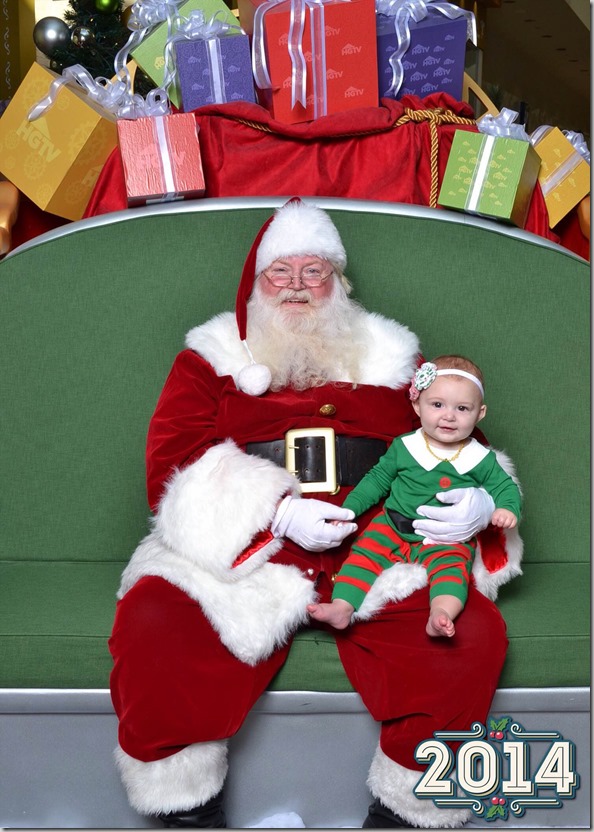 Dominique said, "We were able to meet Santa at a local preschool, and it was so quiet and intimate! There was enough time that Jackson (who will be 1 on Dec 27!) could he used to the idea of sitting with Santa- and then he ended up just hanging out on his lap talking to him for 10 minutes!"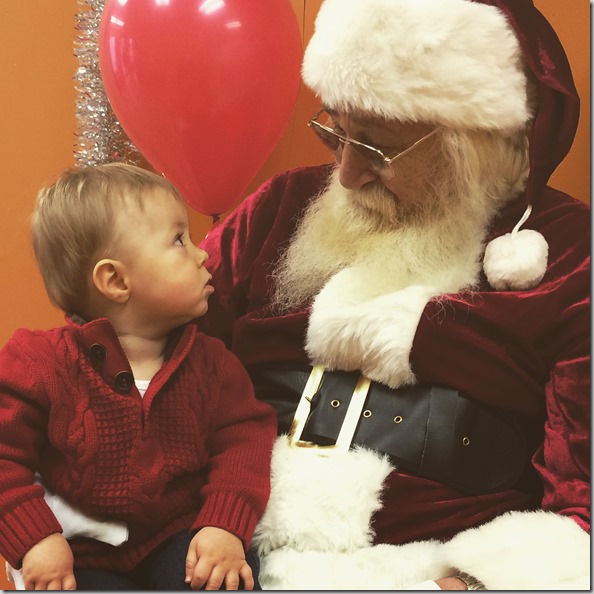 And…
Here are the finalists!
FINALIST #1 – Brianne wrote, "This is our sweet Calista visiting Santa this year! After a long, LONG wait at our local mall which left her in a less than stellar mood, she perked right up the moment we sat her down on Santa's lap. Added bonus – the cute Target headband I threw on her at the last minute matched Santa's suit perfectly!"
FINALIST #2 – Kassie wrote, "Here is Natalie meeting Santa. She is 5 months old in this picture."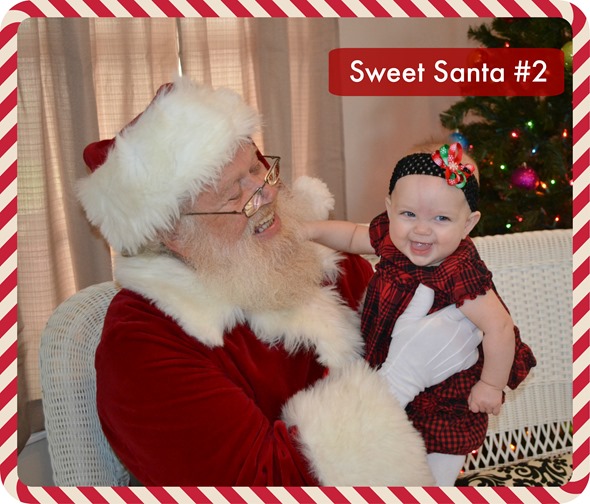 FINALIST #3 – Kendra said, "My son, Caiden, was so proud to give Santa a picture he colored for him. The look of pride on his face just melts my mama heart! It is also a pretty convincing Santa if you ask me! He was really engaged with Caiden in conversation about the picture which I know made my son's day!"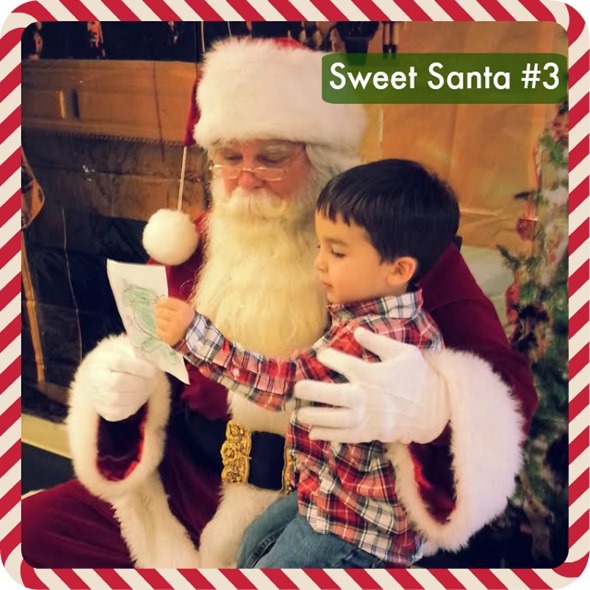 FINALIST #4 – Leatitia wrote, "This is my three year old son Damien with Santa. He loves him! We saw Santa a few days later at the grocery store. He was shopping with his Santa's hat on and being sweet to all the kids. He remembered my son had already asked for his gifts, out of hundred of kids he sees every day. We told my 7 year old niece how we saw SANTA HIMSELF at the grocery store and she said: "He probably bought TONS of cookies and candies!"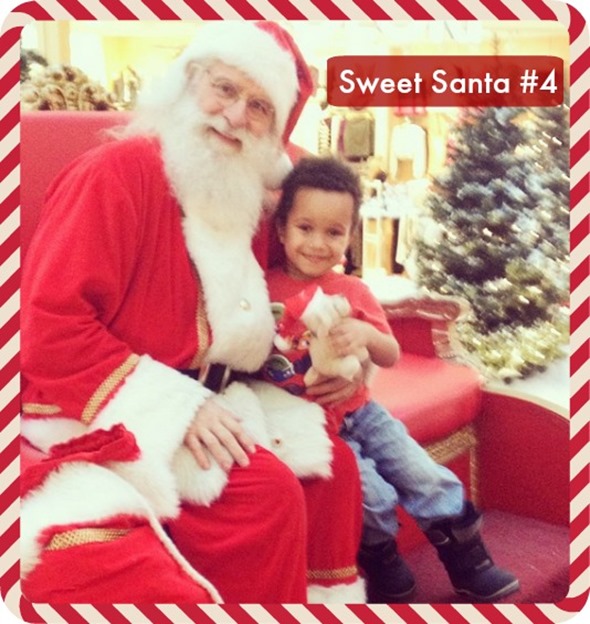 FINALIST #5 – Stephanie wrote, "Here is my daughter Molly (5) meeting Santa last year.  She wanted to see him so bad even though her older siblings didn't want to.  She's telling him what she wants for Christmas in the picture."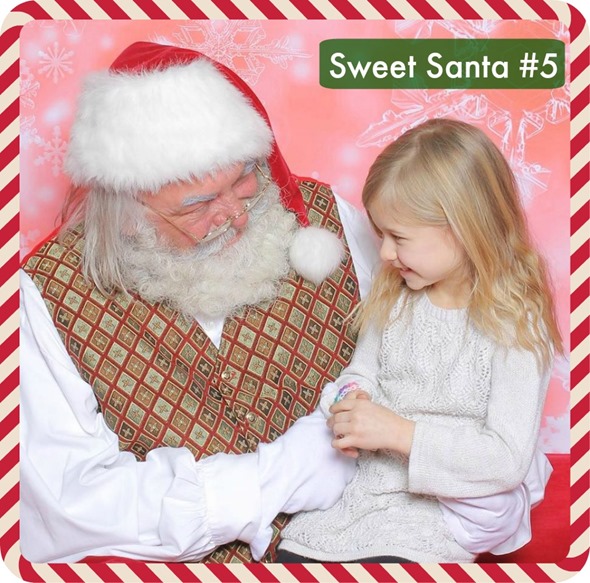 So – who's the winner of Sweet Santa 2014?  Sweet Santa 1, 2, 3, 4 or 5?  Leave a comment with the number, and I'll tally up the votes and crown the winner after Christmas. 
(Stay tuned for Scary Santas – I have a ton of hysterically scary entries!)