This post is sponsored by Millstone Coffee Co.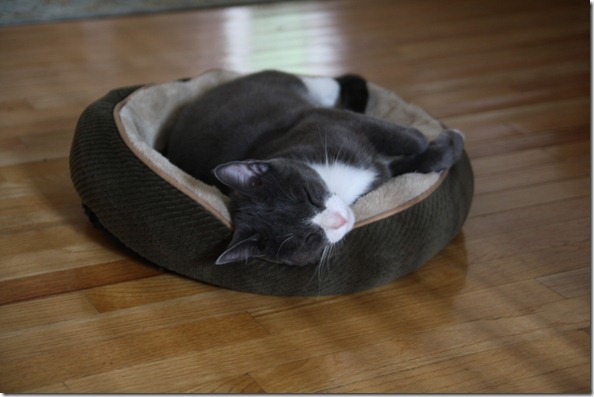 Wake-up!  It's time for a very coffee giveaway!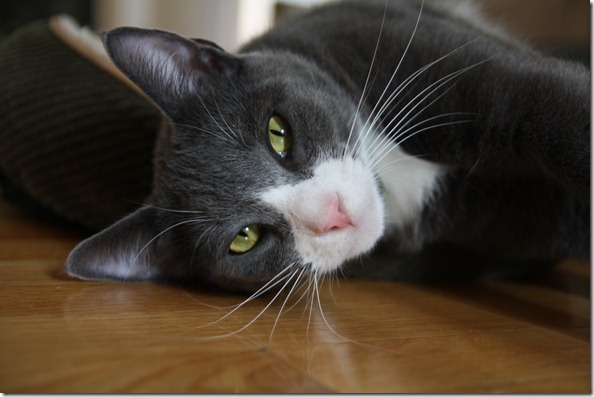 For the past few weeks, I have been enjoying the occasional cup of Millstone Coffee Co.  I had never had the pleasure of drinking this brand before, but seriously – I'm smitten.  I've made cups for the Husband and a few friends, and – truly – every single person has remarked (unprompted) how good this coffee is!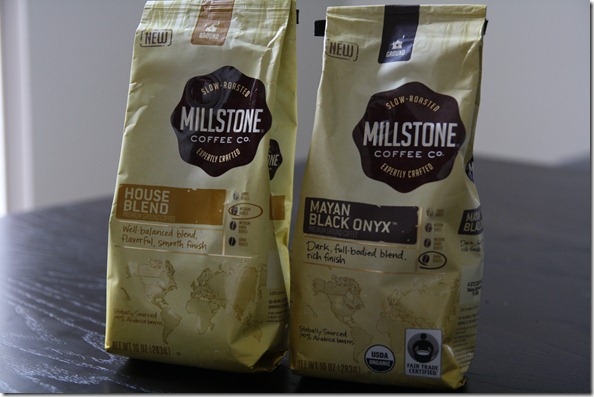 I normally like my coffee as dark as possible, but I really love the Millstone Coffee Co. House Blend.  The Mayan Black Onyx flavor is good, too, but the House Blend is super, super smooth and tasty.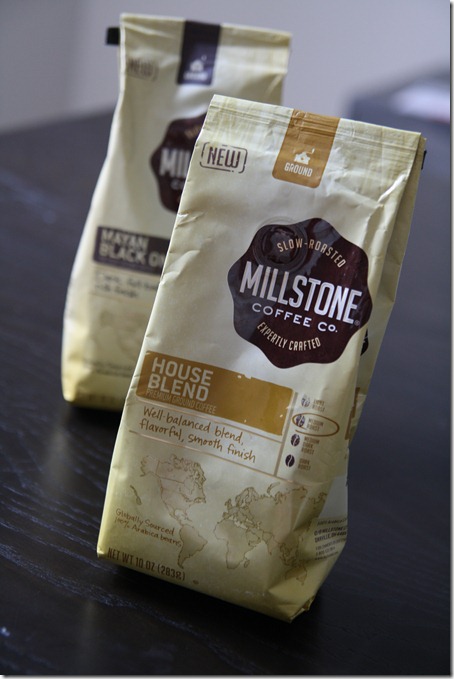 I've been having fun trying the coffee with some of my favorite foods.  Coffee is just like wine – certain roasts and blends pair better with certain foods.  Generally speaking, you want the coffee to balance and complement the food, not overpower it.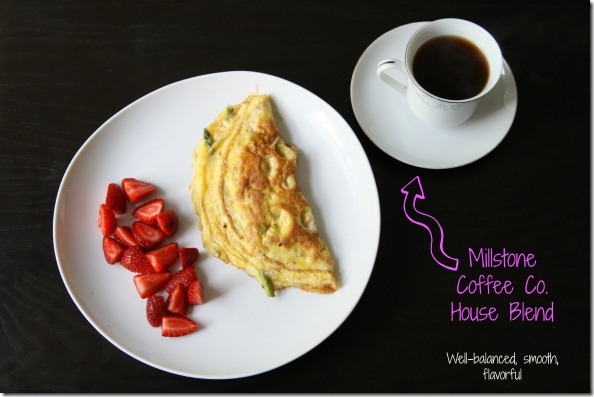 I like the House Blend with savory dishes, like this goat cheese and asparagus omelet.  It was amazing with the eggs and cheese.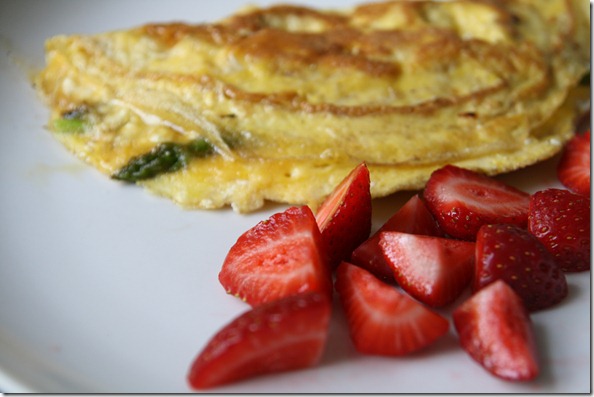 Click through the enter the giveaway.
I served a friend (who adores dark, rich coffee) a cup of the Mayan Black Onyx with a thick, sweet slice of Great Harvest's Cinnamon Bread.  In general, darker roasts pair well with rich desserts, especially desserts with notes of cinnamon, nutmeg, or similar spices.  Chocolate or caramel is amazing, too!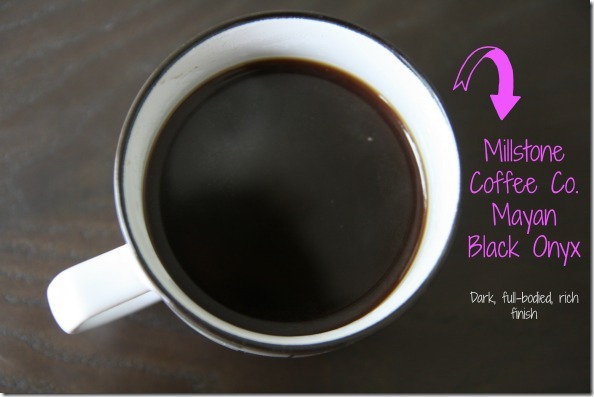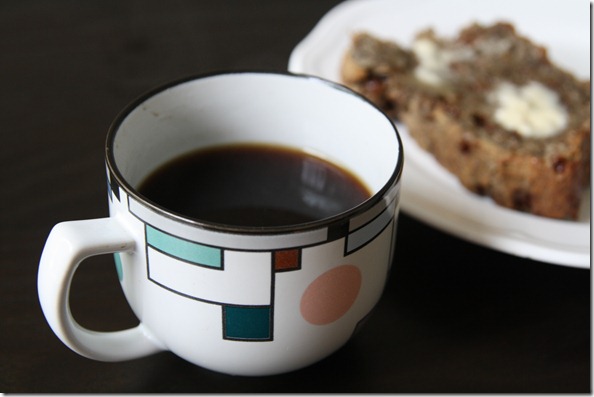 To truly get the most out of your coffee pairing experience, it's best to drink the coffee straight – BLACK – so the flavors are pure.  But normally, I drink coffee with a bit of Stevia and creamer (I really like So Delicious's coconut creamer, Trader Joe's soy creamer, and sometimes, I make my own coconut creamer).  Did you know that a little fat in your creamer is the key to amazing coffee?  Yup.  Fat transports and enhances the flavor of coffee.  That's why skim milk tastes weak and watery in coffee – no fat!
Side note – I found this awesome chart on the Millstone Coffee Co. website.  I usually eyeball my grounds, but when I was doing the food pairings, I strived to make the 'perfect' cup and used this chart.  Um – major taste difference!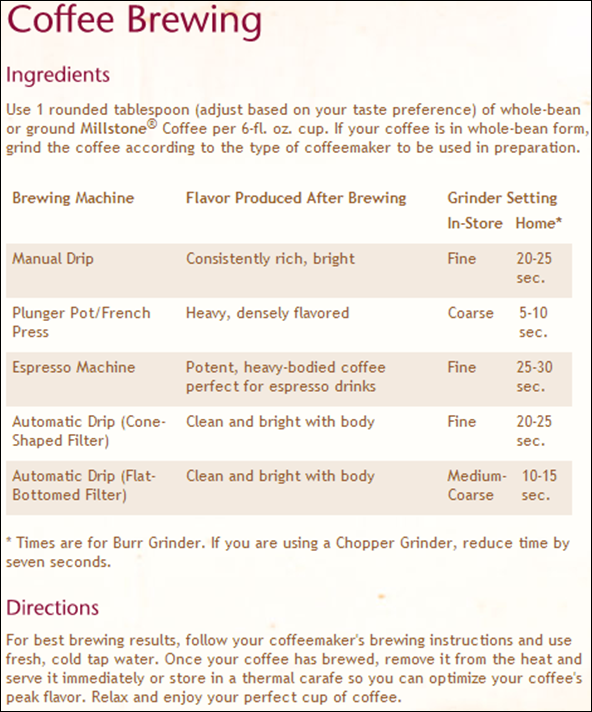 If you're interested in trying out Millstone Coffee Co. coffee (it's truly so good!), enter the giveaway below!  I'll be giving away an awesome coffee prize pack to one US resident.  Use the widget below to enter the giveaway (and as usual, I'll be closing comments on this post to avoid confusion with how to enter). 
This post is sponsored by Millstone Coffee Co.  Thanks again for supporting my blog and my growing family!