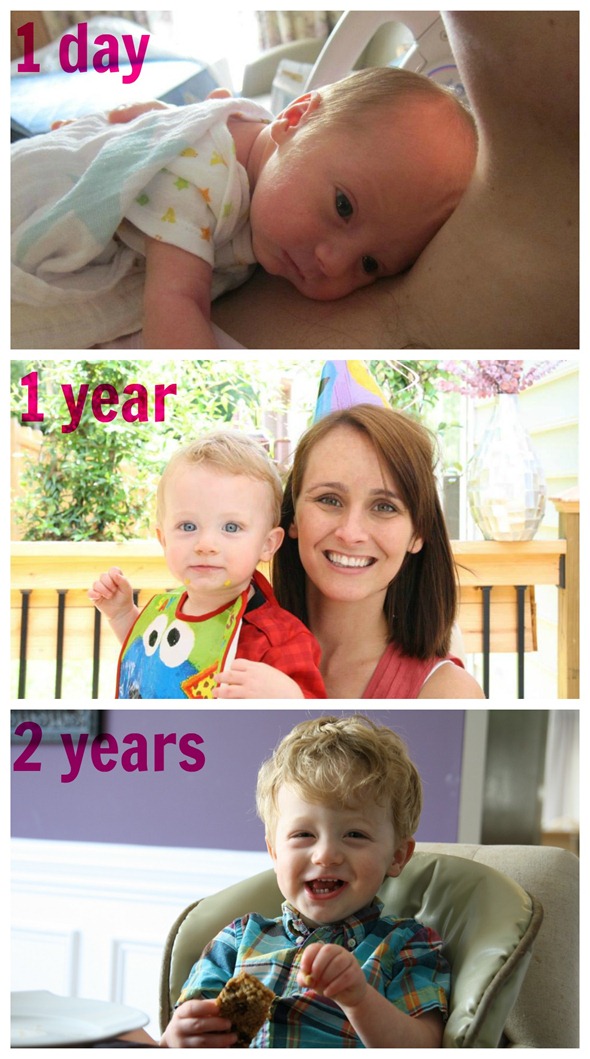 Today is Henry's second birthday. I simultaneously cannot comprehend and can totally believe that two years have passed since Henry entered our lives.  It's been such a wild, fun ride.  Henry is an absolute joy to be around, and I thank my lucky stars every single night that I get to be his mother. 
I wanted to share what we'll be giving Henry for his birthday – I'm so excited for him to open his gifts!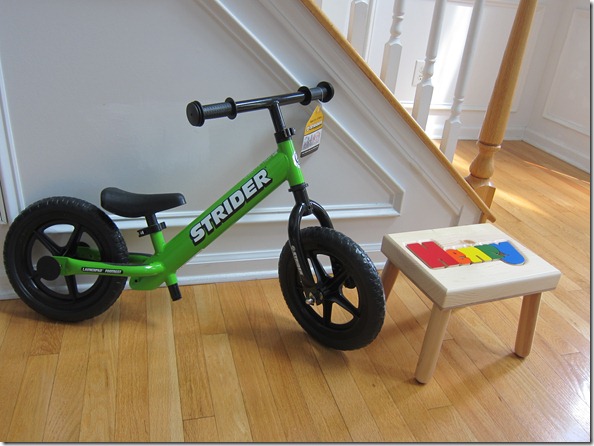 I really wanted to get him a bicycle or tricycle of some sort.  After polling friends, it appeared that the Strider Balance Bike was the way to go (as opposed to a tricycle).  Instead of learning pedaling first, the kids learn how to shuffle and then eventually sit on the bike seat as it glides (so they learn balance first).  This makes real bicycling easier and many Strider kids skip training wheels entirely.  Honestly, I just thought it looked like a lot more fun than a tricycle (and yes, we bought him a helmet, too).  Isn't it cool?!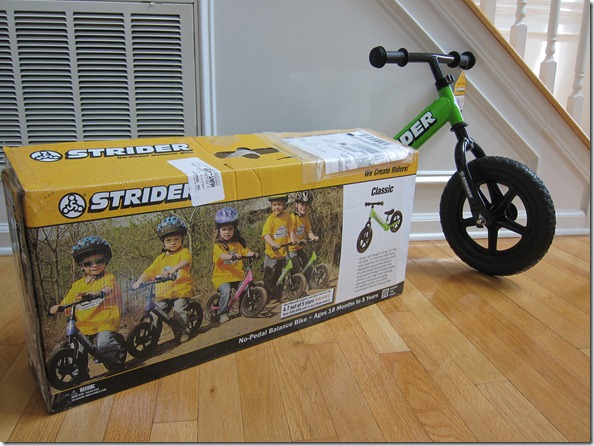 Kristien says the photo on the box looks like a toddler bicycle gang.  Haha!  Anyway, I cannot WAIT for him to try out the Strider.  I'll definitely give an update on his progress in a few weeks.
We also bought him this name stool by Damhorst Toys: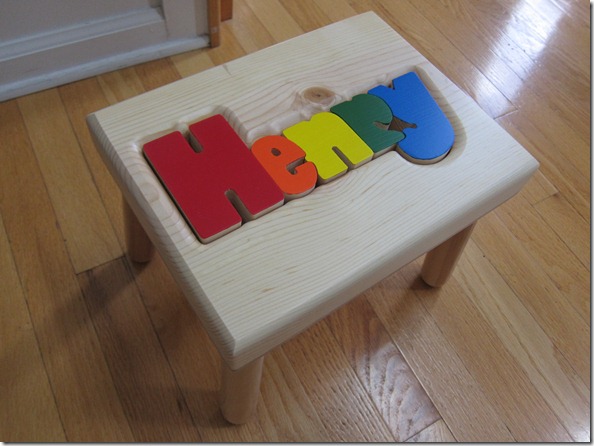 This was both a practical and sentimental gift, as I had a similar CAITLIN stool when I was a kid; it's how I learned to spell my name!  But I also really needed a stool for Henry's bathroom so he can reach the sink. I don't think he'll be as excited for the stool gift, but I hope he'll cherish it down the road (as I cherished my name stool!).
Here's a little Henry update on what he's like as a two year old: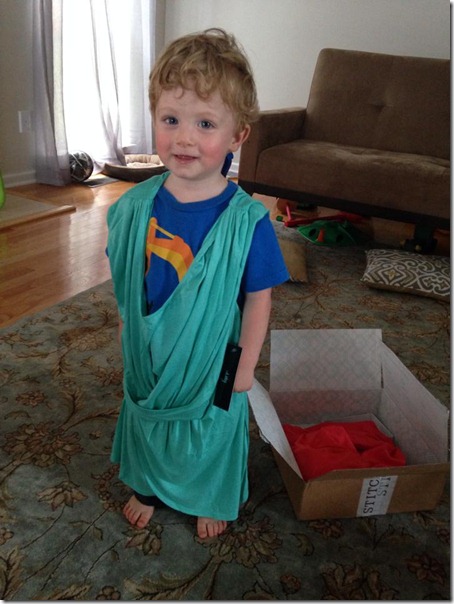 Personality: Talkative, brave, physical, and friendly.
Height/Weight:  He's little – in the 25% for height and 16% for weight.  He's still in 18 – 24 month clothes and will be for a long time, I bet.
Eyes/Hair:  He has blue eyes and blonde, very curly and thick hair.  I don't know where he got that awesome hair!
Likes:  Watermelons, lollipops, snack time, going to gym childcare, Thomas the Train, reading library books with Mom, playing soccer with Dad, petting the cat, taking bubble baths, going on walks in the woods, playing in the dirt, going to the playground, digger trucks, fire trucks, watching Mom cook, talking, thunderstorms, and cuddle time.
Dislikes:  Not being held when he wants to be held, occasional diaper changes, sudden transitions, Men's Warehouse (he hates that store!), restaurants that take too long to serve the food, being tickled when he doesn't want to be touched, and time outs.
Talking:  I have no idea how many words he knows – close to a thousand for sure.  He speaks all day long and always in sentences.   We have worked really hard on manners and he usually uses "please" and "thank you" appropriately and without being prompted now.  He can count to 11 but has almost no idea what numbers or counting actually means.  He recognizes a few letters, like E, O, and X.  He knows the words to a few songs, including God Save the Queen (guess who taught him that?!), The Itsy Bitsy Spider, Rock-A-Bye Baby, and a few Miami Hurricane chants.  The funniest thing he said recently was when I asked him, "Are you hungry?" and he said, "No, I'm Henry."
Sleeping:  He's a really good sleeper!  I put him down between 7:30 – 8 PM and he usually falls asleep between 8 PM – 9 PM.  He sleeps until 7:00 AM and goes down for one nap at 1:30 or 2 PM.  He sleeps for 2 – 3 hours.  He skips his nap about two or three days a week, but he will hang out in his crib for a hour or so regardless.  PLEASE CONTINUE TO BE SUCH A GOOD SLEEPER <—I literally just prayed out loud. 
Looking Forward To…:  This year will be a BIG YEAR for Henry!  We are going on a beach vacation in July, which will be our family trip of the year.  And he will start preschool in September.  He'll go for three half-days a week.  I wanted to start him in September so he had time to adjust to his new routine before his sibling is born in November or December!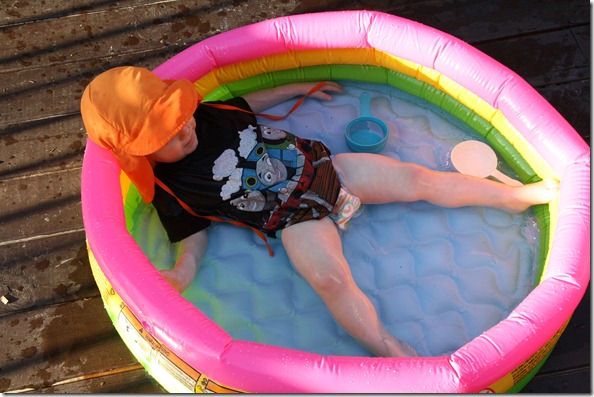 I love being a mom.  I love being "Mom."  It's a lot of work – don't get me wrong.  Some nights, I am so exhausted and frazzled and out of patience that I want to cry – and sometimes, I do.  But it's so worth it, in so many different ways. 
It's incredible to watch him grow up and develop a personality; it's exciting to watch him try new things and learn from experiences.  And seriously – parenting is so  much fun.  I feel like a kid again – playing with all these cool toys, jumping in ball pits, and going down slides!  Hah.  Toddlerhood is challenging, but I think I am actually much better suited to being a toddler mom than a newborn mom (the first six months were so brutal).  But the meltdowns and tears and timeouts and diaper explosions all pale in comparison to the giggles and hugs and cuddles.  Having Henry really motivated me to appreciate the small things in life and let the silly annoying stuff go, and for that, I am eternally grateful!
So – here's to Henry, on his second birthday.  My first children, my beautiful son.  <3  HAPPY BIRTHDAY!