This post is sponsored by Blue Diamond Almonds.  There's a fun almond giveaway at the end!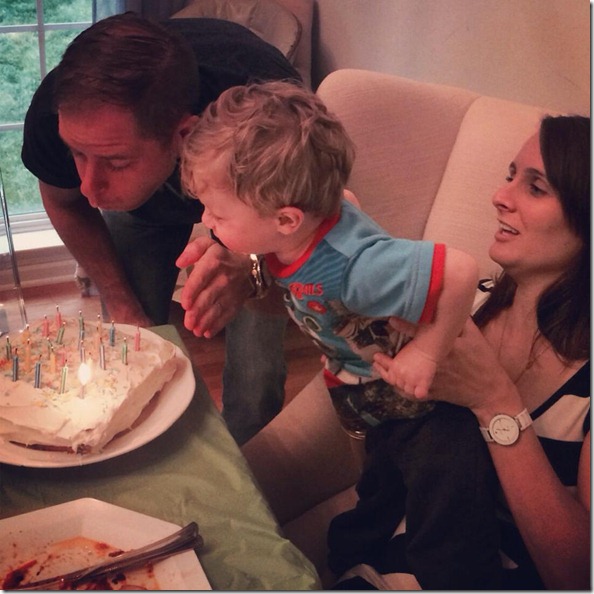 A few weeks ago, I threw Kristien a rockin' 30th birthday.  It was originally intended to be a big outdoor BBQ, but weather woes forced the party inside.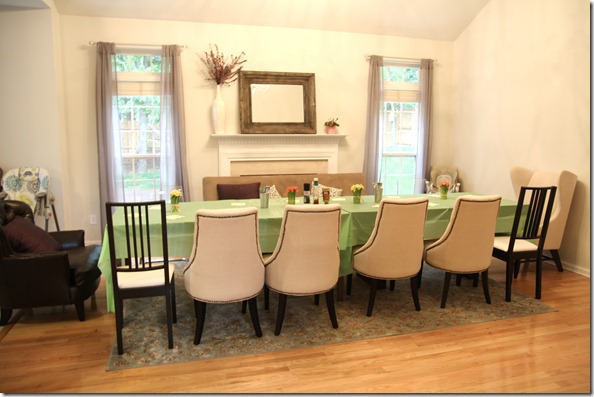 We ended up taking all the furniture out of the living room and pushing together the dining room table and my big computer table to have enough indoor seats for everyone!
When I originally wrote about our party, I mentioned that I had really gone all-out with the party planning and cooking, but it was also the first dinner party I ever hosted where I felt really in control.  There was no last-minute scramble, the food was all served warm, and I actually got to relax and enjoy my guests!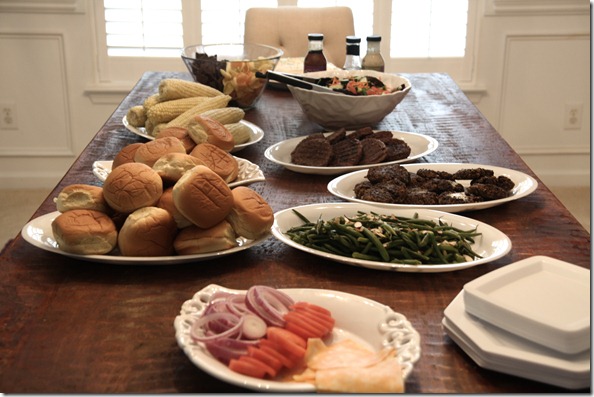 Here's everything we feasted on!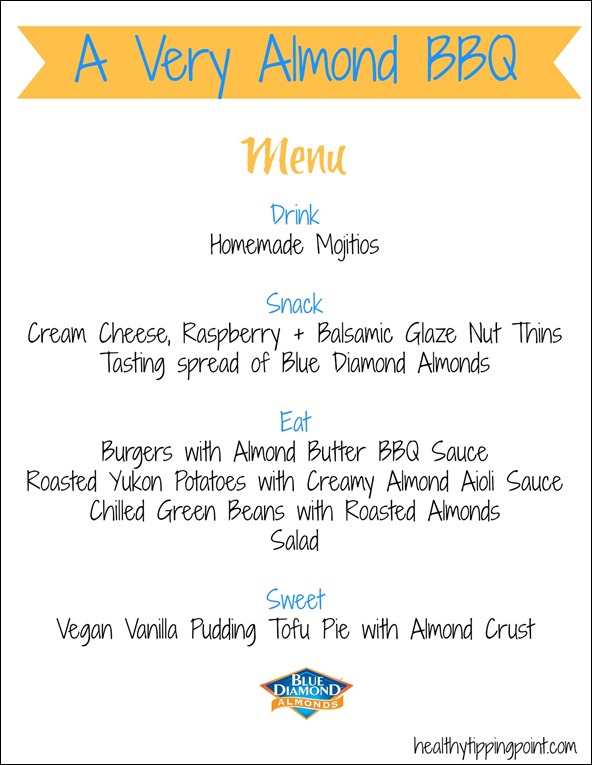 Sometimes, when I throw parties, I skip appetizers for simplicity's sake, but it was a good thing I had a decent spread of food (and drink!). Our guests arrived in stages due to yucky weather, so the appetizers kept everyone happy while people trickled in.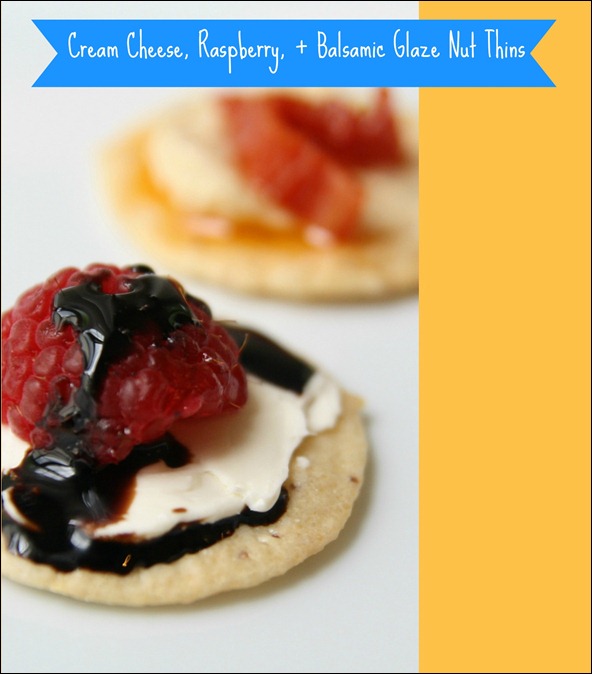 These apps were super easy to make and looked impressive.  I used Hint of Sea Salt Nut Thins (which happen to be gluten-free).  I smeared a bit of cream cheese, topped it with a raspberry half, and drizzled it with balsamic reduction (simply boil balsamic vinegar until it begins to thicken).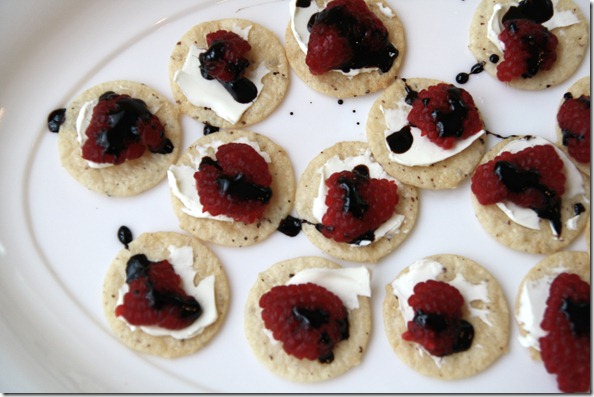 I also recipe-tested another version with hummus + sundried tomato.  That version was good – more savory – but I liked the sweet raspberry one more and made it in bulk for the party.
I also had a spread of Blue Diamond Almond flavors out – my personal favorite is the Toasted Coconut!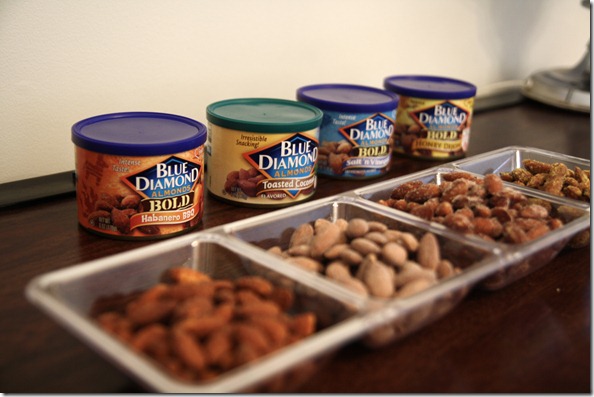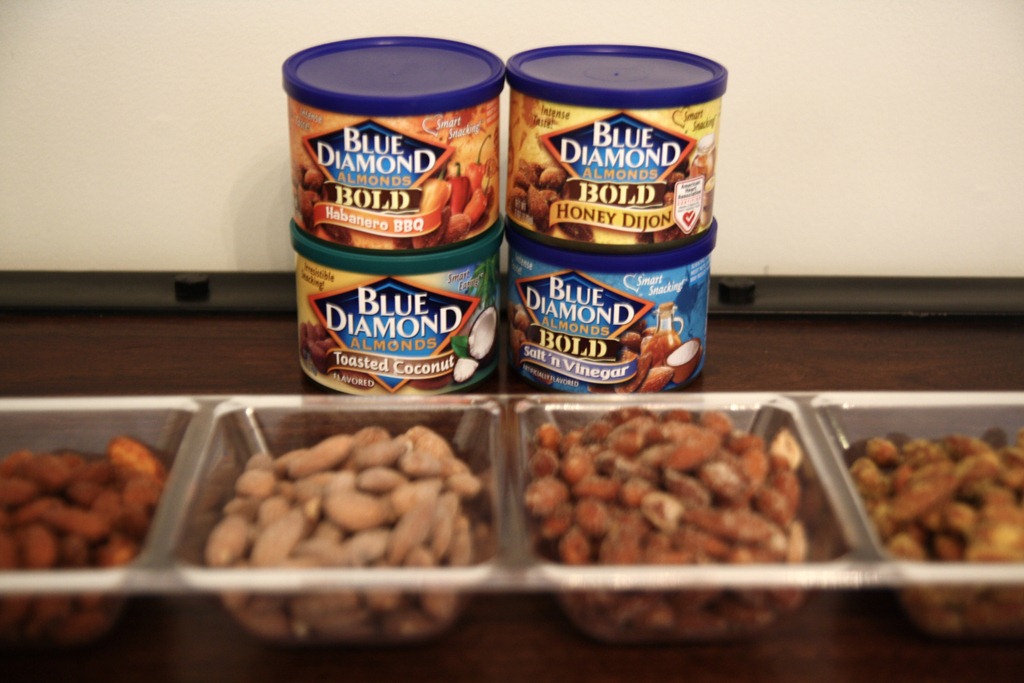 The main course was delicious!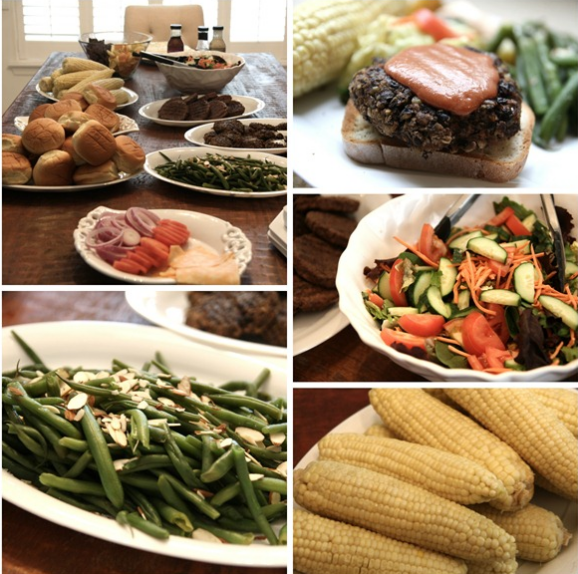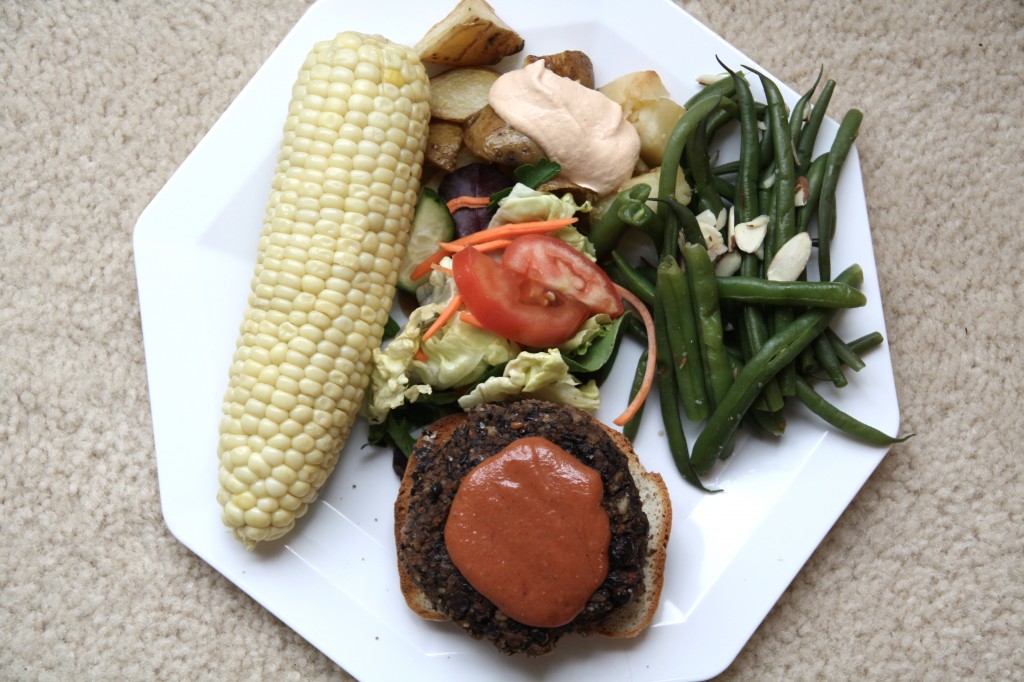 I made a giant batch of Emily's Black Bean Burgers, which are pretty much my go-to party recipe, but I subbed almonds in for the other nuts.  I also added in more coconut oil.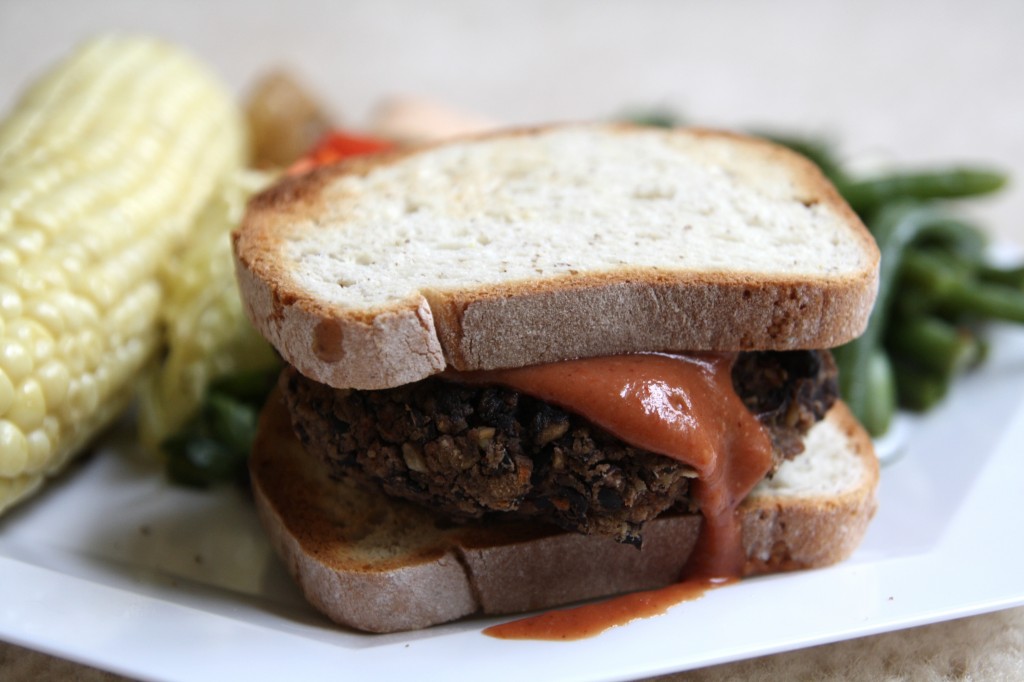 The burgers went so well with this Almond Butter BBQ Sauce that I whipped up!  BBQ sauce is HARD, isn't it?  There's the whole red v. yellow sauce debate, and then the spicy v. sweet discussion… This ketchup-based sauce is on the sweeter side, and there's this nice hint of almond butter in the background.  So good!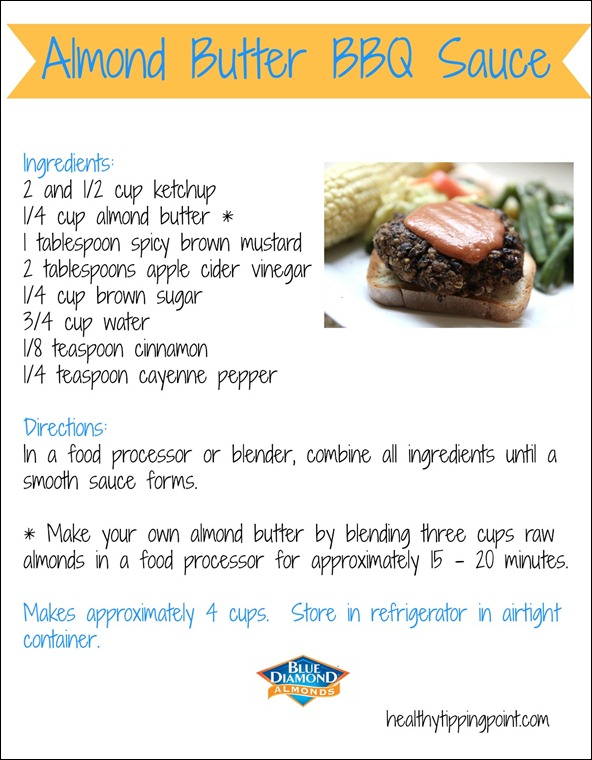 For the roasted potatoes, I made a lovely Almond 'Aioli' Sauce.  It's vegan!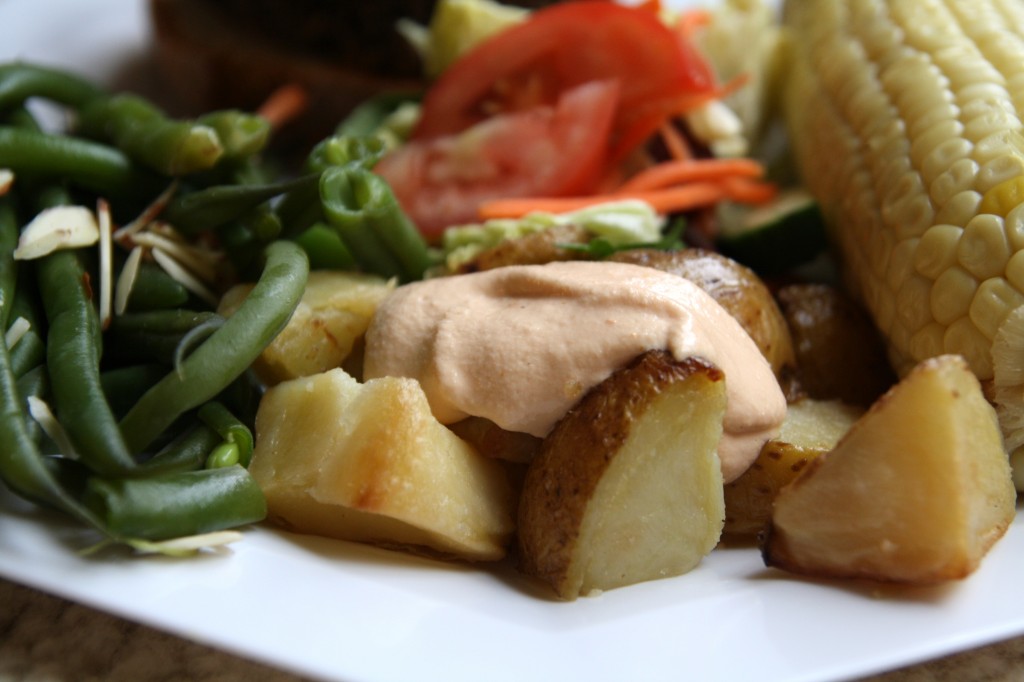 And last, but not least, for dessert I made a tofu pudding pie.  For the actual party, I made a banana cream version of the pie described below – and it was really good!  My only problem with the pie was that the top turned brown (from the bananas being exposed to oxygen), so when you sliced it, the filling was two colors.  It tasted great but didn't look pretty.
Thus, for this version, I made the same type of pie but with vanilla pudding.   YES – it has tofu in it – but you can't taste it!  And this pie would be SUPER fast to make if you used a premade pie crust, but I really like this rustic, chewy almond one.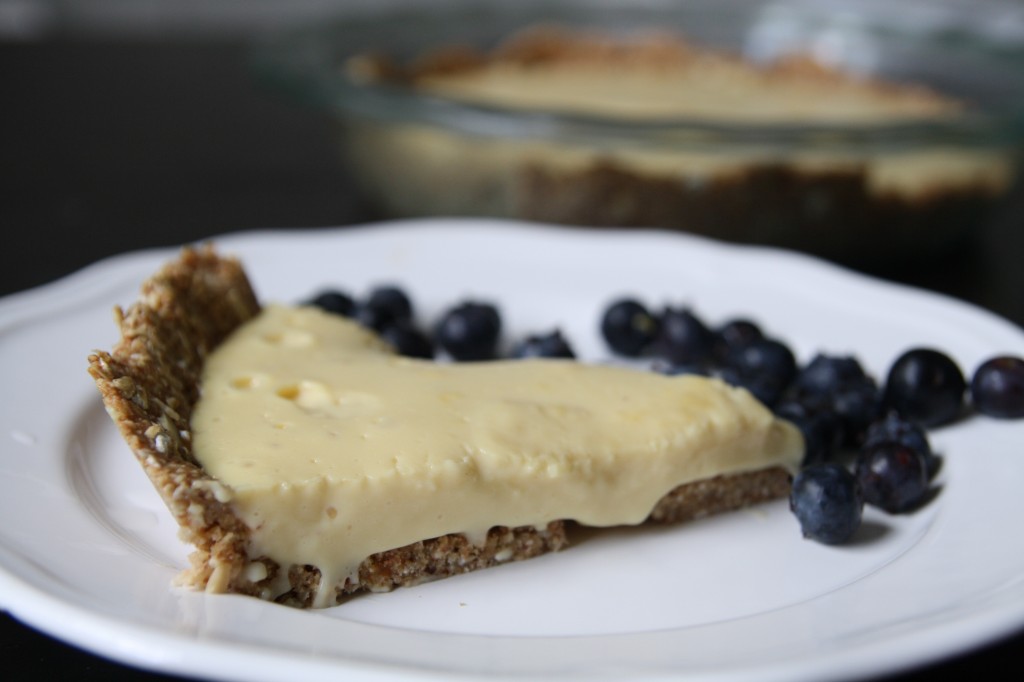 If you're trying to cut out artificial stuff (from the vanilla pudding mix), you can try the banana pie instead – I used a pack of tofu, 1/4 cup sugar, and 2 ripe bananas.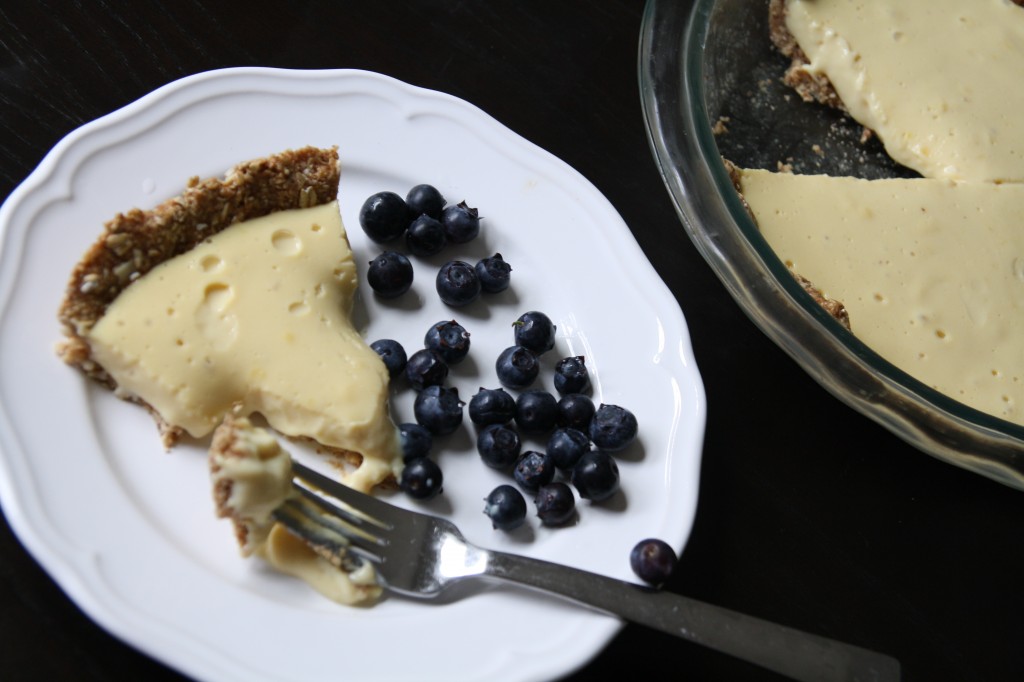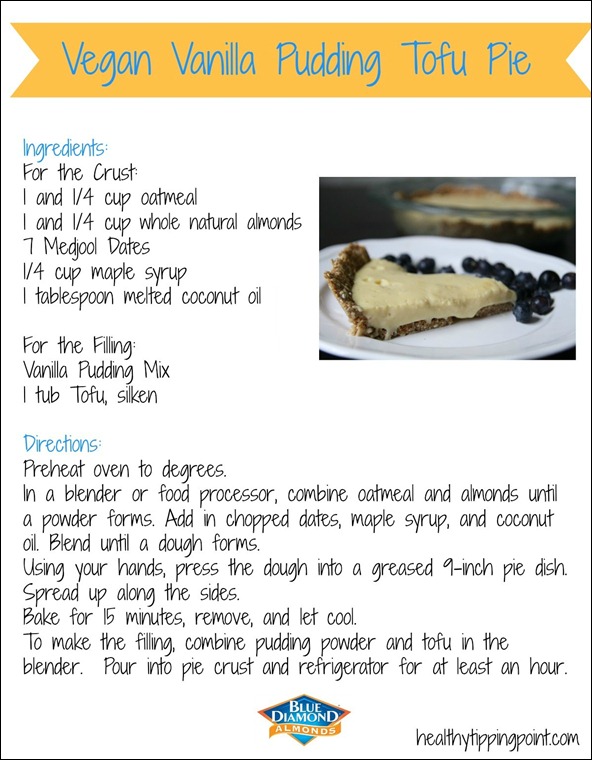 Okay… so let's talk about party prep.
To keep things non-hectic the day of the party, I made a lot of the food the night before, including:
The Creamy Almond Aioli Sauce
The Almond Butter BBQ Sauce
The dough for Emily's black bean burgers (stored in a Ziploc bag in the fridge overnight)
The roasted potatoes
The steamed green beans
The salad
The boiled corn on the cob
The Funfetti cake (for blowing out the candles!)
Day of the party, I just had to bake the burgers, make the tofu pudding pie, prepare the apps and drinks, heat everything up, and lay up the spread.  It was so nice!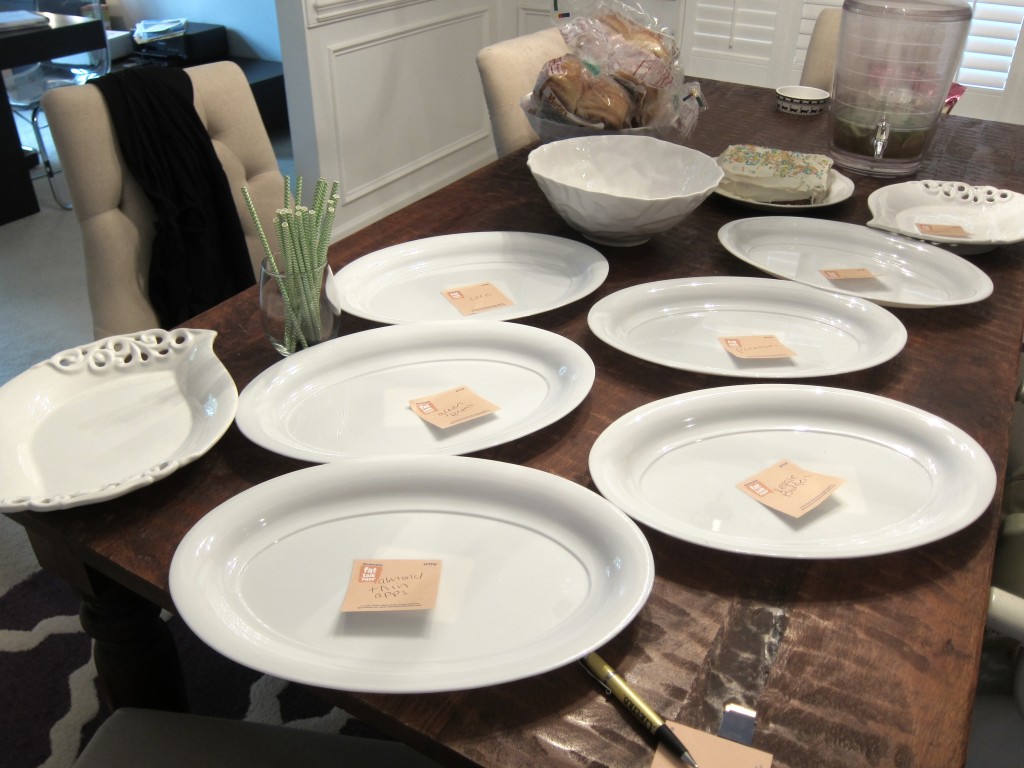 Another tip:  Lay out your serving plates and put Post-It notes directing what dish goes where – keeps things organized.  And then you won't forget about that dish that happens to be heating in the oven…
All in all… it was a fabulous party.  I was proud of my spread, and everyone – both adult and kiddo – liked the food.  Henry and Wyatt especially liked the corn on the cob!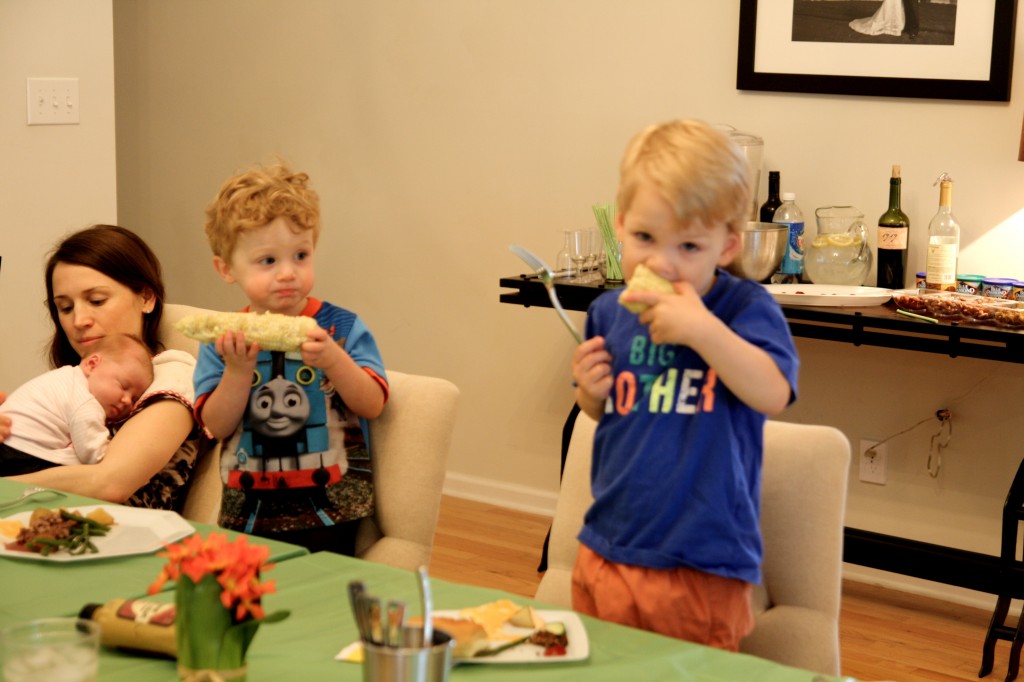 And now…

To celebrate the DELICIOUSNESS that is Blue Diamond Almonds, I'm giving away a 6-pack of ANY flavor.  So you can try the lovely Toasted Coconut, too!

To enter, use the widget below.  As usual, I'll be closing the comments section so there won't be confusion on how to enter the giveaway.
This post was sponsored by Blue Diamond Almonds.  Thanks for the continued support of my blog and my family.