Just checking in to say that we're having an amazing time, and we're plotting our escape to the Caribbean.  Would you still read my blog if we pulled a cut and run and moved to an island?!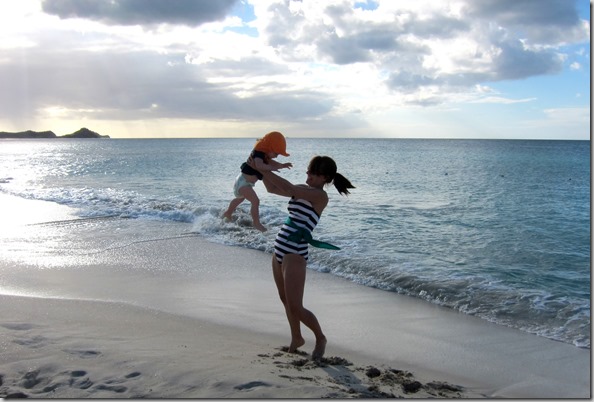 In between work, we've had many chances to get off the boat and relax. So far, we've been to Barbados, Antigua, and St. Lucia.  Our boat pulled into St. Maarten this morning! It's been so interesting to show up in a new spot every day.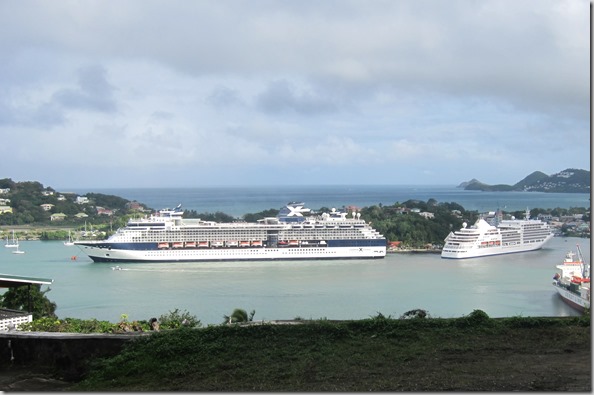 Our big activity yesterday was golfing.  Kristien brought his clubs, and Henry brought his plastic putter. 
Henry loves to play golf in our living room, so playing on a real course was very fun for him!  Also, I didn't crash the golf cart, so that's always good. 🙂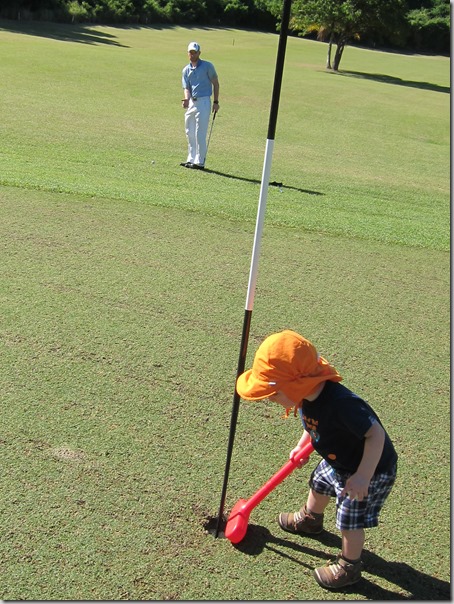 We love being on the Celebrity Summit (I'll do a boat review when I get home); there's so much on-board entertainment.  The staff is also super friendly.  But getting off the boat is fun too.  Our other toddler-friendly side trips have included:
A hike through the rainforest (and it rained the entire time!)
Many trips to the beach
Walks around town centers
And more trips to the beach!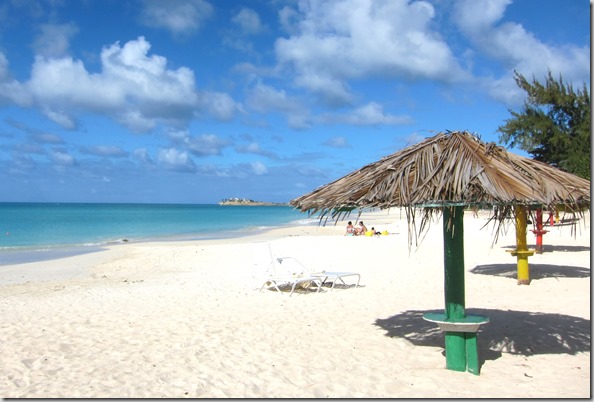 Henry had so much fun walking around town yesterday that he fell asleep, right in the sand.  We couldn't believe it.  He's a good sleeper but hasn't sleep anywhere but a car seat or his crib for a year or so.  We dragged his towel into the shade and covered him in clothes and towels to protect him from the sun, and he was a happy, sleepy camper for an hour.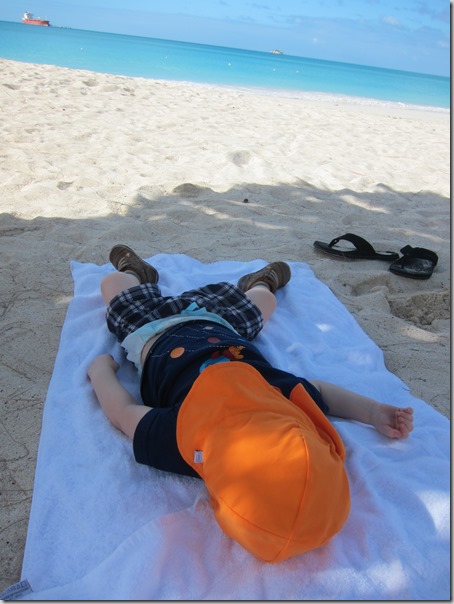 When he is awake, he's been playing with measuring cups (a great toy to pack because they nestle!) and his tiger.  His tiger really likes the ocean.
It's been fun to experience this trip with Henry because he's learned so much by being around new experiences.  New words and sentences include:
"Good morning, Dominic!" (Our stateroom attendant)
"Henry high five turtle NOW." (There was a costumed turtle near one of the docks, and Henry spotted her from a while away – he talked up high fiving her for so long, and then when we got next to her, he turned super shy. He continued to talk about high fiving that turtle for the rest of the day.)
"Beach BIG ONE!" (Big one = waves)
"Henry see digger truck!"
"Oh, I dropped it!" (regarding pretty much everything that he holds in his hands!)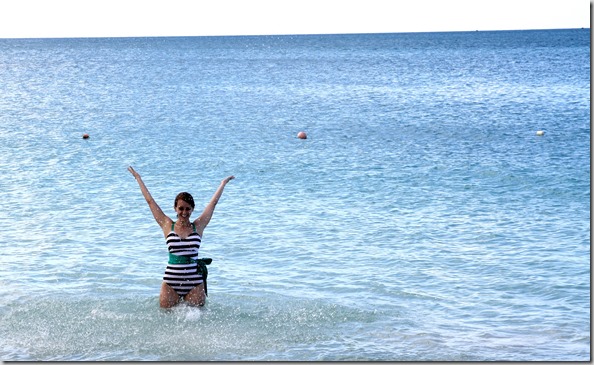 So – I'll conclude this post with a fun giveaway.  Albion Fit makes amazing bathing suits.  I love them because the suits are super high-quality, well-fitting, and glamorous while modest.  I need to be held in and supported when chasing after Henry, know what I mean?!  I want suits that are functional but attractive – and that combination can be hard to find!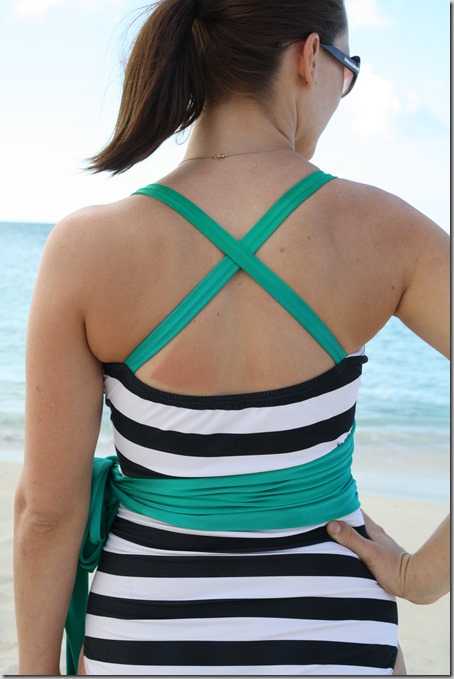 Clearly, I missed a sunscreen spot. Whoops!
Click through for a chance to win a $100 gift card to Albion Fit.
You may remember that I reviewed a suit from the company over the summer.  I absolutely LOVED the and called it my "favorite swimsuit ever!"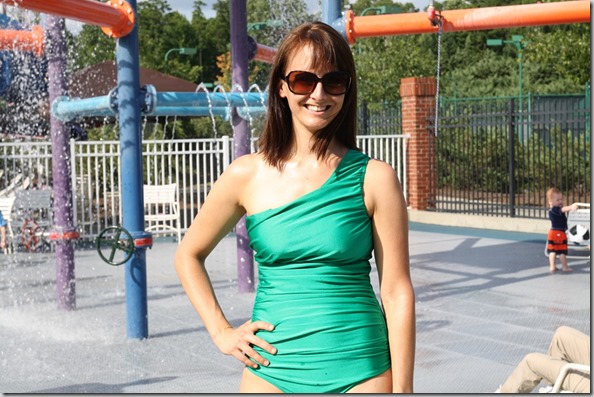 I think I have to take that back because the Jawdropper is now my favorite swimsuit ever. 🙂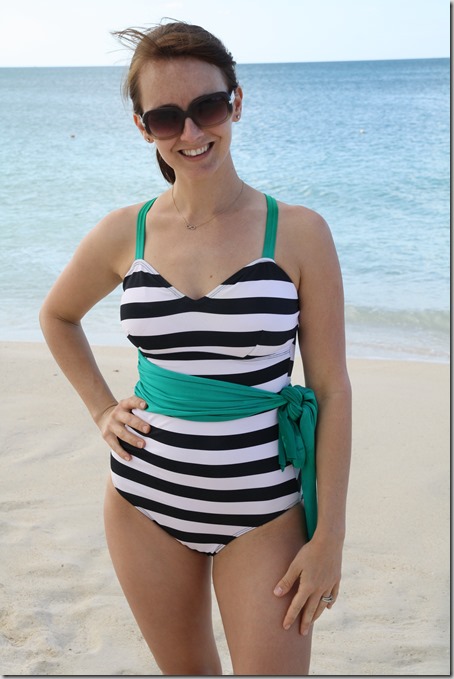 My favorite thing about this black, white, and emerald suit is how thick and firm the fabric is.  There's a shelf bra in the suit, but it's big enough to hold up a larger chest. The leg cuts are low – but not too low – and I like how high the back goes up.  As I said, it's a really pretty suit that's also modest and comfortable.
Heck, I can even walk around with Henry in a hiking backpack with this suit without constantly pulling things up and adjusting myself.  That's saying something!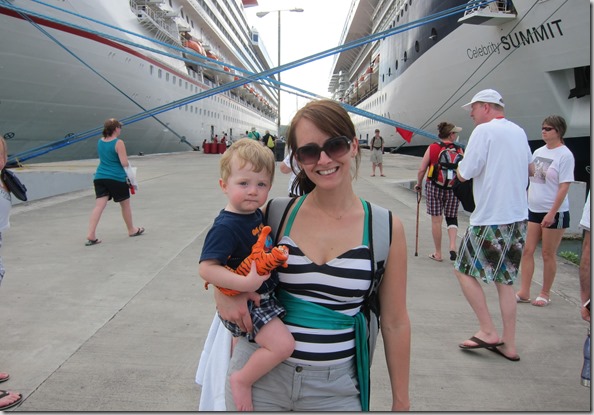 Albion Fit has a ton of other adorable women's fitness and swimwear and workout clothing, so if you win this $100 gift card giveaway, you'll be able to pick out something pretty, too!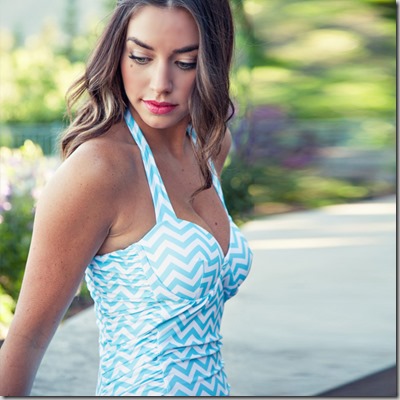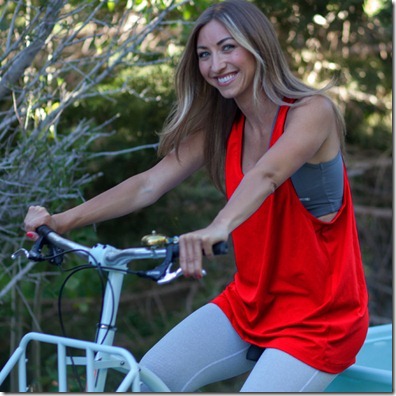 To enter to win, hop over to the Albion Fit website, find your favorite item, and come back over to HTP to let me know what you like the best. I'll pick a winner on Monday.  Winners must be in the US.  If you don't see your comment right away, give me a few hours to approve your entry!  Internet out here in the middle of the Caribbean ocean is spotty. 😉
This giveaway was sponsored by Albion Fit. Follow Albion Fit on Instagram and Like Albion Fit on Facebook.  Use coupon code TIP15 for 15% off your purchase through 1/20!