So, my back started to hurt last week.  Major sad face.  I'm not sure what triggered it, beyond the expected stress of training, but suddenly, my lower back was hurtin' so much.  That caused my shoulders to tighten up.  I was a big mess.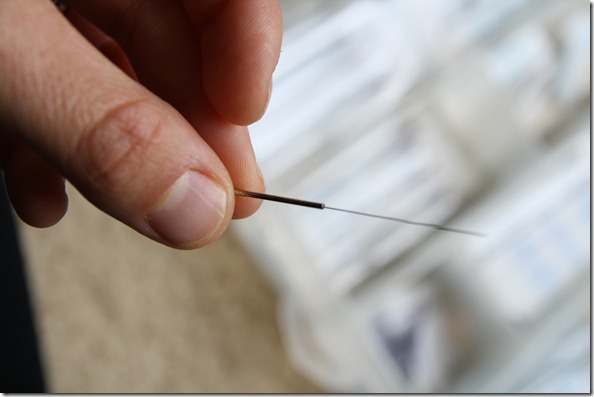 I've been getting lots of acupuncture from the Husband.  He's been also doing some moxibustion on the needles (basically, a slow-burning herb that heats them up).  Several treatments later, I felt a lot better.
We don't have a massage table at home – remember how Kristien did the labor-encouraging acupuncture on our dining room table? (Side note – it worked… my water broke five hours later!).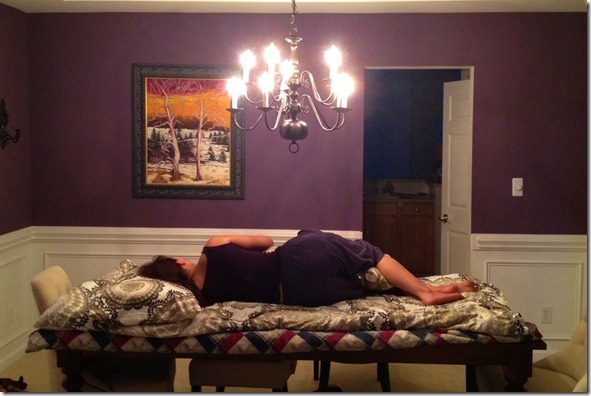 So Kristien's been doing this round of acupuncture while I lay on the couch, watching TV or reading a book (I'm currently reading The Circle, which is SO great).  On Sunday, he wanted to do the session while we watched The Walking Dead – I made him wait until Revenge was on because – seriously – no one should watch a frightening zombie show while you have a bunch of tiny needles jammed into your back.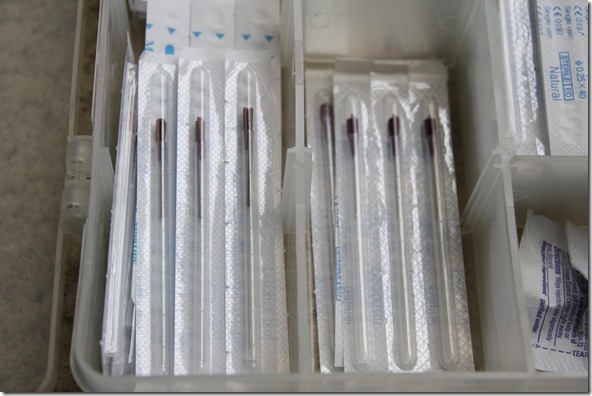 This week, Coach Marni's training plan directed me to "get a massage." Oh, hi, you don't have to tell me that twice!  I had an amazing massage this morning, and I swear, I could feel the last bit of tension in my back releasing.  Here's to hoping I'm 100% on race day!
Speaking of race day, Marni sent me a "race day prep" worksheet to fill out.  She said I could share some of it with you all.  My favorite part of the worksheet was this checklist at the end.
I reviewed the athlete guide:  Yes, numerous times. 
I have my ID and USAT card (not expired) for check in: I guess I should go find that…
I will attend athlete briefing: Yes! For sure.
I promise that I will race my own race and not compare myself to anyone else except the old me that wasn't able to race at this level when I started training: Heck yes! I think I have a really, really good attitude about this race. I went into it just wanting to finish strong and feel proud of myself, and that's how I feel about it, now, too.  I'll leave placing on the podium to my speedy readers and Coach Marni.

I will not stress about things out of my control: Well, I'm a little stressed out about the weather forecast, but this is a good reminder to take a chill pill. What will be, will be.
I promise to just slow down, but to never think about quitting, if I have a low moment (not health related):  One of my race goals is to never let my mind wander to extremely negative places.
I will respect my body and the distance: I've got mad respect for you, 70.3.
I will let my mind be my only limiter on race day: YES YES YES.
I have/will continue to thank my team/family for supporting me throughout my training journey: Thank you, thank you, thank you to the Husband (for stepping up with Henry duty while I did long workouts, for listening to me talk about training non-stop, and for traveling with me to Miami to support me), to Henry (for long rides in the jogging stroller and hanging out at the gym childcare while I swam), and to Coach Marni for supporting, encouraging, and answering all my "What do I do?!" text messages.
I will finish strong because I have worked hard for this day:  Believe it, achieve it.
What a great checklist, right?  I like how it's a mix of practical and inspirational points (that's Coach Marni in a nutshell).
Ever gotten acupuncture? Whatcha watching / reading right now?  Would you ever get acupuncture while watching The Walking Dead or do you want to jump out of your skin too much while watching such a scary show?